LAF 33rd Annual Benefit
Thank you to all who attended the Landscape Architecture Foundation's 33rd Annual Benefit at the Pennsylvania Academy of Fine Arts in Philadelphia. With 590 guests and 28 generous sponsors, we raised over $250,000 to support LAF research, scholarships, and leadership programs!
The evening capped off events celebrating the first 10 years of LAF's landmark Olmsted Scholars Program and showcased the recipients of the $25,000 LAF Fellowship for Innovation and Leadership and their transformative projects. We also announced our Action Plan, tangible ways to get started in answering the bold call to action in the New Landscape Declaration with ideas from listening to over 6,000 landscape architects.
View Photos from the 2018 LAF Annual Benefit
The Annual Benefit was a joyous affair where leaders in landscape mingled with emerging professionals, and attendees caught up with friends old and new. The evening was captured in photographs,  memories, and connections made.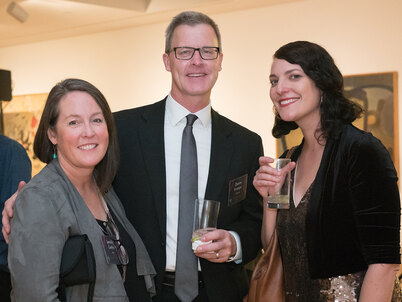 Thank you to our Annual Benefit sponsors!
The support of our sponsors ensures that all proceeds from ticket sales go directly toward LAF research, scholarships, and leadership initiatives.
LAF is honored to have IRONSMITH as the Annual Benefit's Lead Sponsor.

LAF Annual Benefit Sponsors
Platinum and Gold Levels
Platinum Sponsor

Platinum Sponsor

Gold Sponsor

Gold Sponsor

Gold Sponsor

Gold Sponsor

Gold Sponsor

Promotion Partner

 
Interested in becoming an Annual Benefit sponsor?
For information on sponsorship opportunities, contact Christina Sanders at csanders [at] lafoundation.org or 202.331.7070x13.