We can create a more sustainable, just, and resilient future.
Our patterns of development need to change in a way that reimagines how we relate to our environment, our resources, and each other. Landscape solutions – how we arrange and design our cities, communities, and their outdoor spaces – are fundamental to creating this alternate future.
LAF's work is founded in optimism, driven by passion, and sustained by the collective efforts of all who believe that landscapes have the power to affect the world and change people's lives.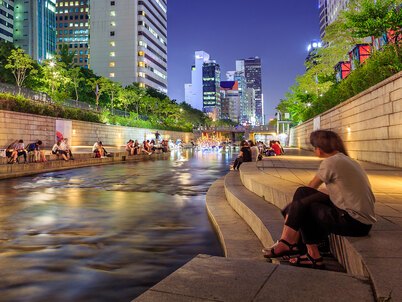 Landscape architecture has an essential role to play.
Uniquely trained to design for natural resources, natural processes, and people, landscape architects play a fundamental role in solving the complex, interrelated environmental, social, and economic problems we face today.
From our very first initiative in 1966 to our current call to action, LAF is identifying priorities and strengthening the discipline to take on defining issues like climate change, rapid urbanization, species extinction, and inequity. By investing in research, scholarships, and leadership, we work to increase the influence and impact of landscape architects to create a healthier, more equitable and sustainable world.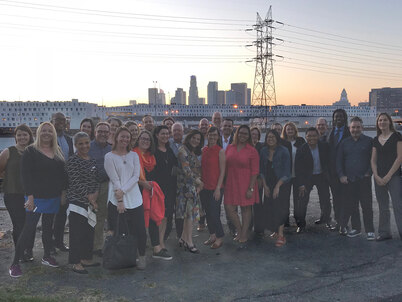 For over 50 years, LAF has provided leadership and resources to empower landscape architects to use their unique skills to change the world.
The mission of the Landscape Architecture Foundation (LAF) is to support the preservation, improvement, and enhancement of the environment. Through its leadership and philanthropic activities, LAF advances the body of knowledge and supports innovative projects and initiatives needed not only for the landscape architecture discipline but for the many other individuals and organizations who share LAF's mission and are critical to its success.
LAF invests in research, scholarships, and leadership initiatives to increase the capacity of the landscape architecture discipline by:
Bolstering the profession to broaden and deepen the pool of talent, drive innovation for improved practices, and create new business opportunities for the landscape industry

Providing support for students to diversify the pool of talent and increase academic opportunity

Investing in research to expand our knowledge and help designers, policymakers, non-profit organizations, community leaders, and advocates make the case for more sustainable policies and solutions

Championing emerging issues and news modes of practice

Communicating the value of landscape architecture and exemplary design
Our Impact
Through its thought leadership, signature programs, and strategic initiatives, LAF provides and develops resources to help landscape architects make their vital contribution.
Our annual reports offer a snapshot of significant activities and accomplishments. In 2018, we grew our voice, enhanced our capacity, and expanded our audience with:
- $152,500 given out in support to students 
- $25,000 invested in case study research
- Completion of the inaugural year of the $25,000 LAF Fellowship
- Launch of a new website and action-focused campaigns
LAF's impact is primarily achieved through our ongoing programs, which are described below.