Now accepting applications for the 2024 CSI program
Are you interested in assessing and documenting the benefits of a high-performing landscape project? Faculty and design firms are encouraged to apply in partnership for the next CSI program, which will run Feb - Aug 2024. Applications are due Nov 1.
2024 CSI Program Timeline
Sep 2023 - Application materials available
Nov 1, 2023 - Faculty and firm/project applications due
Dec 2023 - All applicants notified
Feb 5 - Aug 2, 2024 - 2024 CSI program runs
Sep-Dec 2024 - Resulting case studies published
LAF hosted a program overview and "Office Hours" for potential applicants on Sept 27. Visit the link below to view the discussion and learn more about the CSI program.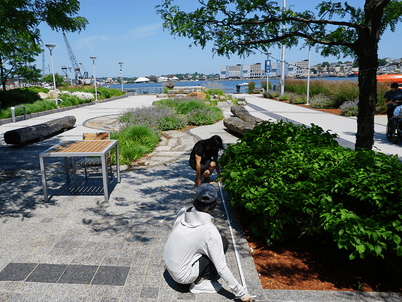 The Case Study Investigation (CSI) program is a unique research collaboration and training program for faculty, students, and practitioners.
Through CSI, LAF funded faculty-student research teams work with leading practitioners to document the impacts of exemplary, high-performing landscape projects. Teams develop methods to quantify the environmental, social, and economic benefits of built projects and produce Case Study Briefs for LAF's Landscape Performance Series.
Faculty and design firms apply to CSI in partnership to produce a case study of a specific built landscape project.* Each research team is led by a faculty CSI Research Fellow and supported by a student Research Assistant. The academic team interfaces with a Firm Liaison, who provides information about the project goals, design, design and construction process, and intended performance. Clients, site managers, and other project stakeholders may also contribute data and insights.
The CSI program runs annually from February to August. During the spring, faculty-student teams work with firm liaisons to develop the research plan and case study narrative. Site visits and field data collection are primarily conducted during the summer. The academic teams use this information to craft the performance benefits and document the project in the online Case Study Brief format. Throughout this process, LAF provides training, iterative feedback, and opportunities for interaction among teams. Final case studies undergo a peer review process and are published to the Landscape Performance Series in the fall.
*LAF may be able to assist in matching prospective CSI Research Fellows with prospective firms/projects based on geographic proximity, common interests, and relevant expertise. Potential applicants wishing to be matched should contact LAF well in advance of the application deadline to discuss.
Program Goals
The CSI program is highly collaborative and helps to bridge the gap between research and design practice. By investing in this research, LAF is generating much-needed information and precedents to evaluate performance, demonstrate value, and make the case for sustainable landscape solutions. The Landscape Performance Series database of over 180 case studies is used by designers, students, researchers, journalists, policy-makers, and advocates.
Because resources (including time, expertise, and funding) are often limited for performance evaluation, the CSI program seeks to identify valid, defensible, and replicable metrics and methods that can be used within a short timeframe by non-experts with limited resources. This makes the 6-month CSI program an ideal testing ground for new methods.
As a training program, CSI is an important impetus in moving the landscape architecture discipline toward designing every project with specific performance objectives, documenting project goals and design intent, routinely collecting performance data, and integrating landscape performance in design education.
---
Case Study Investigation (CSI)
Overview
CSI Research Fellows
CSI Firms and Projects
Application Process
CSI FAQs