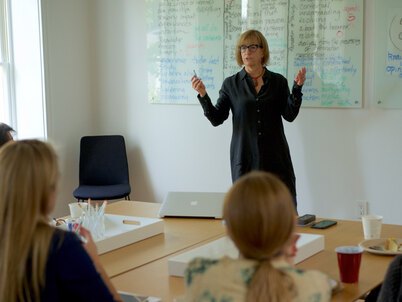 LAF Fellowship for Innovation and Leadership
Have a big idea? This $25,000 fellowship is an opportunity for landscape architecture professionals to dedicate the equivalent of 3 months' time over the course of a year to a proposed project that brings about positive change and expands the discipline's impact.
LAF is now accepting applications for the 2024-25 fellowship cohort. LAF staff gave a short program overview and was available to answer questions for potential applicants during an "office hours" on July 12. A video recording of the session can be found at the link below. Applications are due Sept 15.
2024-25 LAF Fellowship Application Process Timeline
June 2023 - Call for applications announced
Sept 15, 2023 - Application deadline (all materials)
Oct 2023 - Jan 2014 - Jury deliberations
Feb 2024 - Fellows announced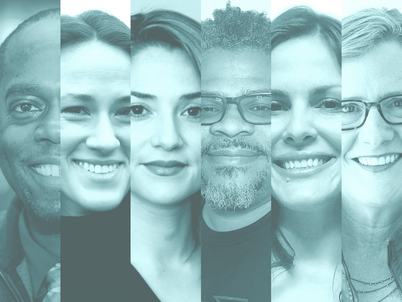 Congrats to our newest fellowship cohort!
Six have been selected for the 2023-24 LAF Fellowship for Innovation and Leadership:
- Meg Calkins, Raleigh, NC
- Kathryn Finnigan, Denver, CO
- Kimberly Garza, Sacramento, CA
- Johnny Shakir Macon, Baltimore, MD
- Betsy Peterson, Aberdeen, Scotland
- Douglas Williams, Chicago, IL
Their fellowship year kicks off in June. We are thrilled to support these innovators and their projects which address neuro-inclusive spaces, site materials for climate goals, tree canopy inequities, basketball courts as cultural landscapes, Climate Victory Gardens, and career discovery for African American K-12 students.
The LAF Fellowship for Innovation and Leadership was established to foster transformational leadership capacity and support innovation to advance the field of landscape architecture.
The $25,000 fellowship is an opportunity for landscape architecture professionals to dedicate the equivalent of 3 months' time over the course of one year to nurture emerging ideas and to think deeply. It is designed as a time to reflect, research, explore, create, test, and develop ideas into action.
Each year, 3-4 mid-career and senior-level fellowships are awarded through a competitive application process based on a proposed project. Selected Fellows receive a $25,000 financial award and participate in three 2.5-day residencies over the course of a year, as well as monthly conference calls. Their projects must demonstrate the potential to bring about impactful change to the environment and humanity and have the capacity to grow the leadership potential of landscape architects.
Program Goals
As we confront increasingly complex and interrelated environmental, social, and economic challenges of the 21st century, this fellowship brings together a diverse group of landscape architecture professionals to develop and test new ideas in support of a healthier, more equitable, and sustainable world. It is an entrepreneurial investment in the people and ideas that will drive the future of the profession.
The LAF Fellowship for Innovation and Leadership nurtures and inspires landscape architecture professionals toward the following goals:
1. Support Innovation in Landscape Architecture
By providing a testing ground with critical review and constructive feedback, the fellowship facilitates the realization of each Fellow's proposed project. Through inquiry that raises supportive questions, Fellows explore, tune, and evolve their ideas. The fellowship provides support and guidance to set goals, overcome obstacles, and identify next steps.
Fellows take advantage of LAF's broad reach and network within the discipline. They present their ideas, engage in critical discussion, and collaborate with leading academics, practitioners, allied organizations, and industry partners. Additionally, Fellows are expected to share their work strategically with the public in ways that will increase the visibility of landscape architecture and its role in addressing critical issues.
2. Cultivate Transformational Leadership
Effective innovation requires criticality, courage, and profound insights into the world in which we live. Through readings and discussions, Fellows explore transformational leadership and are tasked with building leadership capacity during their fellowship year. They discover their intrinsic motivation and identify the change they want to see and why.
3. Foster Intergenerational Mentorship
The fellowship also aims to build leadership capacity through intergenerational mentorship. The Fellows and emerging professionals from LAF's Olmsted Scholars Program are brought together as a cohort team. Throughout the year, this intergenerational team will present, discuss, and provide guidance and support to each other towards the pursuit of their ideas and future endeavors. This structure fosters camaraderie as cohort participants mentor, inspire, and teach one another.