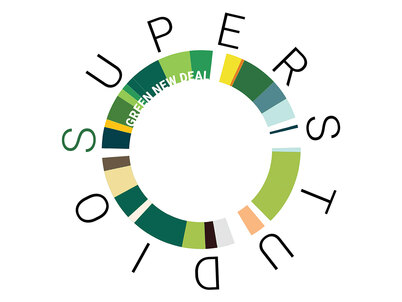 Green New Deal Superstudio: Spring Kickoff Webinar
On February 3, 2021, Superstudio participants from the fall shared their approaches and lessons learned.  Watch to get insights to inform your participation in the Superstudio as a faculty member, student, or other group or individual, or simply to learn more about the innovative work being done.
Panelists:
- Denise Hoffman Brandt, City College of New York
- Danielle Zoe Rivera, University of Colorado Boulder
- Adam Scott, SWA and Maddie Clark, Design Workshop
- Linda C. Samuels, Washington University in St. Louis
The second half of the year-long Green New Deal Superstudio initiative is underway, with spring studios kicking off in January and groups and individuals continuing their work through June 2021. It's not too late to sign up to participate!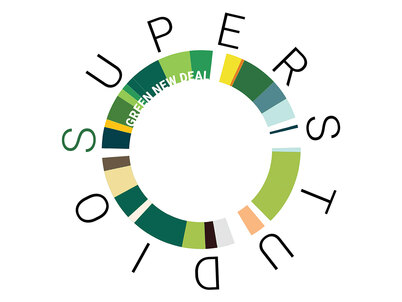 The Green New Deal Superstudio: An Open Call
Now more than ever, we must use our unique training as designers to confront the pressing challenges of climate change and justice. The Green New Deal Superstudio is an opportunity to explore these principles from a designer's perspective and support this opportunity for change.
Our goal is to facilitate a meaningful design response to the climate crisis, discuss what the Green New Deal could look like on the ground in regions throughout the United States, and develop a pipeline of concepts that could be ready for further development, funding, and implementation in the future.
Design studios in all academic programs are invited to undertake this project in the 2020-2021 academic year. Recent graduates and professionals in landscape architecture and related fields can also participate by forming teams or collaborating with universities.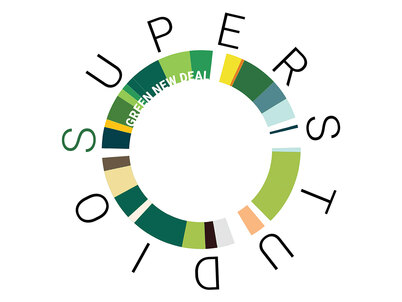 Green New Deal Superstudio: Fall Kickoff Webinar
An online information session was held on August 20, 2020. It is recommended viewing for new or prospective Superstudio registrants. 
The organizing partners shared information about the Green New Deal Superstudio and answered audience questions. Three faculty who have taught studios related to the Green New Deal presented their experiences and lessons learned:
- Kristina Hill, PhD, University of California, Berkeley
- Linda Chamorro, Florida International University
- Billy Fleming, University of Pennsylvania
Spread the word! Universities may participate in the Superstudio this fall and/or in the spring, and other groups and individuals may participate on their own timeline.
The Green New Deal Superstudio is national conversation about how the framework of the Green New Deal can be translated into actual projects and where, as a matter of priority these projects should take place, what will they look like, who will they serve, and how will they roll out.
The Landscape Architecture Foundation (LAF) in association with the Weitzman School of Design McHarg Center, the Center for Resilient Cities and Landscapes, the American Society of Landscape Architects (ASLA), and the Council of Educators in Landscape Architecture invites designers to be part of a historic, national initiative to translate the core goals of the Green New Deal—decarbonization, justice, and jobs—into design and planning projects for their respective regions.
The Superstudio is an open call for designs that spatially manifest the principles and policy ideas of the Green New Deal with regional and local specificity. A national climate plan like the Green New Deal will be understood by most people through the landscapes, buildings, infrastructures, and public works agenda that it inspires. The Superstudio is a concerted effort to give form and visual clarity to the scale, scope, and pace of transformation that the Green New Deal implies.
Participation is open to all design schools, professional practices, individuals, and other design and planning related organizations across the United States. Superstudio participants will join a collaborative network of other participating studios that will have access to a design brief and supporting resources such as lectures, roundtable discussions, and reviews. The concepts and dialogue produced through the Superstudio will be catalogued as part of a curated collection to form a national vision for the Green New Deal that can support policy-makers and advocates to advance Green New Deal ideas and approaches. The Superstudio projects will also inform a national conversation on policy and design at a summit convened by LAF in October 2021.
The Superstudio runs from August 1, 2020 until June 30, 2021. Universities may participate in the Superstudio in the fall semester of 2020 and/or the spring semester of 2021. Other groups and individuals may participate on their own timeline.
---
Green New Deal Superstudio
Overview
Participation
Registration
Submissions
Superstudio FAQs