Bringing design into the jobs, justice, and decarbonization agenda
A national climate plan like the Green New Deal will be understood by most people through the landscapes, buildings, infrastructures, and public works agenda that it inspires. There is an essential role for the built environment disciplines to play in reimagining this future and translating the goals of decarbonization, jobs, and justice into on-the-ground practices and built works.
From 2020 to 2022, LAF and partners undertook two initiatives to explore the intersection of design, policy, and advocacy and give form to the scale, scope, and pace of transformation needed to address the climate crisis. The goal was to catalyze conversation and identify ways to accelerate individual and collective actions to effect change.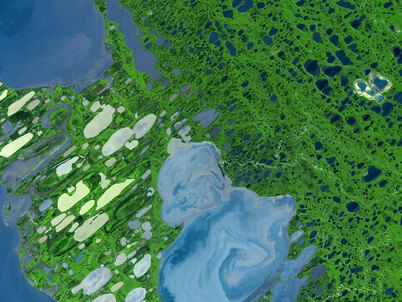 The Green New Deal Superstudio and Summit continued the vision set forth from LAF's 2016 Summit on Landscape Architecture and the resulting New Landscape Declaration.
The New Landscape Declaration identified climate change, inequity, and mass species extinction as the defining issues of our time and asserted the agency of designers to help solve them. The Grounding the Green New Deal Superstudio and Summit offered designers a way to answer the New Landscape Declaration's calls to action and meaningfully engage in a response to the climate crisis at local, regional, and national levels. Through this initiative, landscape architecture and related design professions could reexamine their roles in civil society and be part of a conversation about the nation's future at a critical time in history.
Why the Green New Deal
On February 7, 2019, Representative Alexandria Ocasio-Cortez (NY-14) and Senator Ed Markey (MA) introduced H.R. 109, a non-binding resolution "Recognizing the duty of the Federal Government to create a Green New Deal." In it, they provide a framework for a "10-year national mobilization" that calls on Congress to pass legislation that:
Builds resiliency against climate change-related disasters
Repairs and upgrades the infrastructure of the United States (including universal access to clean water)
Establishes a zero-emission energy standard
Develops an energy-efficient and distributed "smart" grid
Upgrades every existing building to and requires that all new construction in the U.S. achieve maximum energy and water efficiency (among other standards)
Reinvigorates federal industrial policy to guide the growth of a 'clean manufacturing' sector
Works collaboratively with farmers and ranchers to lower agriculture-driven GHG emissions
Overhauls the U.S. transportation system through the development of inter- and intra-city public transit
Invests in conservation lands and other 'low-tech' carbon sequestration solutions that also enhance biodiversity
Remediates or repurposes hazardous waste and abandoned sites
Focuses on several other technology-driven emissions-reducing investments
It departs from prior sustainability and resilience-driven policy and design work by designing a program of ideas and political strategy aimed at merging the interests of blue-collar workers, climate activists, and frontline communities—what the resolution's authors went on to call a "jobs, justice, and decarbonization agenda" that places communities facing historic and contemporary discrimination and disinvestment at the front of the line for what amounts to an investment-led strategy in the nation's infrastructure, public works, and built environment.
In the press conference announcing the resolution, Ocasio-Cortez remarked that the public should view the non-binding resolution as a "Request for Proposals…we've defined the scope and where we want to go. Now, let's assess where we are, how we get there, and collaborate on real projects."
Since then, a new body of policy development and economic research has emerged, but the work accomplished to date on the Green New Deal has been focused on abstract, national-scale economic and political strategies. Little has dealt directly with the unprecedented scale, scope, and pace of physical landscape transformation that it implies. The Grounding the Green New Deal Superstudio and Summit built toward a greater shared understanding of these strategies and of the work to be done.