Themes from the Grounding the Green New Deal Summit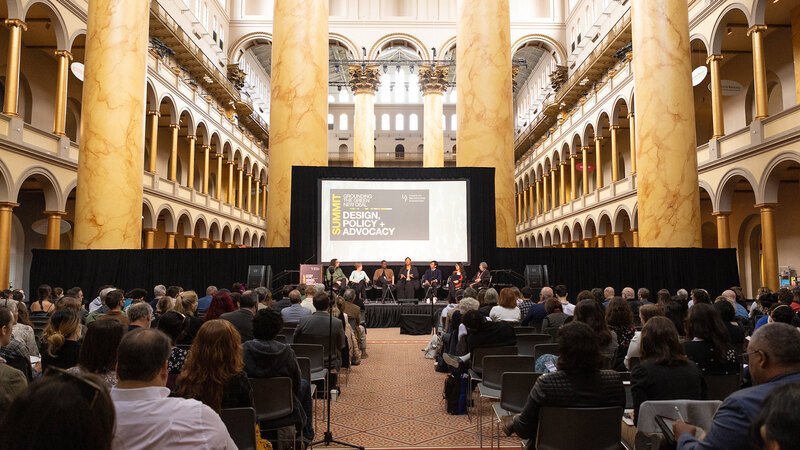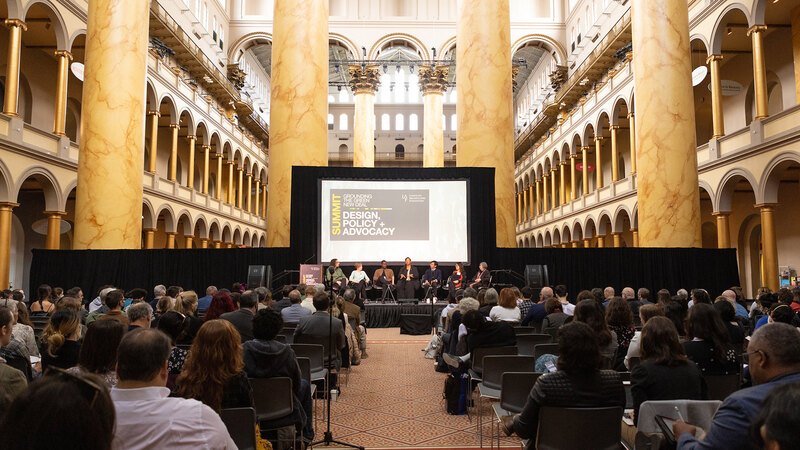 By Rory Doehring
The Grounding the Green New Deal Summit was an electrifying day that offered the opportunity to learn from diverse perspectives in the built environment and inspiration for continuing the important work of landscape architects and allied professions as we seek to prevent and mitigate the effects of climate change. From the beginning, the summit centered on the communities on the front lines of climate change; there was a nod to decarbonization, but the focus was on the lives and histories we stand to lose if we do not push for radical change now.
Early in the day, Brian Lee Jr. reminded attendees that to be radical is not to propose the most "out there" ideas. The root of radical – radice – means roots and emphasizes that change must come from the roots. Panelists discussed how the various systems of land use, education, economics, and government were rooted in inequality. While there are many discrete opportunities to promote equity in our work, without radical, or even revolutionary, change, these systems will continue to reproduce the same problems, just as they were designed to do. There are opportunities for designers to bring our skills to bear, but there are even more opportunities for us to engage affected communities, to listen, and to use our voices in support of their causes.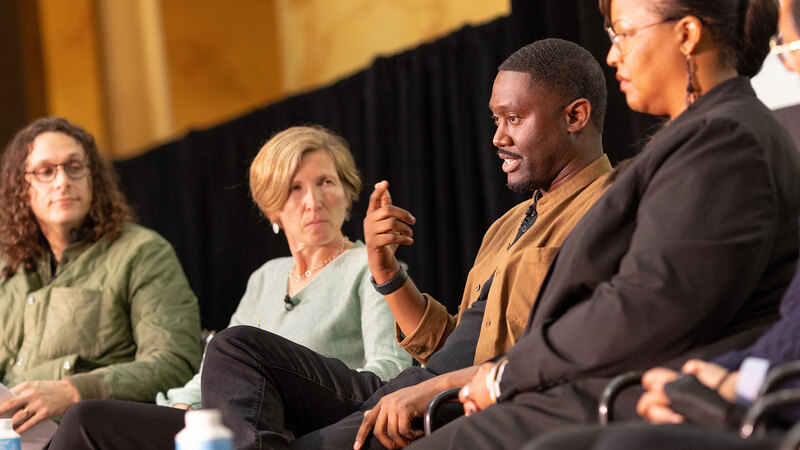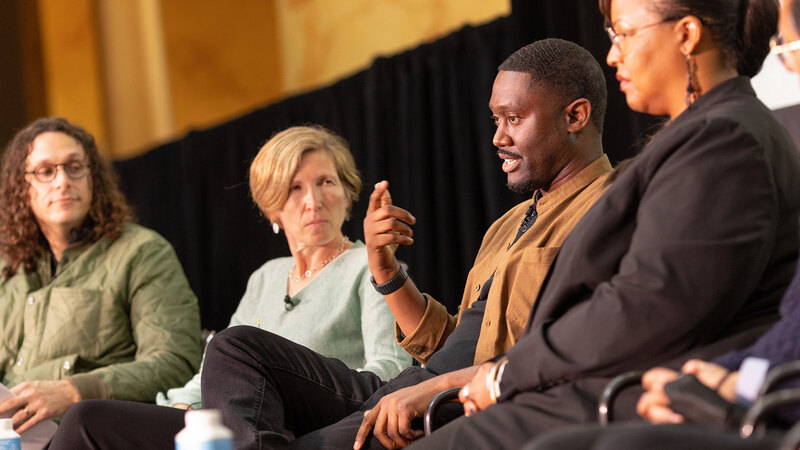 An important theme brought up over and over was that of collaboration/democratization. Over the last decade, advocates have moved from thinking about their work in silos to a more expansive understanding of what advocacy can and should be. Alexa Bush highlighted how landscape architects can be facilitators of this collaboration, outlining why the systems thinking that is a key part of their training is particularly helpful. Others also shared this perspective, emphasizing how the ability to see the whole picture and understand where the expertise of others is needed helped them to build relationships and develop more holistic solutions. Of course, a key part of creating these solutions is community input. Here, the idea of democratization came up as panelists spoke about the importance of recognizing people as the experts in their own experience. Part of this work is to learn how to communicate the specific language of design in an accessible way, or, to paraphrase Linda Shi, to be the conduit through which the ideas people have organized around are made to appear more pragmatic. 
Panelists, many of whom had experience in the government and nonprofit sectors, also encouraged designers to familiarize themselves with how funding decisions are made in the states, cities, and towns where they work. This may mean taking time to understand the request for proposal (RFP) process, tie together different funding sources, or build relationships with local decisionmakers to help them understand the importance of our work. Some may also feel called to work in government or nonprofits in order to set the scope for and fund the projects they want to see.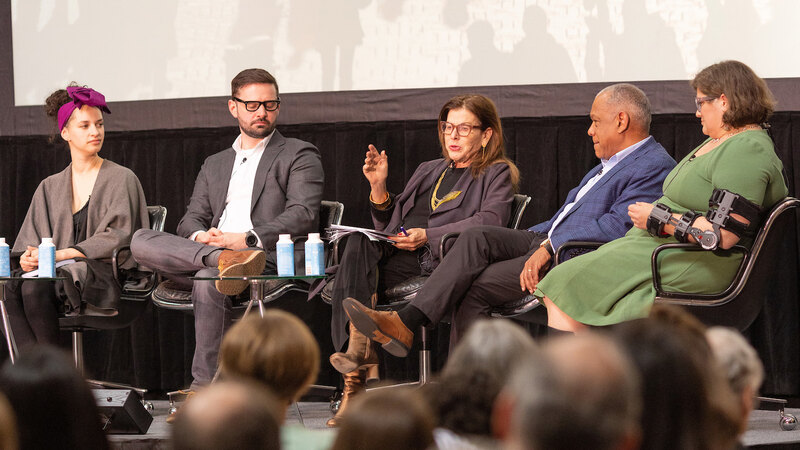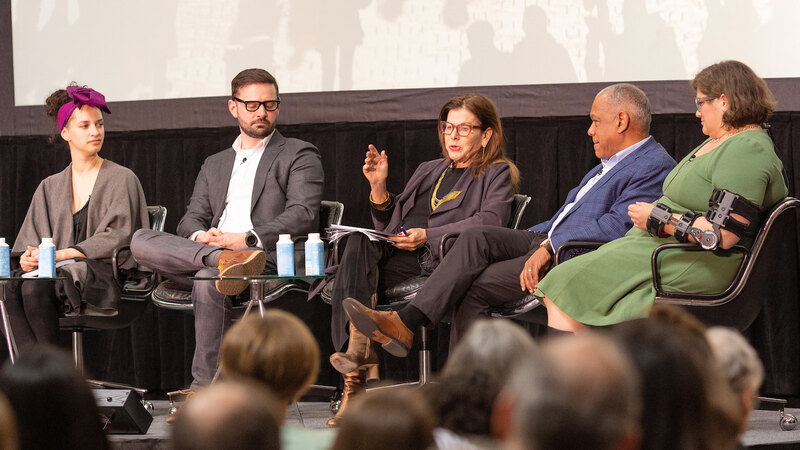 This idea of purpose was a component of every panelist's introduction. Each person led with a story of what brought them to the work, whether it was something embedded in their upbringing or a personal experience of disaster or loss. These stories grounded their work and provided a consistent reference point for their advocacy and projects. While one can certainly do good work without this, Mitchell Silver passed on a grain of wisdom from his mother when he said, "You must have a sense of purpose or you will wander." The magnitude of this moment calls for all of our attention; there is no time to wander so it is important that each individual identify and stay connected with their purpose.
The Grounding the Green New Deal Summit was the culmination of two years of discussion, ideation, and design that began with the Green New Deal Superstudio. However, the event was not meant as end but instead to launch the conversation into a new stage as designers continue to expand their role and agency in addressing climate change and its intersections with the movements for racial justice, labor, housing, and others. Throughout the day, themes carried attendees from advocacy to implementation, providing insights into how to create opportunities to do the work that the current moment demands. 
---
Rory Doehring previously worked at LAF and now earns a living as a proposal writer in Washington, DC. His interest in landscapes stems from early experiences in the outdoors. After attending the People's Climate March in New York City in 2014, he shifted the focus of his studies to histories of activism and methods of communication, especially in the environmental movement. Rory holds a BA in History from Hofstra University and an MA in Communication from the University of Missouri.