The Public Path: Lauren Marshall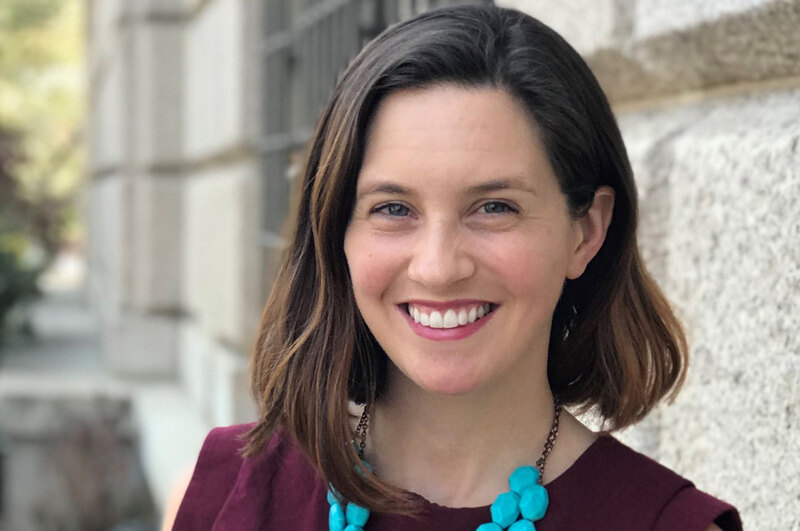 Lauren Marshall is a National Manager at the US Forest Service's Urban & Community Forestry program. There, she connects people with the natural world outside their front doors and equips them with science-backed tools to manage the resources around them. She was a 2010 LAF Olmsted Scholar.
What do you do at the U.S. Forest Service?
In my role as a national manager, I sit on the executive team for i-Tree, a free suite of tools that quantify the benefits of trees and help landscape architects and others figure out how to most effectively deploy them in designs, ranging from site scale to citywide. Another example is a great web platform we just launched in partnership with American Forests and the National Association of Regional Councils. The Vibrant Cities Lab is a free resource aimed at helping anyone interested in trees understand the best available science as to why we should care about them and the best practices for how to build a sustainable urban forestry program. 
I am also a part of a team working on a project with our Baltimore Field Station that will let me more directly engage in design, which I am pretty excited about. We are building out a model of a sustainable urban wood economy in Baltimore, using wood both from decommissioned rowhomes and urban forestry activities. In a lot of cities, this wood is sent to the landfill. Around the turn of the century, 17% of municipal waste was wood! Helping cities deal with blight and forest management issues by turning this wood into a marketable asset can bring in new funding sources to maintain our open spaces and urban forests while improving the lives of people in cities. The final step of the model, after buildings have come down and the wood has been salvaged, is to think about how best to restore and reuse the vacant property in a way that is fiscally sustainable, helps the city and others meets diverse objectives ranging from supporting public health to treating stormwater, and serves the neighborhood. It is a complex design challenge I am excited to think more about with some of our on-the-ground partners in Baltimore. 
Why did you choose a career path in the public sector?
Our public lands, ranging from an immense National Forest to a small urban pocket park, are such a phenomenal gift. I was drawn to the idea of designing and supporting landscapes that belong to all of us and that we all can enjoy. I also love how public-sector work gives you the opportunity to take on so many different types of projects – I never feel bored! Working with the Forest Service, I have taken on design and planning challenges across a variety of scales, ranging from designing recreation facilities like campgrounds, to analyzing impacts of restoration projects, to building artisan and construction markets for salvaged and sustainably harvested wood products, to increasing landscape scale collaborative planning of our nation's forests, to now generating innovative planning and design strategies for vacant properties in cities. I am so grateful for the diversity of roles I have been able to fill in my eight years here, and for the level of trust given to me from the very beginning. My second year with the agency, a few of my designs were implemented! Camping at a site you designed is such a fun experience.  
What does the future of the profession look like to you?
The future of our profession has to be in collaboration. We need to continue to serve as translators between the science and design communities, bringing practitioners and best practices from both sides to the table when we generate design solutions. In addition, I hope we continue to move towards practicing co-design, meaningfully engaging stakeholders and community members in generating site-specific solutions that will impact their lives. This interdisciplinary, collaborative approach to solutions is only going to become more important as the impacts of climate change become more severe. We have to approach every design challenge as an opportunity to promote resilience, equity, and biodiversity. 
I also hope that those we hold up as leaders in our profession continue to better reflect the diversity of the public we all serve, whether in public or private practice. If we want to inspire the landscape architects of tomorrow, we need to ensure they can see themselves reflected in the leaders of today.
What piece of advice would you give to emerging professionals today?
Don't be afraid to reach out to those that have gone before you to learn about the diversity of careers you can have in landscape architecture. I think so often in school we learn about life in a firm, and that is certainly one incredibly important facet of our profession. But, there are landscape architects doing incredible work across all levels of government, in the non-profit realm and in academia as well. While you are in school and early in your career, seek out people who have taken different pathways and ask questions not only about their work, but also their work-life balance. Then, pick a pathway that fits your personal and professional goals. Especially now that I have a family, I am so grateful for the work-life balance my job offers, but I got lucky--it wasn't an intentional choice for me. I think there needs to be more emphasis on consciously thinking through that balance for emerging professionals. 
The other piece of advice I wish I had earlier in my career is that if you have a resume gap, you can always fill it with volunteer experience. When you go to apply for a job, no one ever asks if it was paid experience or not. When I knew I wanted to move from working on National Forests to working in more urban issues, I volunteered on my city's Committee on the Environment. It gave me a window into the types of urban sustainability issues cities face, and the opportunity to review some urban design and planning documents. It helped me keep that skill set current, and was integral to successfully competing for my current job. 
What does leadership mean to you?
To me, leadership is largely about paying it forward. We all have a responsibility to raise the profile of our profession and to help young people discover it and thrive. I have been so lucky to have phenomenal mentors in my career who took the time to get to know me, really believed in me and helped me push myself to my fullest potential in a way that felt authentic for me. I hope I can offer that same attentiveness and guidance to those that are coming up behind me. 
I sit on the Advisory Board for the Forest Service's Presidential Management Fellows program. When I joined through the program eight years ago, no other landscape architects had ever come in through the program- last year, we hired our sixth! Through the program, I have had the privilege to be a part of hiring over 100 incredible young professionals now. No matter what else I accomplish in my career, my greatest impact will always come from helping others find their professional footing.    
Where do you want to be 10 years from now?
There are so many different ways I can see my career going. Ultimately, I hope I am still doing work that challenges me and that leaves the world slightly better than I found it. I also love to learn and study. I became a professional landscape architect earlier this year, and I haven't ruled out a Ph.D. at some point if I could pursue it in a way that works for my family and my career. I am so inspired by the curiosity and commitment to lifelong learning and discovery I have seen in researchers I have worked with throughout my career. 
Any opinions expressed in this interview belong solely to the author. Their inclusion in this article does not reflect endorsement by LAF.