Announcing Our 2018 LAF Olmsted Scholars
The Landscape Architecture Foundation (LAF) is delighted to announce the two winners and six finalists for its 2018 Olmsted Scholars Program, the premier leadership recognition program for landscape architecture students.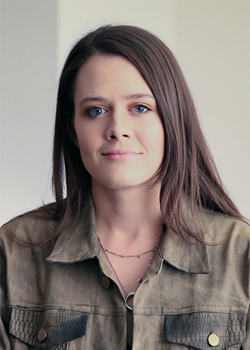 Elizabeth Camuti, a master's student at the University of Virginia, was selected as the graduate 2018 National Olmsted Scholar and recipient of the $25,000 prize. Liz plans to leverage the award to continue her ongoing research about new forms of socio-ecological infrastructure for isolated populations threatened by climate change and extreme weather, specifically the U.S. territories of Puerto Rico and the U.S. Virgin Islands. Her work advances a design methodology that couples advanced digital technologies with local knowledge. Liz will use the award to support travel, tools, and surveillance technologies to better understand how infrastructural improvements implemented in the wake of recent storms might interface with new forms of human occupation. Liz graduates with a Master of Landscape Architecture in May.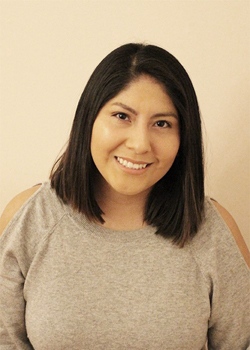 Karina Ramos, an undergraduate at the University of Massachusetts, Amherst, is the undergraduate 2018 National Olmsted Scholar and recipient of the $15,000 prize. Karina will use the award to design a physical plan for Puente Piedra, an emerging town 55 km away from Lima, Peru. Inspired by David Gouverneur's "informal armatures" approach, which provides a framework for the processes of informal urbanization, Karina will first conduct case study research in her hometown of Los Olivos, an adjacent district that evolved through the planned growth and development of an existing informal settlement. She plans to present her findings and recommendations to Peru's federal housing and urban development agency. Karina graduates this spring with a Bachelor of Science in Landscape Architecture.
Also honored are six National Olmsted Scholar Finalists. The graduate finalists each receive a $5,000 award, and the undergraduates each receive a $3,000 award.
2018 National Olmsted Scholar Finalists
Top row: Graduate finalists; Bottom row: Undergraduate finalists
Rachel Ison
University of Southern California

Nicholas Jabs
University of Pennsylvania

Steven Nuñez
University of Texas at Arlington

Toni Candanedo
Arizona State University

Bryce Donner
University of Florida

Karen Lomas-Gutierrez
University of California, Davis
Two independent juries of leaders in the landscape architecture profession selected the winners and finalists from a group of 50 graduate and 35 undergraduate students nominated by their faculty for their exceptional leadership potential. These top students earned the designation of 2018 LAF Olmsted Scholars and join the community of 634 Olmsted Scholars named since the program's inception in 2008. See all past winners and finalists here.
Now in its eleventh year, the LAF Olmsted Scholars Program honors students with exceptional leadership potential who are using ideas, influence, communication, and service to advance sustainable design and foster human and societal benefits. The program is made possible with support from Lead Sponsor: The Toro Company; Annual Sponsors: HOK, IRONSMITH, Kimley-Horn, LandDesign, OLIN, Sasaki, Thomas C. and Gerry D. Donnelly, Steven G. King, FASLA, and Bill Main, Hon. ASLA; Promotion Partner: American Society of Landscape Architects.
Thanks to the generous support of donors to the LAF: 50 & Forward Campaign, starting in 2018, the Olmsted Scholar finalist awards increased from $1,000 to $5,000 for graduate students and $3,000 for undergraduates.
---
2018 LAF Olmsted Scholars (Graduate)
In addition to the winner and finalists, the graduate nominees from each university are recognized as 2018 LAF Olmsted Scholars, which denotes distinguished student leadership in landscape architecture.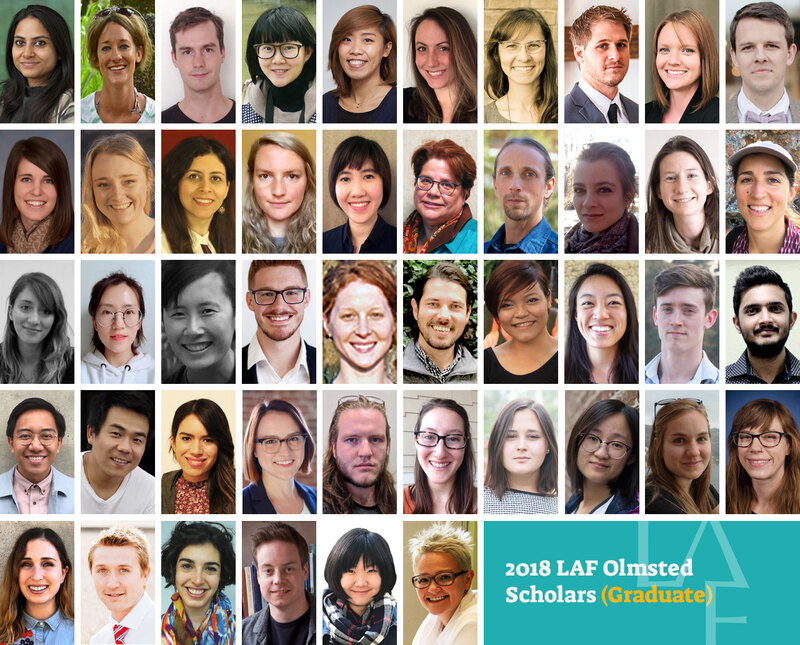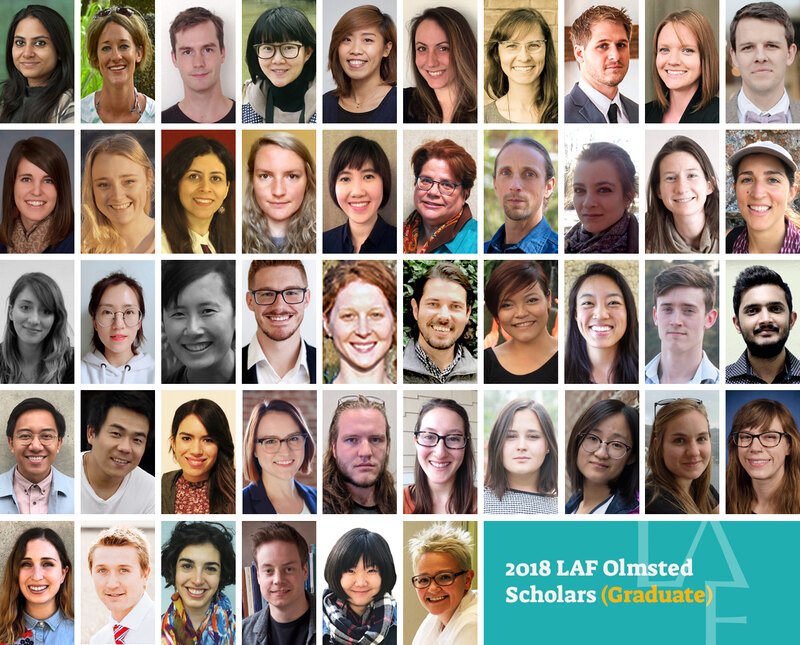 First Row: Sadiqa Ansari, The Pennsylvania State University | Kristin Antkoviak, Arizona State University | Patrick Beech, University of British Columbia | Mingjie Cai, Rhode Island School of Design | Lin (Flora) Chen, University of Oregon | Carly Clevenstine, West Virginia University | Gabrielle Helene Comeau, University of Texas at Austin | Justin De Vesta, Cal Poly Pomona | Stacy Ester, University of Colorado Denver | Phillip Fernberg, Louisiana State University
Second Row: Courtney Fernelius, Utah State University | Caroline Finck, Kansas State University | Sara Hadavi, University of Illinois Urbana-Champaign | Rachel Hamrick, Auburn University | Ngoc Ho, Iowa State University | Nancy Jones, Ball State University | Brad Kindler, University of Arizona | Sara Rose Lawler, University of Massachusetts, Amherst | Rebekah Lawrence, Virginia Tech | Jacqueline LeBoutillier, City College of New York
Third Row: Abigail Leonard, Morgan State University | Wencan Li, University of Idaho | Jia Lu, University of Toronto | Dominic Mack, Florida International University | Lindsey Naylor, North Carolina State University | Christopher Nelson, University of Florida | Minh Nguyen, University of Oklahoma | Jean Ni, University of Washington | Luke Nicols, University of Minnesota | Saket Patel, Boston Architectural College
Fourth Row: Estello-Cisdre Raganit, Harvard University | Dingding Ren, Texas A&M University | Nicole Rivera, SUNY College of Environmental Science and Forestry | Laura Robinson, University of Maryland | Daniel Rose, University of Tennessee, Knoxville | Danielle Schwartz, University of Georgia | Margot Shafran, Washington University in St. Louis | Zhaowei Si, Clemson University | Kari Spiegelhalter, Cornell University | Shannon Sylte, University of Michigan
Fifth Row: Alexa Vaughn, University of California, Berkeley | Tyson Watson, Texas Tech University | Kari Williams, Rutgers, The State University of New Jersey | Garth Woolison, University of Manitoba | Zhimin Yang, Illinois Institute of Technology | Tatiana Zakharova, University of Guelph
---
2018 LAF Olmsted Scholars (Undergraduate)
In addition to the winner and finalists, the undergraduate nominees from each university are recognized as 2018 LAF Olmsted Scholars, which denotes distinguished student leadership in landscape architecture.
[Image Not Available]
First Row: Carly Elizabeth Benson, SUNY College of Environmental Science and Forestry | Allison J. Chan, Clemson University | Zixiang Chen, University of Guelph | Nicole Cohen, Rutgers, The State University of New Jersey | Sam Cohen, Virginia Tech | Rachel Dapper, West Virginia University | Xochilyn Davis, Oklahoma State University | Henry Herman, Iowa State University | Pablo Hinojosa, Cal Poly Pomona | Isabel H, University of Georgia
Second Row: Layne Knoche, University of Illinois Urbana-Champaign | Jacob Kuhn, Cornell University | Evan Lecy, North Dakota State University | Yitao Li, University of Nebraska-Lincoln | Megan Little, University of Oregon | Erin Lockwood, University of Kentucky | Evan Mc Naught, Thomas Jefferson University | Lily R. Neppl, Purdue University | Erin Norrison, University of Rhode Island | Abigail Reimel, Michigan State University
Third Row: Aubrie Rhines, Utah State University | Isabel Rountree, Louisiana State University | Shannon Marie Saliba, Cal Poly San Luis Obispo | Spencer Seeberger, Washington State University | Lauren Shoats, The Pennsylvania State University | Olivia Sievers Ross, Texas Tech University | Natalie Somerville, Texas A&M University | Monica Taylor, University of Washington | Cecilia Tran, University of Maryland | Addison Warren, University of Arkansas
Fourth Row: Margaret Weighner, Ball State University
---
Thank you to our 2018 juries
The 2018 jurors for the graduate award were:
Adam Greenspan, President, Landscape Architecture Foundation / Principal, PWP Landscape Architecture
Shawn T. Kelly, President Elect, American Society of Landscape Architects / Principal, Kelly Design Group, LLC
Kimberlee Douglas, Associate Professor and Director of the Landscape Architecture Program, Philadelphia University
Susan Szenasy, Director of Design Innovation, Metropolis Magazine
Brian Jencek, Principal, HOK
Skip Graffam, Partner and Director of Research, OLIN
Davíd de la Cruz, Project Manager, Los Angeles Neighborhood Land Trust / 2017 LAF National Olmsted Scholar (Graduate)
Jurors for the undergraduate award were:
Stephanie Rolley, President Elect, Landscape Architecture Foundation / Department Head and Professor, Kansas State University
Vaughn Rinner, Immediate Past President, American Society of Landscape Architects
Paul Voos, Department Chair and Associate Professor, Morgan State University
Zach Mortice, Architectural Journalist and Web Editor, Landscape Architecture Magazine
Jim Laiche, Water Conservation Business Manager, The Toro Company
Tao Zhang, Principal, Sasaki
Ron Kagawa, Landscape Architect, Kimley-Horn
Lauren Delbridge, Landscape Designer, LandDesign / 2017 LAF National Olmsted Scholar (Undergraduate)