Landscape Performance for a Pop-Up Space
By Naomi Wong Hemme, Master of Architecture Candidate, Morgan State University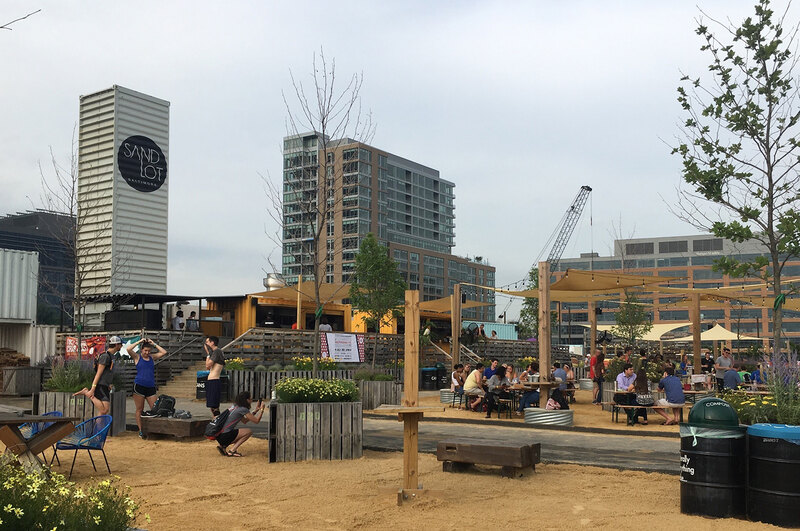 Sitting on a former industrial site in Baltimore, Maryland's Inner Harbor is Sandlot, an interim pop-up installation and outdoor space designed by Mahan Rykiel Associates that serves as a local eatery and a waterfront destination where friends and families gather to relax and play. It is also the project I am studying as part of LAF's Case Study Investigation (CSI) program.
As an architecture student interested in how a legacy urban space can be activated to benefit surrounding communities, I jumped at the opportunity to study, from an interdisciplinary perspective, how small-scale and temporary urban landscape interventions such as Sandlot play a role in improving quality of life: how architecture and landscape architecture practitioners apply the principles of tactical urbanism to collaborate and create a socially inclusive, dynamic, and fun urban space.
Having recently relocated to Baltimore for my graduate studies, I am constantly learning about the city's social fabric and the role the built environment plays. Prior to embarking on this project, I knew very little about the site, which allowed me to consider its landscape performance without any preconception. During my initial visits to the site, I was drawn by the simplicity of its design elements - how a built environment can be transformed using ordinary materials such as locally-sourced, recycled shipping containers and pallets, sand, as well as indigenous vegetation. Around me were small groups of friends enjoying happy-hour drinks and comfort food, couples relaxing on the urban beachfront with their dogs, and a few others getting competitive on the beach volleyball court.
While the focus of our research team has been analyzing and documenting the environmental, social, and economic impacts of Sandlot on the communities in Baltimore, we recognize that the temporal (a 7-year operation period) nature of the project lends itself to priorities and corresponding solutions that may be different from those of more permanent installations. This recognition has served as our guiding principle as we identified our project's performance benefits and how they could be quantified and measured.
On a personal level, participating in the CSI program certainly has greatly enriched my academic experience. In addition to working with a researcher who is both seasoned in and passionate about transforming urban space, I have learned so much from the program's well-established case study framework and research tools (I will definitely "borrow" some to assess my future designs). I am also grateful for the support and insight from our LAF partners as we navigate the case study process.
We are conducting our investigation using data from our collaborators as well as our own data, observational studies, and informal on-site survey results. Once the data is analyzed, we hope to compare the results with some of the alternate, conventional solutions to show the extent of the project's landscape performance against its design goals. Because Sandlot is a seasonal installation (the site operates between May and October), we will be conducting the bulk of our fieldwork throughout June into early July - over a cold beverage and some crab corn fritters, no less!
The Morgan State Research Assistant Naomi Wong Hemme and Research Fellow Pavlina Ilieva are participating in LAF's 2018 Case Study Investigation (CSI) program, which supports academic research teams to study the environmental, economic, and social performance of exemplary landscape projects. Upon completion, case studies are available through LAF's Landscape Performance Series.