LAF at the Virtual 2020 ASLA Conference on Landscape Architecture
Like nearly every event that took place this year, the 2020 American Society of Landscape Architects (ASLA) Conference on Landscape Architecture looked a little different than it has in the past. Though the LAF Annual Benefit (and other events usually held in conjunction with the conference) took place virtually last month, we still hosted an EXPO booth, held a Green New Deal Superstudio Meetup, tuned in for sessions, attended partner happy hours, and reflected on all of the thought-provoking content. It was great to see so many of you in the virtual space!
We were energized to see many of our program participants speaking at the conference. It is wonderful to see the people that LAF has invested in carrying their ideas forward.  Past and present LAF Fellows, Olmsted Scholars, and scholarship winners contributed their expertise to conversations intended to spark dialogue and inspire bold ideas about the future of landscape architecture over the 3-day conference. Check out their sessions and keep an eye on these world changers!
If you were unable to attend the live conference, made tough calls between conflicting discussions, or simply wish to revisit a favorite, ASLA will make the recordings available to all conference registrants from November 23, 2020 to January 31, 2021.
Take Action! Three Stories on Mentorship, Representation, and Leadership
Three presenters with diverse backgrounds come together for a discussion on how landscape architects can mentor through leadership and youth engagement to promote inclusivity and diversity within our profession. Featuring:
2017-2018 LAF Fellow  Nicole Plunkett
2015 Olmsted Scholar Kendra Hyson
2015 LAF scholarship winner Abdias Dalisma
 
The "Not So Inconvenient" Truth of Carbon and Landscape Architecture
With the global imperative for carbon emission reductions and sequestration, landscape architects can play a critical role in maximizing their capacity to realistically mitigate climate change. This session reviews the carbon conundrum from our profession's perspective and provides context, tools, and strategies toward achieving climate-positive design. Featuring:
2018-2019 LAF Fellow Pamela Conrad
 
DeafSpace, DeafScape, and Beyond: Universal Design in Landscape Architecture
Although disabled people make up the largest global minority, they spend their lives adapting to the built environment, which limits human experience, inclusion, and participation in the public realm. DeafScape explores ways to design with the Deaf community, and beyond, through Universal Design. Featuring:
2020-2021 LAF Fellow Alexa Vaughn
 
Fill for Habitat? Design Processes for an Adapting Regulatory Environment
Climate change and habitat loss are triggering shifts in the regulation of coastal water bodies. Take a look "behind the renderings" to see how regulation impacts designs across the East and West coasts and hear from a bay front regulator on policy changes that enable fill for habitat projects. Featuring:
2018-2019 LAF Fellow Sanjukta Sen
2008 National Olmsted Scholar Andrea Gaffney
 
Landscape Heritage: Revealing Invisible Landscapes
The study and amplification of cultural landscapes offer practitioners and students new opportunities to understand the impact of uncovering historic landscapes and landscape strategies to reflect multicultural stories and histories that promote more inclusive and creative placemaking. Featuring:
2019 LAF scholarship winner Whitney Barr
2019 National Olmsted Scholar Anjelyque Easley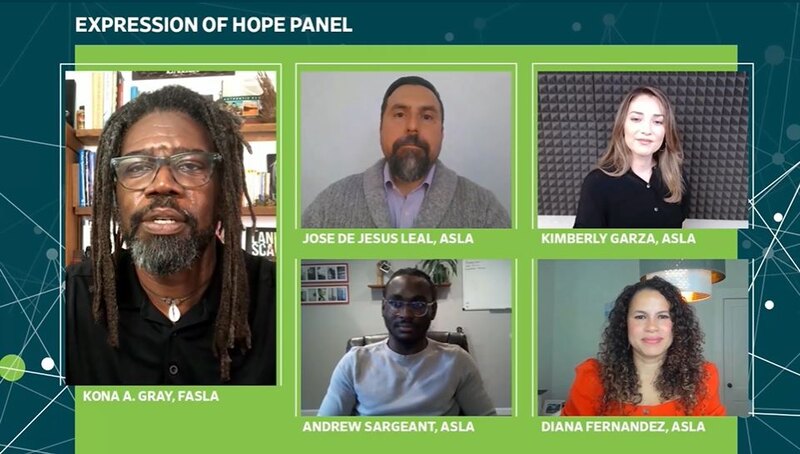 Day 3 General Session: An Expression of Hope
Through an opening session on the last day of the program, practitioners share a collective acknowledgement of what it is like to navigate the profession as people of color and their expressions of hope for change and growth in the profession. Featuring:
2018-2019 LAF Fellow and 2016 Olmsted Scholar Andrew Sargeant
2019-2020 LAF Fellow Diana Fernandez
 
Spiriting Impactful Practice: Research, Teaching, and Service Relevant to Black Culture
These socially conscious landscape practitioners expand the utility of the profession to impact some of the most vulnerable communities in the USA and abroad. They share experiences of success to forge collective transformations in communities they serve. Featuring:
2016 National Olmsted Scholar Azzurra Cox
 
Design Activism: Uplifting Black and Immigrant Leadership in American Public Space Design
The panel discusses their work within Black & immigrant communities in the US and shares how collaborative design can help celebrate the outstanding historical and cultural contributions of these communities. Featuring:
2019-2020 LAF Fellow Jeff Hou
 
Making a Difference: Transforming Professional Practices for Proactive Change
Climate resilience and social justice have become issues central to the landscape architecture profession. However, opportunities to pursue careers outside mainstream practices to address these issues remained limited. This session provides insights from award-winning professionals who have pursued alternative careers, as well as opportunities within the current model of practice. Featuring:
2017-2018 LAF Fellow Brice Maryman
2013 National Olmsted Scholar Leann Andrews