Xtreme LA Generates Design Ideas for Bison Bridge Project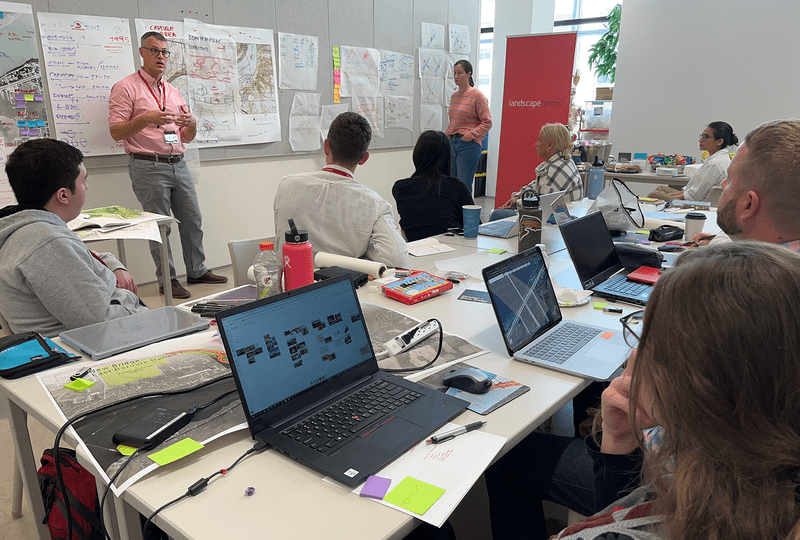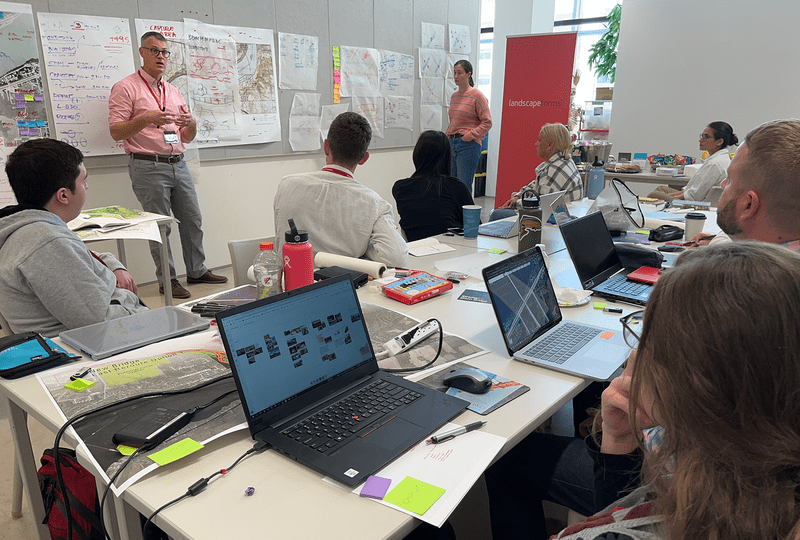 A movement is growing along the banks of the Mississippi River to convert an aging bridge between Iowa and Illinois into a new, designed crossing – one that would connect communities, attract and educate hundreds of thousands of visitors, and reintroduce a long-endangered species to the area: the bison.
Over two days this month, rising landscape architecture professionals from across the country joined with students from the University of Illinois Urbana-Champaign and Iowa State University to focus on possible design solutions as part of the 2022 Xtreme LA challenge. The event, hosted by Landscape Forms and the Landscape Architecture Foundation (LAF), was held in Davenport, Iowa and focused on the Interstate 80 (I-80) bridge between the nearby towns of LeClaire, Iowa and Rapids City, Illinois. Transportation officials in the two states are studying possible alternatives for improvements to the bridge, including replacing it.
If an entirely new I-80 bridge is built in a new location, many in the Quad Cities region are getting behind a vision to save the bridge from demolition and convert it into a crossing for pedestrians, cyclists, and a bison herd that would be introduced to the area. The Iowa side of the river features a prairie biome, natural to the bison, while the Illinois side is more forested, though it also includes savanna and wetlands. The Xtreme LA charette allowed teams to explore what's possible on the bridge, from new grasses, trees, and plant life to paths for pedestrians and cyclists who want to observe the new bison herd.
"Xtreme LA is an incredible opportunity for landscape architecture students and professionals to work together and be a part of something innovative, historic, and transformative for communities on both sides of the river and the region at large," said LAF CEO Barbara Deutsch. "I've never seen anything like it! I hope we can all be back in 10 years to celebrate the opening of what would be an iconic destination and national treasure."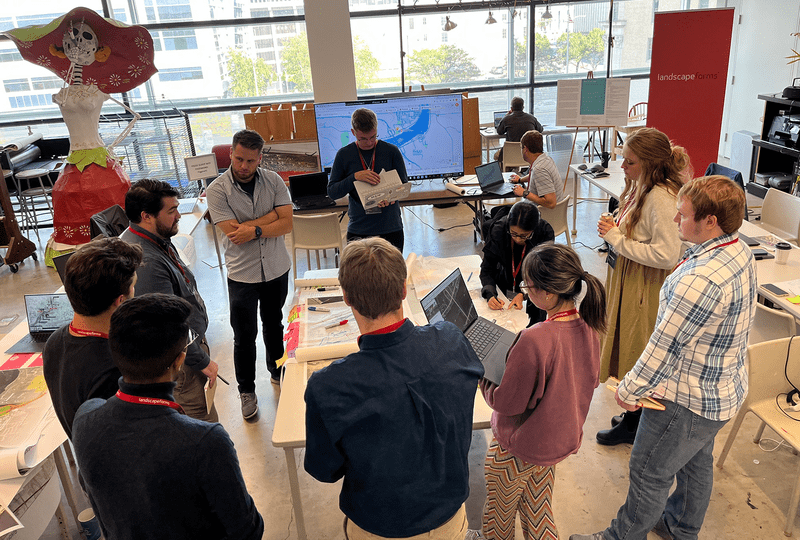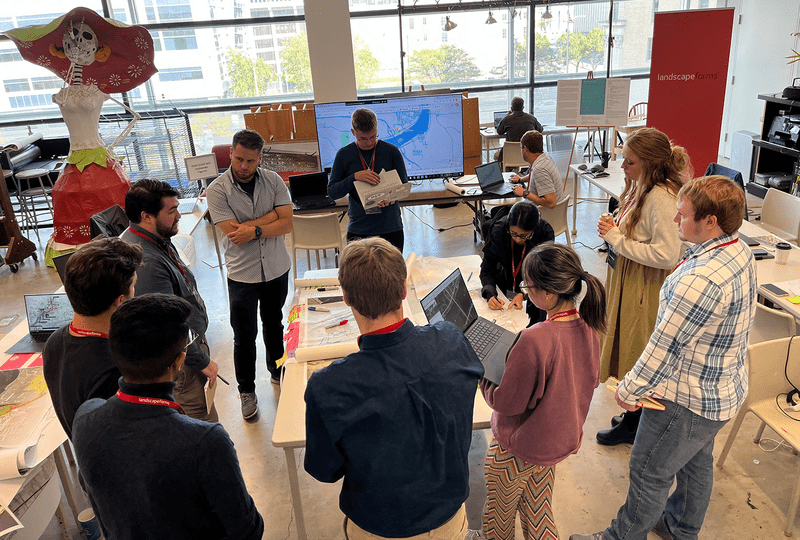 The 24 charette participants were divided into two teams, led by Chad Brintnall of SmithGroup and Khyati Saraf of Michael Van Valkenburgh Associates, to work on their designs for the bridge and surrounding areas. Though not part of the official study and planning process being carried out by the Illinois and Iowa state departments of transportation, the design concepts from Xtreme LA were presented in a public forum and can be used in advocacy and outreach efforts. As decisions about the fate of the bridge are made, some of these ideas may make their way into the long-term plans.
One option included visitors' centers on both banks of the river, each unique to the state in which they are located, with programs, educational opportunities, and other features to attract people year-round. The bridge would feature solar panels to power electric vehicle charging stations in nearby parking lots, and stormwater management elements to control runoff. Bison grazing areas would be located in Iowa and Illinois, with the biomes of each state transitioning together in the grazing area atop the bridge. There would be recreational opportunities too, like kayaking, cycling, and cross-country skiing, with an elevated walkway on the bridge that allows people to observe the wildlife below.
Other options included walkways at the bridge surface level to allow closer interaction with the bison, as well as more traditional features, like campgrounds, scenic overlooks, boat launches, and more. One design, dubbed "Jurassic Park," even featured an elevated cable car where visitors would pay to ride across the bridge and observe the wildlife. The teams want to turn the new bridge into a destination, whether through its design, by designating it as a National Park, or both.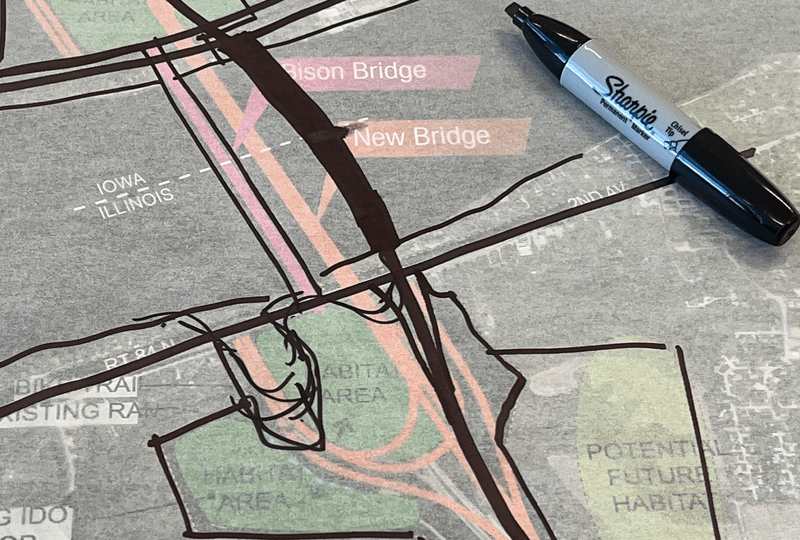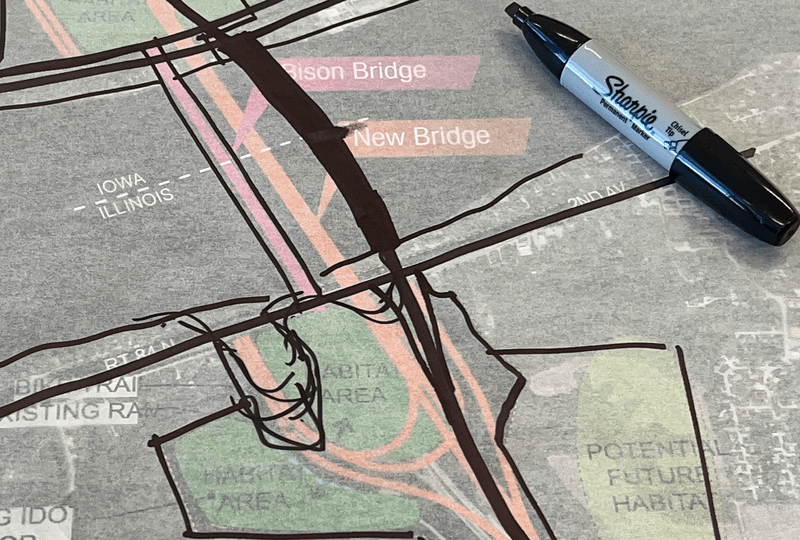 Officials in Iowa and Illinois continue to work through the planning process for the I-80 bridge. In May, officials announced seven alternatives, four of which would allow for the Bison Bridge project. A federally required environmental review of the alternatives is expected to be completed next year.  The local organizers who worked to bring this ninth iteration of Xtreme LA to Davenport and members of the nonprofit Bison Bridge Foundation noted that a bison crossing is still very much possible, but ultimately, the I-80 bridge decision will be up to transportation officials. Still, they're optimistic about the future.
"I think it says a lot about the idea that's in front of us here that people from all over the country would come here and work together … to make this project a reality," moderator Lance McOlgan said during the Xtreme LA closing event on October 13 at The Figge Art Museum's John Deere Auditorium in Davenport.
The presentations can be viewed at: www.youtube.com/watch?v=9KlLSeiNvgQ
Media coverage of Xtreme LA included pre-event and post-event articles by the Quad-City Times and a video segment by WQAD News 8.
Many thanks to Landscape Forms for hosting Xtreme LA and to Chad Pregracke for his vision for Bison Bridge and life work to clean up America's Rivers. Also thank you to the team at design firm LJC for their community work that brought us all together for Xtreme LA and to the Quad Cities community that opened their hearts and minds with us to explore a different future.