LAF Fellowship Spotlight: Cool Conscious Cities
For Kimberly Garza, the tree-lined streets of Sacramento, CA, present an abundance of opportunity. As the founder and principal of Atlas Lab in Sacramento, Kimberly has experienced the benefits of the city's roughly 1 million trees firsthand – most noticeably, the cooler temperatures found in the shade. At the same time, Kimberly has witnessed disparities in the city's tree canopy cover, with lower-income communities having significantly fewer trees, higher temperatures, and more health risks brought on by the heat than wealthier neighborhoods.
Kimberly is now researching this disparity with a goal of providing replicable solutions as part of her 2023-24 LAF Fellowship for Innovation and Leadership project titled "Cool Conscious Cities." Inequities in tree canopy coverage among communities are being studied. Still, little has been done to raise awareness, advocate for changes in policy, or grow heat resiliency efforts for underserved communities, Kimberly said. That's a gap she aims to fill with Sacramento, known as "The City of Trees," serving as a case study.  
"As we're experiencing more extreme heat events, little has been done to increase education or provide resources, so this project has allowed me to utilize the community network I've been building since I started Atlas Lab six years ago and put it to good use," Kimberly said. "It's been a great opportunity to stay connected to the community and use the available resources to become an active leader."
In response, this week, Kimberly launched the Atlas LAB research initiative "Cool Conscious Cities," an online campaign that investigates the causes and impacts of heat disparity within disadvantaged communities and presents solutions to design and promote cool equity. Over the next year, she will use visual storytelling, combining photography, research, and data visualizations, to highlight the pressing need for heat mitigation solutions in the built environment. Across the country, ever-increasing heatwaves, for longer durations, are becoming the norm. As a result, ecological disparities are becoming apparent within disadvantaged communities.  A 2021 study by Hsu et al. published by Nature Communications found that people of color and those living in poverty experience hotter temperatures in 97% of U.S. cities compared to white people and the wealthy.
Lack of resources, limited incomes, and physical and mental health concerns, coupled with high asphalt-to-planting ratios, have threatened the livelihoods of people of color and low-income communities. Led by landscape architects, Cool Conscious Cities provides research, tools, and solutions for city leaders, policymakers, planners, and allied design professionals to design and promote cool cities for all. As part of Kimberly's long-term plans, she hopes to work with leaders across the country on implementable solutions.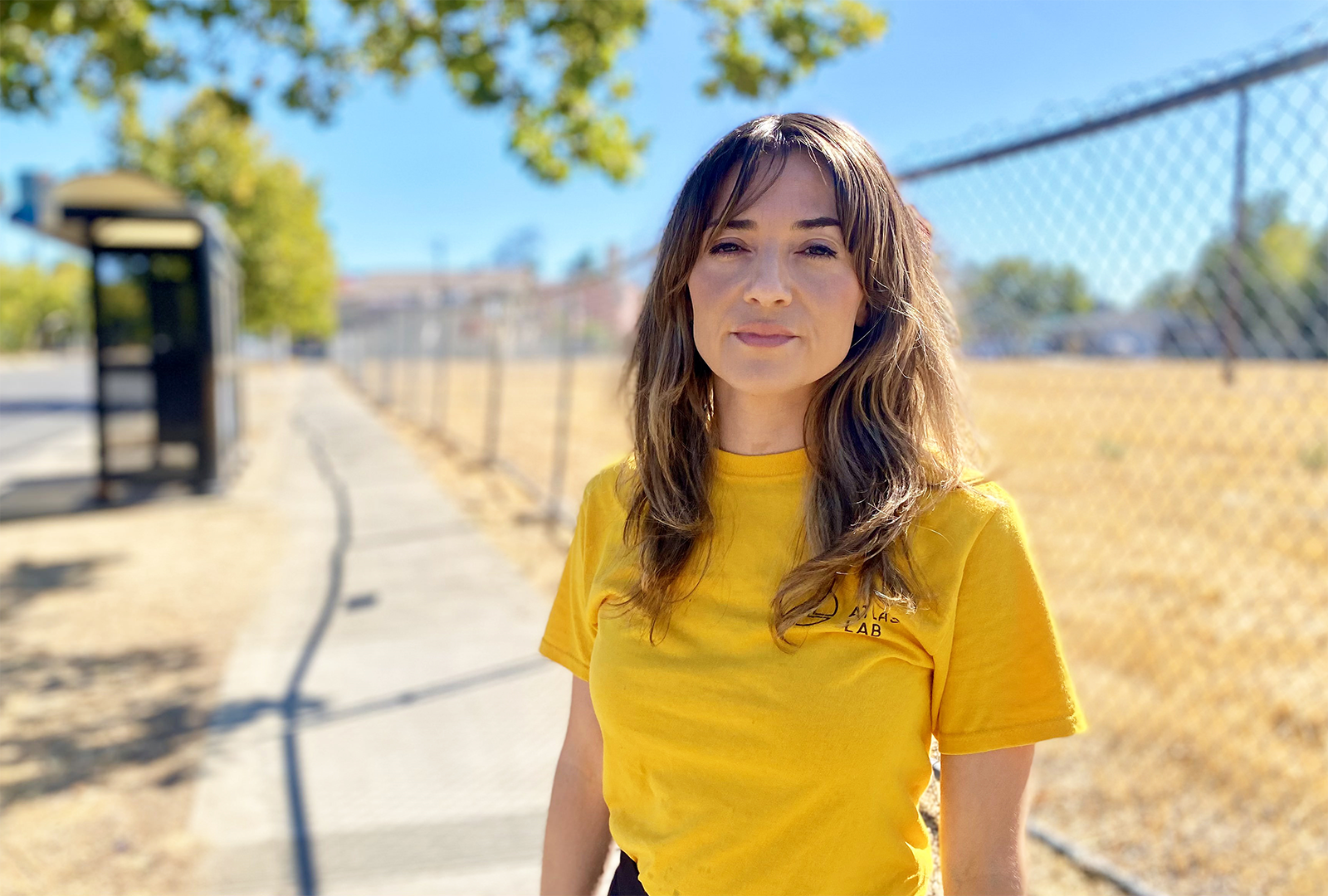 Along with visits to neighborhoods throughout Sacramento, Kimberly has spent the first few months of her fellowship meeting with numerous city leaders, including the mayor's office and urban forest manager. She's learning more about the conditions and policies that led to the disparity in canopy in a place known for its tree cover, along with the challenges Sacramento and other municipalities face. Some cities are discussing the impacts of climate change in the long-term and are engaged in tree planting efforts, but few are implementing short-term solutions to help residents of underserved neighborhoods. Even fewer municipalities are engaging in city-wide tree audits, education efforts, or maintenance plans for the trees that are being planted.
"All of this planting will fail without community advocates, education, resources, or maintenance," Kimberly said. "We need to study various cooling strategies outside of trees alone."
Kimberly also has learned about the funding challenges and other "bottlenecks" local governments face, the impacts of drought and water conservation efforts, and tree abandonment issues that result from a lack of short- and long-term planning. Her project has included a lot of information-gathering and data analysis so far. She ultimately will examine all of the information she is collecting before she proposes possible solutions.
The heat island effect is important to Kimberly, who was born in San Antonio, Texas, but grew up in Sacramento. She recalls playing among the trees as a child and being fascinated by the environment around her. That fascination included an early curiosity about why communities appeared the way they did – whether that was a sidewalk ending abruptly at the edge of a development, a sprawling parking lot with little shade, or other features of the built environment.
Kimberly's interest in the design of her community, along with a background in the arts, led her to the University of California, Berkeley, where she earned a Bachelor of Landscape Architecture in 2006. She then worked as a landscape designer for three years before heading back to school to earn a Master of Landscape Architecture from the Harvard Graduate School of Design. Kimberly spent the next three years working as a landscape architect at Reed Hildebrand in Massachusetts before moving back to Sacramento, where she founded Atlas Lab. As a mid-career professional, she is appreciative of the time the LAF fellowship provides outside of her duties at Atlas Lab to examine a topic that has been important to her for as long as she can remember.
"I'm taking everything I've learned over the years and I'm investing it back into my hometown," she said.
Follow @atlaslab and @cool_conscious_cities on Instagram to learn more about her ongoing research.
Members of the 2023-2024 cohort of the LAF Fellowship for Innovation and Leadership have been exploring their big ideas and advancing their proposed projects. The Fellows will present the culmination of their work at LAF's Innovation + Leadership Symposium in June 2024 in Washington, DC. In the meantime, LAF is profiling each Fellow to share more about their progress and personal journeys.