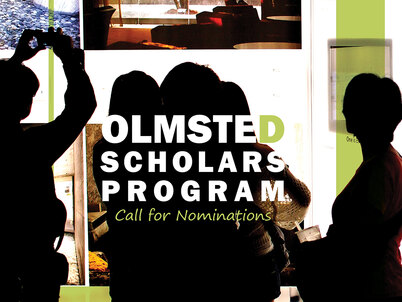 Nominations for the 2019 Olmsted Scholars are due Feb 15
The LAF Olmsted Scholars Program recognizes outstanding student leadership. Each university may nominate one student from each of its accredited undergraduate and/or graduate landscape architecture programs. (Students do not apply directly.)
Eligible students are graduate students or undergraduates currently in their fourth or fifth year, who have made a commitment to the landscape architecture profession.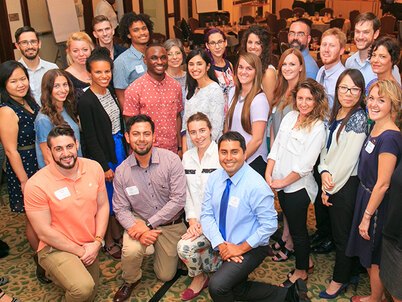 Congratulations to our 2018 LAF Olmsted Scholars!
Elizabeth Camuti of the University of Virginia and Karina Ramos of the University of Massachusetts, Amherst were selected as LAF's 2018 National Olmsted Scholars and winners of the $25,000 graduate and $15,000 undergraduate prizes.
Also honored are six National Olmsted Scholar Finalists:
- Toni Candanedo, Arizona State University
- Bryce Donner, University of Florida
- Rachel Ison, University of Southern California
- Nicholas Jabs, University of Pennsylvania
- Karen Lomas-Gutierrez, University of California, Davis
- Steven Nuñez, University of Texas at Arlington
They are among the 85 LAF Olmsted Scholars named in 2018 and join the growing community of 634 past and present scholars.
The LAF Olmsted Scholars Program recognizes and supports students with exceptional leadership potential who are using ideas, influence, communication, service, and leadership to advance sustainable design and foster human and societal benefits.
Named for Frederick Law Olmsted, the father of American landscape architecture, the LAF Olmsted Scholars Program with its $25,000 graduate and $15,000 undergraduate prize is the premier national award program for landscape architecture students. Now in its 12th year, the program recognizes one outstanding student from each accredited landscape architecture program in the U.S. and Canada, along with the jury-selected graduate and undergraduate national award winners and finalists. Students are both honored for past achievements and recognized for their future potential to influence the landscape architecture profession.
These future leaders of the profession join a growing community of over 600 past and present LAF Olmsted Scholars. The prestige and publicity associated with the award underscore the significance of landscape architecture and help cultivate the next generation of inspired and motivated leaders.