Announcing LAF's 2008 Olmsted Scholars
The Landscape Architecture Foundation is pleased to announce the national award winner and four finalists for the inaugural 2008 Olmsted Scholars Program.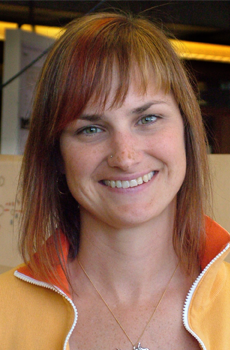 Andrea Gaffney, a graduate student at the University of California, Berkeley, was selected as the 2008 National Olmsted Scholar and winner of the $25,000 scholarship. Andrea will receive Master's degrees in Landscape Architecture and City Planning in May and plans to used the award to travel to cities around the United States to conduct research on specific corridor and infrastructure projects.
Also honored are the National Olmsted Scholar Runner-Up and three National Olmsted Scholar Finalists.
2008 National Olmsted Scholar Runner-Up and Finalists
Top row: Runner-Up; Bottom row: Finalists
Stephanie Bailey
University of Oregon
Karl Krause
University of Virginia

Ellen Pond
University of British Columbia

David Vogel
Kansas State University
The Landscape Architecture Foundation is pleased to recognize these outstanding young leaders and the incredibly high caliber of talent they represent," said LAF President Greg Ochis. "This is the first scholarship focusing on leadership in sustainable design and planning, and LAF is excited at the opportunity to advance the profession."
An independent jury of leaders in the landscape architecture profession selected the winner and finalists from a group of 24 graduate and undergraduate students who were nominated by their faculty for being exceptional student leaders. These top students earned the designation of 2008 LAF Olmsted Scholars and are the initial members of the Olmsted Scholar community which will continue to grow each year.
Juror Lucinda Sanders called the program "phenomenal," noting that "the profession needs the next wave of leaders to be spokespersons, leaders, and designers. This program is a great place to reinforce that.  It provides context for the profession and an endorsement that the Olmsted Scholars can lead and change the profession."
The scholarship is made possible with support from founding sponsors: EDSA, HOK, the Edith Harrison Henderson Fund, Olin Partnership, the Raymond E. Page Fund and the Harriet Barnhardt Wimmer Fund/Wimmer Yamada and Caughey.  Annual sponsors include: EDAW, Landscape Forms, Peridian International, ah'be landscape architects and Hunter Industries.  Media support is provided by the American Society of Landscape Architects.
---
2008 LAF OLMSTED SCHOLARS


Cameron Campbell, University of Texas at Austin | Diane Finnegan, University of Wisconsin-Madison | Brett Floyd, Clemson University | Jason Grimm, Iowa State University | Bethany Harre, University of Illinois | Amanda Jeter, University of Colorado-Denver | Patrick Johnston, Cal Poly Pomona | Karen Kennedy, University of Washington | Kristi Loui, University of Pennsylvania | Todd Merrin, Cal Poly San Luis Obispo
Melissa Philen, Virginia Tech | Laura Podolsky, University of California, Davis | Kristin Raab, University of Minnesota | Amy Sharkey, University of Texas at Arlington | Lacy Swanson, Cornell University | Rebekah VanWieren, University of Michigan | Jennifer Walker, University of Georgia | Helen Walthier, University of Arizona | Julia Watson, Harvard University
---
THANK YOU TO OUR 2008 JURY
The 2008 jury members were:
Barbara Faga, FASLA,

EDAW Principal

Perry Howard, FASLA, ASLA President and North Carolina A&T Coordinator and Professor of Landscape Architecture
Joseph J. Lalli, FASLA, EDSA President and Managing Partner
Greg Ochis, ASLA, LAF President and Lend Lease Communities Project Director
Lucinda Sanders, ASLA, Olin Partnership Partner
Peter Walker, FASLA, Peter Walker and Partners, Partner in Charge