Announcing LAF's 2009 Olmsted Scholars
The Landscape Architecture Foundation is pleased to announce the winner and finalists for its 2009 Olmsted Scholars Program, the premier leadership recognition program for landscape architecture students.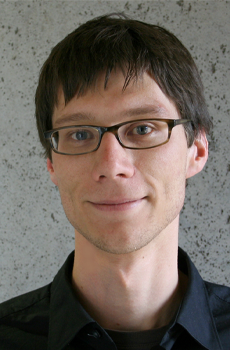 David Malda, a graduate student at the University of Virginia, was selected as the 2009 National Olmsted Scholar and recipient of the $25,000 award. David will receive a Master's of Architecture degree in May and a Master's of Landscape Architecture degree in January 2010. David plans to use the award to continue his research examining the social and ecological necessities for infrastructure design, focusing on urban highway landscapes.
Also honored are the four National Olmsted Scholar Finalists.
2009 National Olmsted Scholar Finalists
Peter Emerson
Temple University

Brent Jacobsen
University of Arizona

Timothy Mollette-Parks
University of California, Berkeley

Emily Vogler
University of Pennsylvania
An independent jury of leaders in the landscape architecture profession selected the winner and finalists from a group of 28 graduate and undergraduate students who were nominated by their faculty for being exceptional student leaders. These top students earned the designation of 2009 LAF Olmsted Scholars and join the growing community of 51 past and present Olmsted Scholars. See all past finalists and winners here.
Established in 2008, the Olmsted Scholars Program honors students with exceptional leadership potential who are using ideas, influence, communication, service, and leadership to advance sustainable design and foster human and societal benefits. Last year, Andrea Gaffney from the University of California, Berkeley was named as the program's first National Olmsted Scholar.
The scholarship is made possible with support from Founding Sponsors: EDSA, HOK, the Edith Harrison Henderson Fund, OLIN, the Raymond E. Page Fund, and the Harriet Barnhardt Wimmer Fund/Wimmer Yamada and Caughey.
---
2009 LAF OLMSTED SCHOLARS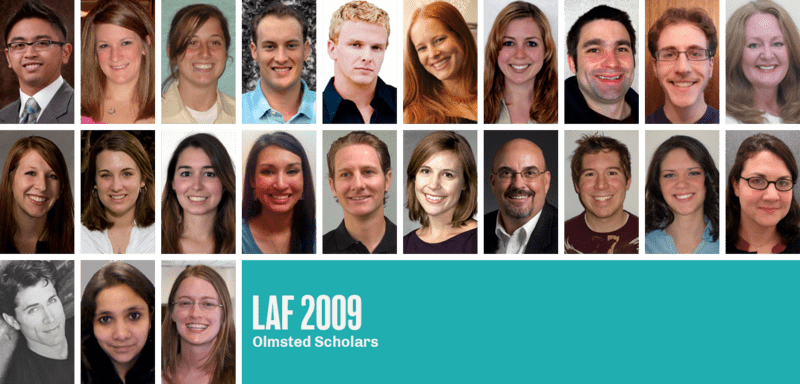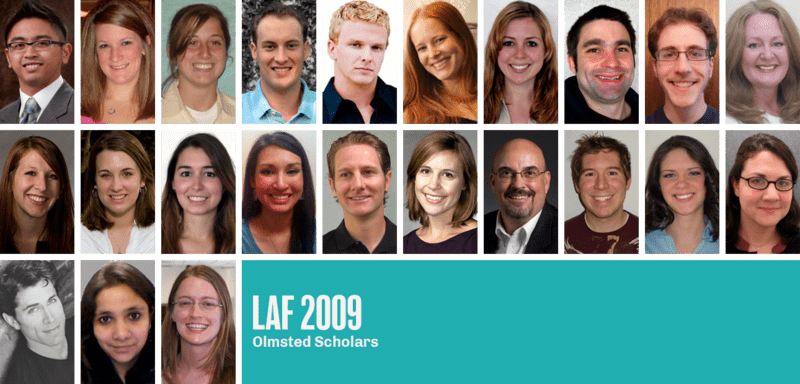 Jeremy Anterola, Kansas State University | Jean Beaupre, North Dakota State University | Ashley Brazeal, Clemson University | Gavin Cain, University of Florida | Ryan Cambridge, Purdue University | Nina Chase, West Virginia University | Claudia de la Fuente, Cal Poly San Luis Obispo | Colby Gray, Ball State University | Bryan Harrison, University of Rhode Island | Regina Irizarry, Morgan State University
Jenna Jones, University of Michigan | Jordan Jones, Mississippi State University | Ailyn Mendoza, Florida International University | Jessica Moore, Oklahoma University | Robert Nelson, University of California, Davis | Janice Nicol, University of Texas at Austin | Neal Overstrom, University of Massachusetts, Amherst | Lee Pouliot, Cornell University | Kari Rushe, Pennsylvania State University | Deborah Steinberg, Chatham University
Denton Tarver, City College of New York | Atisha Varshney, Rhode Island School of Design | Lindsay Winkler, Utah State University
---
THANK YOU TO OUR 2009 JURY
The 2009 jury members were:
Dennis Carmichael, FASLA, LAF President, and Vice President and Principal, EDAW
Lucinda Sanders, ASLA, CEO, OLIN
Forster Ndubisi, Professor and Department Head, Landscape Architecture and Urban Planning, Texas A&M University
Angela Dye, FASLA, ASLA President, and President and Principal, A. Dye Design
Teresa Durkin, Vice President and Senior Landscape Architect, HOK
Susan Szenasy, Editor-in-Chief, Metropolis Magazine
Andrea Gaffney, 2008 Olmsted Scholar