Announcing LAF's 2010 Olmsted Scholars
The Landscape Architecture Foundation is pleased to announce the winner and finalists for its 2010 Olmsted Scholars Program, the premier leadership recognition program for landscape architecture students.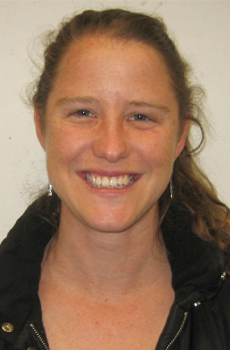 Emily Vogler, a graduate student at the University of Pennsylvania, was selected as the 2010 National Olmsted Scholar and recipient of the $25,000 award. Emily will receive a Master's of Landscape Architecture and Regional Planning degree in May and plans to use the award to conduct research on issues of sustainable regionalism evaluating city-regions at three scales: the neighborhood; the city; the region.
Also honored are the five National Olmsted Scholar Finalists.
2010 National Olmsted Scholar Finalists
David Godshall
University of California, Berkeley

Lauren Hackney
University of Virginia

Christopher Hardy
Cornell University

Caitlin Harrigan
University of British Columbia

Amanda Jeter
University of Colorado-Denver
An independent jury of leaders in the landscape architecture profession selected the winner and finalists from a group of 38 graduate and undergraduate students who were nominated by their faculty for being exceptional student leaders. These top students earned the designation of 2010 LAF Olmsted Scholars and join the growing community of 89 past and present Olmsted Scholars. See all past finalists and winners here.
Established in 2008, the Olmsted Scholars Program honors students with exceptional leadership potential who are using ideas, influence, communication, service, and leadership to advance sustainable design and foster human and societal benefits. Past National Olmsted Scholars include Andrea Gaffney from the University of California, Berkeley (2008) and David Malda from the University of Virginia (2009).
The scholarship is made possible with support from Founding Sponsors: EDSA, HOK, the Edith Harrison Henderson Fund, OLIN, the Raymond E. Page Fund and the Harriet Barnhardt Wimmer Fund/Wimmer Yamada and Caughey; Annual Sponsors: Graham Landscape Architects and Hunter Industries; and Special Commitment: ASLA.
---
2010 OLMSTED SCHOLARS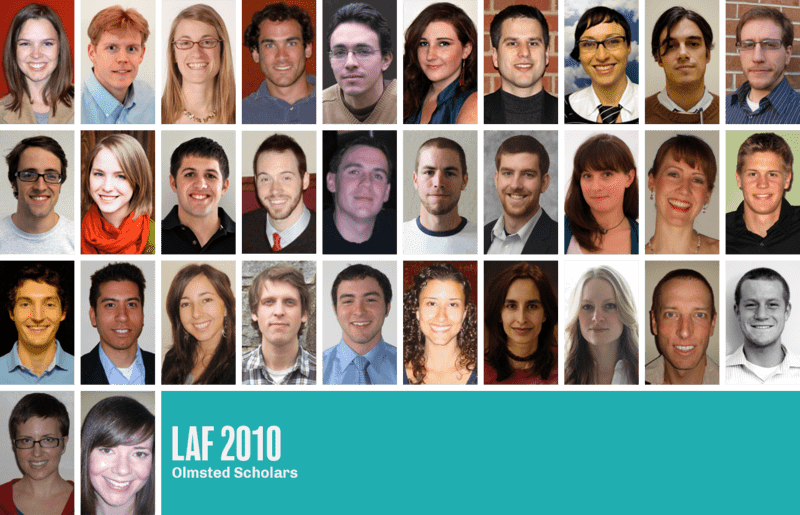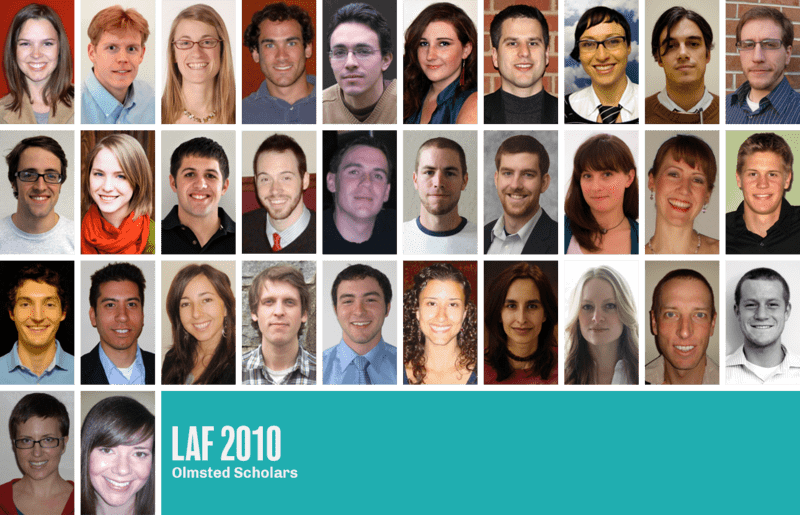 Susan Alford, University of Texas at Arlington | Bram Barth, University of Illinois | Leslie Batten, University of Washington | William Benge, Louisiana State University | Christo Brehm, University of Oregon | Colleen Corballis, Utah State University | Travis Flohr, Pennsylvania State University | Rebecca Fox, University of California, Davis | Timothy Gazzo, SUNY College of Environmental Science and Forestry | Bryan Harrison, University of Rhode Island
Kent Hipp, Virginia Tech | Elise Hubbard, Kansas University | Ryan Jacobson, Purdue University | Chris Jennette, University of Massachusetts, Amherst | Curt Jennings, University of Oklahoma | Christopher Kiefer, University of Arizona | Edward Krafcik, Rutgers, The State University of New Jersey | Lauren Lesch, University of Michigan | April Marshburn, Cal Poly Pomona | Matthew Meyer, University of Florida
Adam Nugent, Texas A&M University | Jordan Petersen, North Carolina State University | Sara Pierce, University of Texas at Austin | Brady Richards, University of Georgia | Derek Ryan, Clemson University | Grace Ryan, University of Maryland | Mala Sinha, University of Guelph | Kathryn Stratmann, Chatham University | Avery Telligman, North Carolina A&T University | Andrew tenBrink, Harvard University
Amie West, Morgan State University | Catherine Wood, Temple University
---
THANK YOU TO OUR 2010 JURY
The 2010 jury members were:
Susan Szenasy, Editor-in-Chief, Metropolis Magazine
Mark Dawson, ASLA, Principal, Sasaki Associates, Inc.
Forster Ndubisi, Professor and Department Head, Landscape Architecture and Urban Planning, Texas A&M University
Teresa Durkin, Vice President and Senior Landscape Architect, HOK
Jonathan Mueller, FASLA, ASLA President-Elect, Senior Landscape Architect at Landmark/Architects West, Inc.
Skip Graffam, ASLA, Partner/Director of Research, OLIN
David Malda, 2009 National Olmsted Scholar, University of Virginia