Announcing Our 2014 LAF Olmsted Scholars
The Landscape Architecture Foundation is pleased to announce the two winners and six finalists for its 2014 Olmsted Scholars Program, the premier leadership recognition program for landscape architecture students.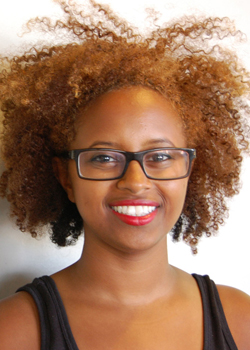 Sara Zewde, a master's student at the Harvard Graduate School of Design, was selected as the 2014 National Olmsted Scholar and recipient of the $25,000 graduate prize. Sara intends to use the award to return to Rio de Janeiro, Brazil and New Orleans, Louisiana to continue working with the communities of Pequena África and Treme in designing their urban landscapes in a culturally and ecologically relevant manner. The award will also enable her to pursue additional projects where communities desire a spatial interpreter of cultural values. Sara expects to receive a Master of Landscape Architecture in May 2015.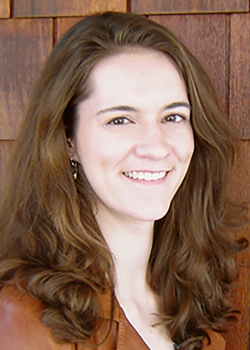 Erin Percevault, an undergraduate at Louisiana State University, is the other 2014 National Olmsted Scholar and recipient of the $15,000 undergraduate prize. She plans to use the award to investigate how new nuclear technology and government legislation may create and alter industrial landscapes surrounding the Lemhi Pass, a National Historic Landmark along the wildlife corridor between Yellowstone National Park and the wilderness regions of central Idaho. Erin is pursuing a Bachelor of Landscape Architecture and expects to graduate May in 2015.
Also honored are six National Olmsted Scholar Finalists, who each receive a $1,000 award.
2014 National Olmsted Scholar Finalists
Top row: Graduate finalists; Bottom row: Undergraduate finalists
VeraEve Giampietro
University of Washington

Harriett Jameson
University of Virginia

Anneliza Kaufer
University of Pennsylvania

Viviana Castro
University of Florida

Clemente Rico
Arizona State University

Blythe Worstell
The Ohio State University
An independent jury of leaders in the landscape architecture profession selected the winners and finalists from a group of 45 graduate and 30 undergraduate students nominated by their faculty for being exceptional student leaders. These top students earned the designation of 2014 LAF Olmsted Scholar and join the growing community of over 300 past and present Olmsted Scholars. See all past winners and finalists here.
Now in its seventh year, the LAF Olmsted Scholars Program honors students with exceptional leadership potential who are using ideas, influence, communication, service, and leadership to advance sustainable design and foster human and societal benefits. The program is made possible with support from Lead Sponsor: The Toro Company; Annual Sponsors: EDSA, HOK, OLIN, Sasaki Associates, and Thomas C. and Gerry D. Donnelly; and Promotion Partner: American Society of Landscape Architects.
---
2014 LAF Olmsted Scholars (Graduate)
In addition to the winner and finalists, the graduate nominees from each university are recognized as 2014 LAF Olmsted Scholars, which denotes distinguished student leadership in landscape architecture.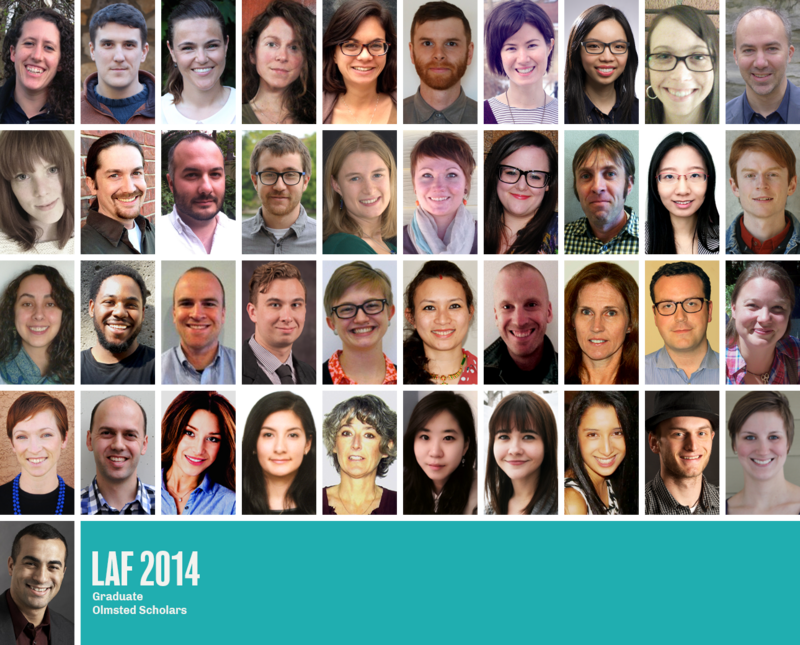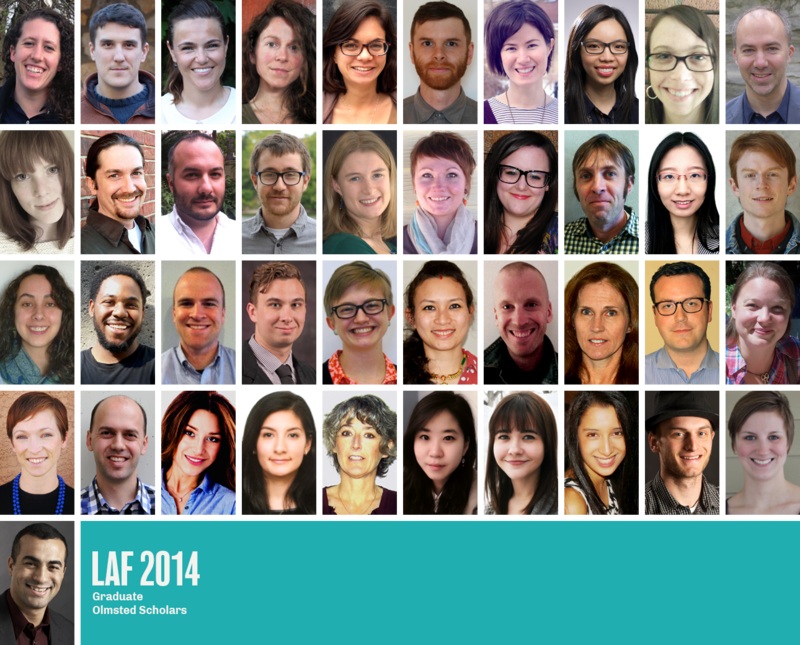 Shannon Arms, University of Oregon | Andrew Bailey, University of Georgia | Natalia Cagide Elmer, SUNY College of Environmental Science and Forestry | Emily N. Carlson, The Pennsylvania State University | Kimberly Cloward-Drown, Utah State University | Ryan Coghlan, University of British Columbia | Kathleen Corey, University of Guelph | Ngoc Doan, University of Massachusetts Amherst | Kealin Dooley, University of Idaho | Justin James Earl, University of Texas at Arlington
Sheryl Fishel, Louisiana State University | Justin John Fleury, The University of Texas at Austin | Carlos Flores, Cal Poly Pomona | Erin Garnaas-Holmes, University of Minnesota | Katia Gedrath-Smith, University of Arizona | Jenn Hare, Virginia Tech | Maria Hines, Auburn University | Chad Hunter, Iowa State University | Yanshu Liu, Clemson University | Ian MacKay, The Ohio State University
Amy Marin, University of Maryland | Paul McGehee, University of California, Berkeley | Jaryd McGonagle, Boston Architectural College | Caleb Melchior, Kansas State University | Bridgette Moen, University of Illinois | Chayanika Mohan, North Carolina State University | David Mosey, City College of New York | Belinda Nettles, University of Florida | Andrew Op't Hof, Rutgers, The State University of New Jersey | Heidi Petersen, Illinois Institute of Technology
Carly Piccarello, University of New Mexico | Cameron Rodman, University of Tennessee | Andrea Rojas, University of Southern California | Andrea Sandoval, Florida International University | Delia Smith, Temple University | Won Min Sohn, Texas A&M University | Kristen Struthers, University of Manitoba | Roana Tirado, Cornell University | William Viitanen, University of Colorado Denver | Rachel S. Visscher, University of Michigan
David Wilson, Chatham University
---
2014 LAF Olmsted Scholars (Undergraduate)
In addition to the winner and finalists, the undergraduate nominees from each university are recognized as 2014 LAF Olmsted Scholars, which denotes distinguished student leadership in landscape architecture.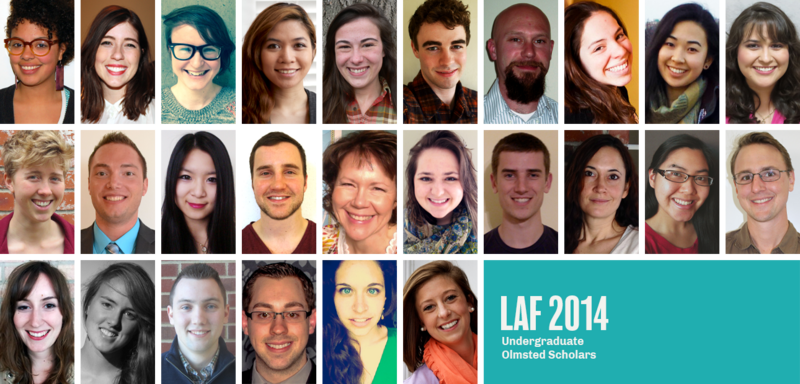 Rochelle Brahalla, Cornell University | Rebecca Cook, Rutgers, The State University of New Jersey | Cami Culbertson, University of Washington | Anna delos Angeles, University of Maryland | Allison Desbonnet, University of Rhode Island | Nick Drummond, University of Oregon | John Dufort, North Carolina A&T University | Laura C. Fielitz, Michigan State University | Thu Ngan Han, Temple University | Tania Hernandez, Texas A&M University
Emily Johnson, University of California, Davis | Nathan Krohn, University of Nebraska, Lincoln | Qiyi Li, Iowa State University | Trent Matthias, Virginia Tech | Jennifer Maughan, Utah State University | Vanessa A. Miller, Philadelphia University | Ben O'Brien, University of Guelph | Tricia O'Grady Howard, University of Massachusetts, Amherst | Quynh Pham, University of Georgia | Gregory Alan Ross, Cal Poly San Luis Obispo
Madeline Schuette, University of Illinois | Anna Walker, North Carolina State University | Ryan A. Walker, The Pennsylvania State University | Bradley V. Wells, SUNY College of Environmental Science and Forestry | Dana V. Williamson, Purdue University | Cody Zanni, Clemson University
---
Thank you to our 2014 juries
The jurors for the graduate award were:
Jacinta McCann, FAILA, LAF Board President and Executive Vice President of Design + Planning and Economics at AECOM
Chris Fannin, Director of Planning at HOK
Joseph J. Lalli, FASLA, Chairman and Principal at EDSA
K. Richard Zweifel, FASLA, ASLA President-Elect, and Professor and Associate Dean of the College of Architecture and Environmental Design at Cal Poly San Luis Obispo
Brent Lloyd, Principal, ValleyCrest Design Group
Maria C. "Tina" Gurucharri, Chair of the Department of Landscape Architecture at the University of Florida
Susan Szenasy, Director, Metropolis Magazine
Leann Andrews, 2013 National Olmsted Scholar (Graduate) and PhD Candidate at the University of Washington
The jurors for the undergraduate award were:
Mark Dawson, FASLA, Managing Principal at Sasaki Associates
Thomas Tavella, past President of ASLA
Skip Graffam, Partner and Director of Research at OLIN
Jim Laiche, Business Manager at The Toro Company
Jody Rosenblatt-Naderi, Chairperson of the Department of Landscape Architecture at Ball State University
Bill Marken, Editor-in-Chief of Garden Design magazine
McKenzie Wilhelm, 2013 National Olmsted Scholar (Undergraduate) and student at Ohio State University