Olmsted Scholar Feature: Landscape and Cultural Identity in a Globalizing World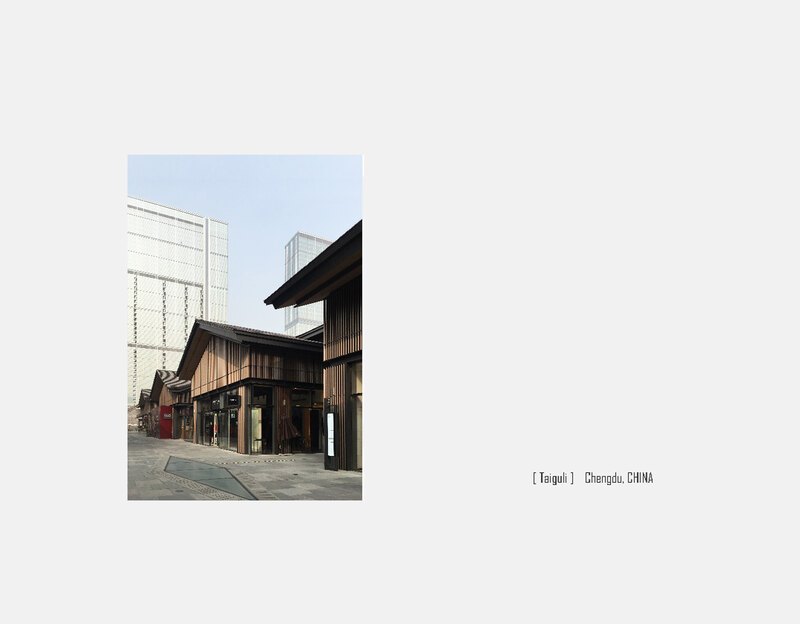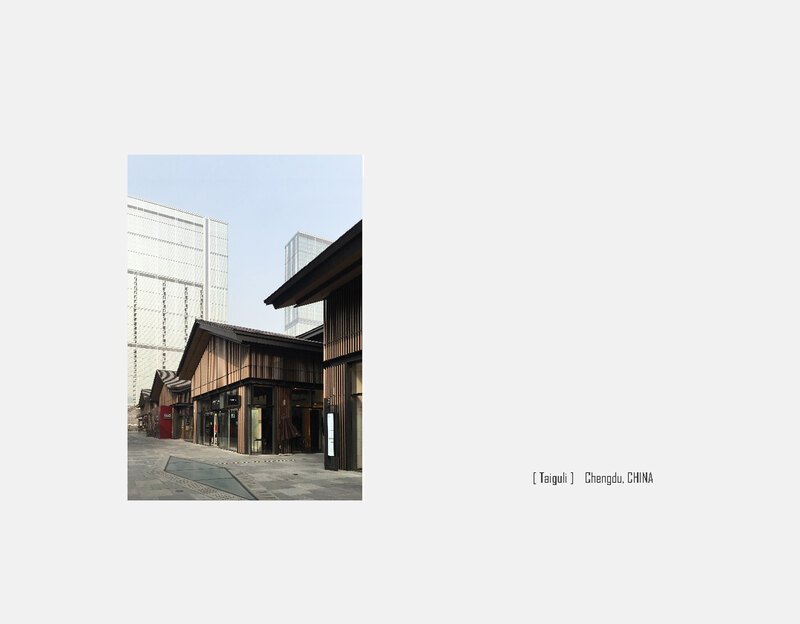 By Daniel Xu, 2015 National Olmsted Scholar Finalist
A long time ago, a classmate of mine told me that he could not visually distinguish the difference between a Chinese, a Korean, and a Japanese person. I laughed and told him that sometimes I could not either because our differences were not simply in our appearances, but in our minds and ideologies, which were influenced by the native culture we were born into. However, if our minds and ideologies are so heavily influenced by culture, what makes us different in the trend of globalization and acculturation? Are we slowly becoming the same? It is an intriguing question.
Prior to 2009, I was a resident of Chengdu, one of the most populated metropolises in Western China, where traditional Chinese quadrangle dwellings are preserved and conflated with contemporary urban fabric and lifestyle. Since then, I have been a student at Purdue University in West Lafayette, Indiana and a traveler to cities around the world. This experience has given me opportunities to immerse myself in diverse cultures, discover landscapes and urban spaces that are unique to different social environments, and tackle how local residents interact with those spaces.
Social psychologist Harold M. Proshansky believes that the cultural identity of a place is a sub-structure of a person's self-identity and consists of knowledge and feelings developed through everyday experiences of physical spaces. Sometimes cultural identity and landscape are so tightly bounded that it is hard to separate them, like gardens in Versailles, Central Park in New York City, or a random prairie plateau in Aberdeen, Scotland. These spaces are historical or unique mainly because of local natural characteristics. They establish a balance between nature and human cultural activities and provide people with a sense of place and belonging. However, in the global trend of uniformity and homogeneousness, how can one ensure a newly proposed landscape design can achieve the same effect? How can urban landscape enhance regional cultural identity and provide a sense a place?
To me, any given land contains information that is both tangible and intangible. It is almost natural for us to study the tangible aspects — hydrology, topography, vegetation, land use, soil type, spatial organization, and circulation system — because they have a direct relationship to the visual and ecological outcomes of a project. However, the cultural identity of a place derives from the intangible parts in which a piece of landscape functions to provide a sense of belonging — local history, tradition, religion, festivals, public desire, and other demographic information.
I demonstrated my beliefs in my past works during my time at Purdue. Natural Water as Cultural Water, a research project I did during my junior year, sought to find the balance between culture and nature along the Wabash River in Lafayette, Indiana, which is currently underappreciated because of flooding, vacancy, and disconnection. The proposed solution is an embodiment of cultural representation and technology of stormwater management.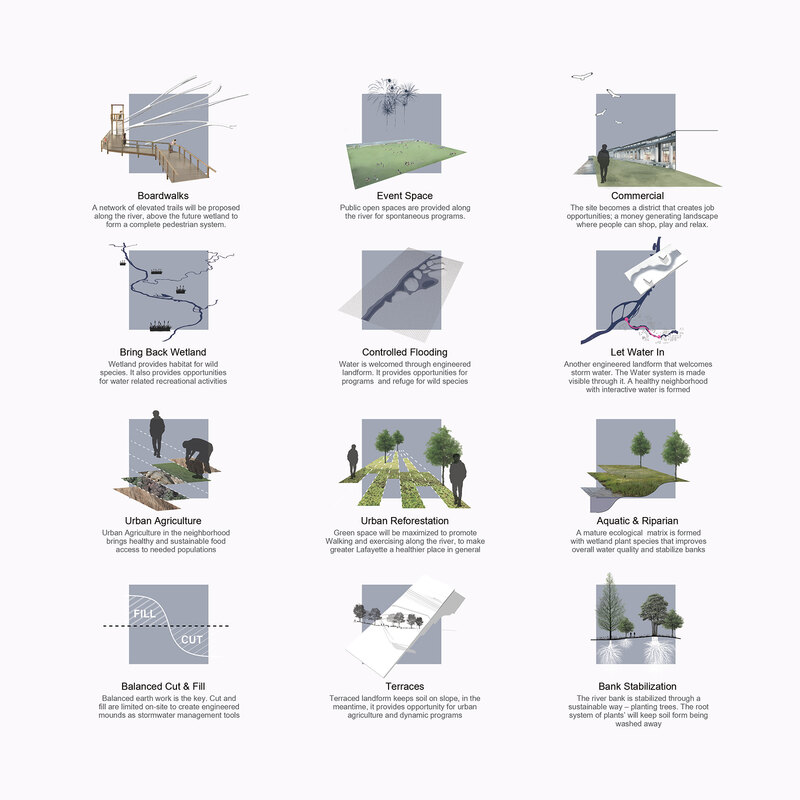 The inspiration for the design comes from the city's history — the transportation instrument Native Americans originally used on the river, and the major agricultural product of the region: corn. The geometric structure of the canoe and the matrix of the corn seeds were taken, hybridized and re-conceptualized into revelatory units to construct concave and convex landforms. It reroutes and collects water and serves as a buffer between the river and the city during flooding seasons. The plan provides a refuge for wetland plants and animal species. With the potential for spontaneous use and dynamic programming, the site can transform into a sustainable landscape infrastructure with a cultural identity that provides an active waterfront experience. The regional planning phase of the project won the Award of Excellence in Analysis and Planning in the American Society of Landscape Architects 2013 Student Awards.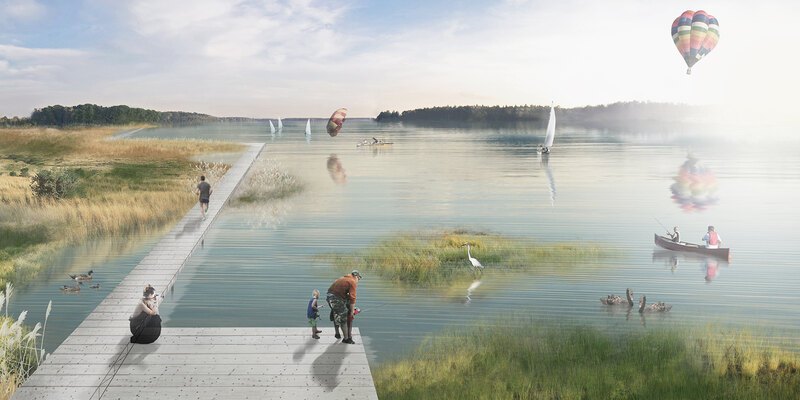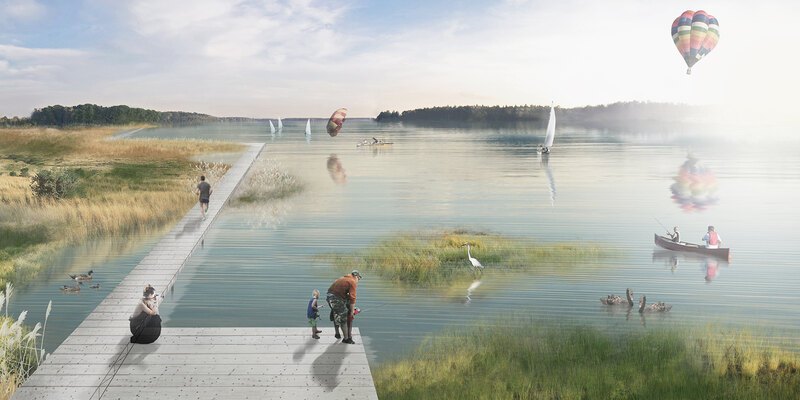 For more information about the project, visit the ASLA award website or my personal website: http://www.minimaxstudio.com/
Daniel received his Bachelor of Science in Landscape Architecture with a minor in Fine Arts from Purdue University in May 2015. He is currently working at Sasaki Associates in Boston.