Changing Paradigms for Riverfront Development in India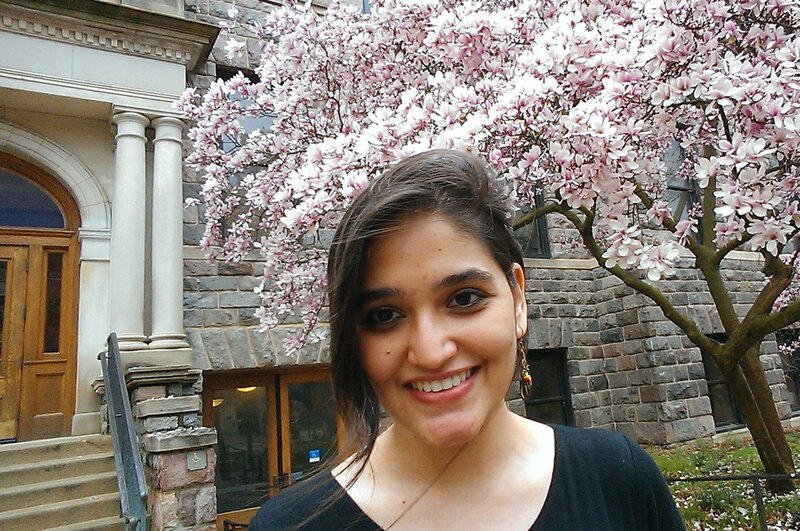 Dhara Mittal, a Masters of Landscape Architecture candidate at the University of Michigan, is the 2017 recipient of the $20,000 LAF Honor Scholarship in Memory of Joe Lalli, FASLA. Just as Joe valued international exchange and giving back in service to one's community and profession, Dhara is linking landscape architecture with advocacy to create a more sustainable future in her native Vadorada, India. By conducting an extensive analysis of a proposed development plan for the Vishwamitri River and introducing potential design alternatives, she's gearing up to push for big system change.
The Vishwamitri River forms an ecological 'spine' in the city of Vadodara, near the concretized and dense urban neighborhood where Dhara grew up. The river is a unique piece of the city's geological fabric. It functions as a haven for an expanding crocodile population and it has historically served as a resource for the community's spiritual edification and daily needs. But it is also a site that has suffered gradual neglect and is frequently used as a receptacle for local waste and pollution. "If you go to the city now," Dhara explains, "you can see that people have completely neglected the river and don't even venture along it."
To address these issues, a new master plan for the area has been created through the government-led Vishwamitri Riverfront Development Project (VRDP). Though it acknowledges the delicate ecosystem that the river sustains, the plan has received mounting resistance from both residents and stakeholders. Much of that opposition focuses on the engineered approach that fails to adequately address the ecological aspects of the river system. The opposition highlights the absence of critical social and environmental impact assessments and expresses concerns about displacement.
This was the backdrop in 2013 when Dhara started working at the Vadodara-based ecological firm, saa synergies. Staff members collaborated with a group of stakeholders and developed initiatives to create awareness about this missing aspect of the VRDP plan, invested in local mobilization efforts to reach students and small stakeholder groups, and incorporated efforts to petition the government to include better alternatives for the development. Through this immersive work experience, Dhara realized how relevant landscape architecture could be in reimagining more holistic riverfront development strategies. She decided to continue to advance this advocacy work in her master's program by engaging fellow students to take a closer look at the VRDP proposal. "I thought it would be interesting for other people to see how river systems are dealt with in a developing country like India."
Through a collaborative effort at the University of Michigan, which included students from conservation ecology, environmental policy and planning, public health, and landscape architecture, Dhara and her team produced Vishwamitri: A River and Its Reign. The in-depth report outlines their rigorous analysis of the current VRDP proposal, including their investigation of the river's ecological boundaries and watersheds, and then suggests more sustainable development alternatives for it.
This fall, Dhara will make her way back to Vadodara to pursue the project further in collaboration with her team's client stakeholder group. She will meet with policymakers and government officials, including the mayor, to share the report's findings and amplify stakeholders' and residents' concerns.
Dhara sees this as groundwork to spark a paradigm shift in how India deals with its river systems. "In a city very close to us, [another] riverfront development has become so popular, that it's almost the prototype that they're using for all major riverfront development projects in the future," she states, comparing the government-proposed riverfront design for the Vishwamitri River to the Sabarmati Riverfront Development in Ahmedabad. However, "this way of dealing with rivers is outdated. It's important for people to see that there are other ways that can be equally generative in terms of economic gain, but that can also be ecologically stable."
The alternatives that Dhara and her team propose for the Vishwamitri River focus on managing the water quantity and quality, a primary concern. They also consider changing land use relationships, such as a nearby village where the landscape has been deforested to serve agricultural purposes. "If you see [the VRDP] proposal, they deal with the river only within the city of Vadodara and that is a very piecemeal approach," she explains. "What we're trying to say is that the river has its own watershed boundaries. When you deal with river systems in an ecological sense, it's important to look at the ecological boundaries instead of only the administrative ones."
Along with other stakeholders and designers, Dhara sees incredible potential for the VRDP project to set a precedent. She hopes that it can preserve the river's unique ecosystem, and that the ethical development of human environments is factored into the outcome. As similar development projects continue to emerge, Dhara is intent on advocating for a more holistic approach in the face of rapid urban development around rivers across India. "If you see large-scale design-related projects — especially river-systems related projects — there's not much insight into the functioning of systems that is reflected in the design. I want to target and change that."