Olmsted Scholar Feature: Urban Environmental Education in South Central Los Angeles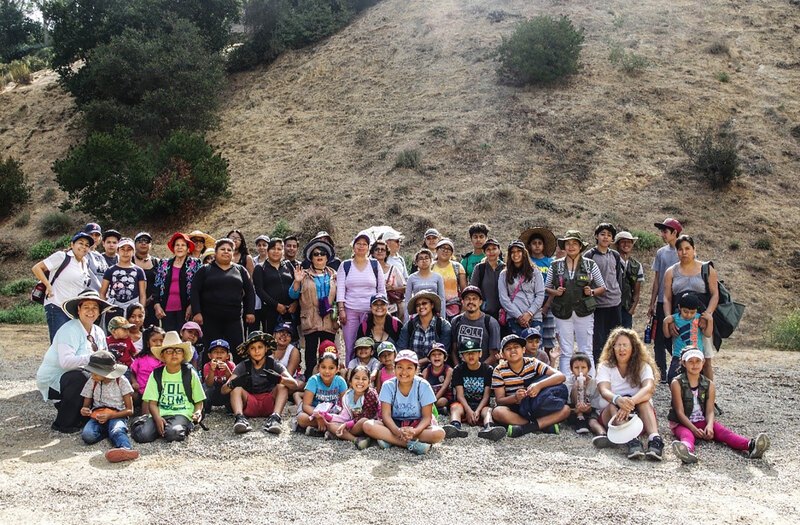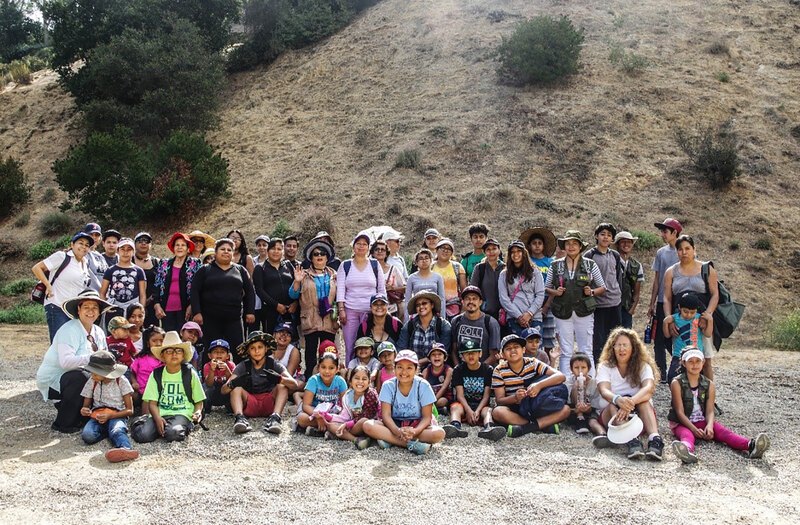 By David del la Cruz, 2017 National Olmsted Scholar
"¿Crees que llenemos el camion?" (Do you think we will fill up the bus?) my mom eagerly asks the night before we take a hike to Temescal Canyon.
Saturday morning we wake up at dawn, dew still on cars. I pick up my nephews and meet my mother at the Slauson Recreation Center. Of course we filled up the bus.
When I show up, the bus driver shares her excitement on having a bus full of people. She is ready to get moving on our short family hike on this breezy Los Angeles morning. We finally get off the 10-E freeway and get onto the Pacific Coast Highway. A foggy Pacific Ocean vista leaves the kids in the bus in awe.
This family hike took my neighbors to the Santa Monica Mountains, far from the center of the city. As we pull up to the park for the hike, the last person trickles out, and a few people scream out, "Foto del grupo!" (Group photo!) I go ahead and take the picture of our large group. We are met by Coral, Park Ranger at the Santa Monica Mountains, and Lily, our Trail Lead. They share park and trail etiquette with us before we start the hike.
This initial trip was a great welcome back to Los Angeles after my 3 years at the University of Washington where I finished my coursework in landscape architecture.
In my last year in school, I organized a range of events in collaboration with organizers in South Central Los Angeles — from the Dreamers of South Central Los Angeles to helping South Central Arts build a base of membership along with PAINT L.A. Adding to these fruitful collaborations, this hiking trip was a collaboration with the Resident Advisory Council of the Pueblo del Rio Housing Projects. My mother is a part of the Resident Advisory Council, and she is also a respected community leader.
I look up to her and the commitments she holds with her community — from the church to the day-to-day house visits she makes to her neighbors, talking about health, checking in with and offering consejos (counseling) to her community. Her organic leadership is part of what has shaped my own ethic in leadership, along with community organizations such as Communities for A Better Environment and East Yard Communities for a Better Environment. These organizations provided me a grounding in the environmental justice movement in Los Angeles.
I was born and raised in South Central Los Angeles, a large community south of downtown that has swaths of vacant land, polluted lots, and, most importantly, community members with exceptional abilities in finding ways to continue living under these conditions.
I am commited to environmental justice, and one of the ways this commitment can unfold is by exploring environmental education in the community that raised me. There are countless organizations throughout Los Angeles promoting environmental education by taking trips like the family hike I helped organize with community leaders and the National Park Service out of the Santa Monica Mountains. Nonetheless, I am interested in how environmental education takes on the issues of urban areas in working-class communities and communities of color.
Landscape architecture has given me the ability to think through urban environmental education and the ways that site design and community engagement can tackle issues of pollution at the broader level, and inclusion at the local level. I aim to use the skills of this profession to expose younger generations throughout my community to see how landscape architecture may be able to weave together community engagement with something as technical as phytoremediation.
My 2017 National Olmsted Scholar award will be used to look at these different aspects of South Central Los Angeles to work through addressing the legacies of environmental racism and historic disinvestment that impact this largely black and brown community. By understanding the impact that urban environmental education might have, working with youth and within the K-12 education system will help in building future leaders in the environmental field.
I plan to work closely with Los Angeles Unified School District and organizations committed to expanding open and green space in the region to continue building youth leadership around urban environmental issues in working-class communities and communities of color. Some of the leading organizations committed to this vision include From Lots to Spots, Los Angeles Neighborhood Land Trust, Trust for Public Land, Pacoima Beautiful, among others.
The guiding research question for my Olmsted Scholar project is: How can vacant land in Los Angeles temporarily be used to support an urban environmental education ethic for high school youth?
David de la Cruz, a first generation student in higher-education, received a Master of Landscape Architecture from the University of Washington in June. He was selected as LAF's 2017 National Olmsted Scholar and recipient of the $25,000 graduate prize.