LAF Recognized with 2019 Landscape Architecture Medal of Excellence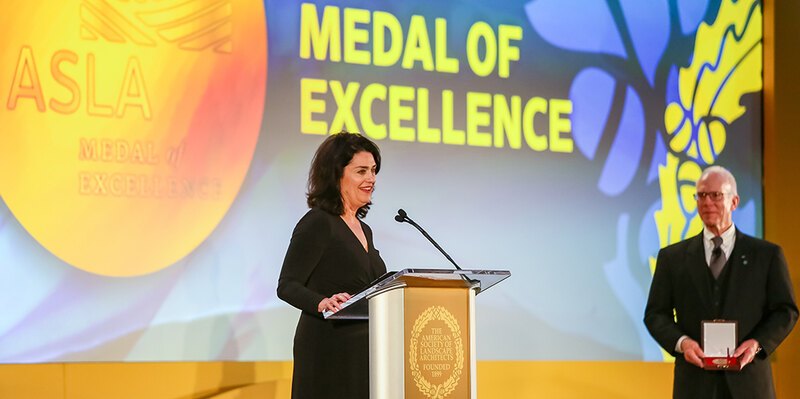 We are honored to share that the Landscape Architecture Foundation (LAF) has been recognized with the American Society of Landscape Architects' (ASLA) 2019 Landscape Architecture Medal of Excellence.
The award recognizes significant contributions to landscape architecture policy, research, education, project planning and design, or a combination of these items.  The Medal of Excellence is a testament to the vision, thought leadership, and diligent efforts of the LAF Board of Directors, staff, and donors who have given their time, talents, and resources to the organization over the years, and for that we are deeply grateful.
Because nominations are confidential, the award came as a huge surprise and we would like to specially thank nominators Thaisa Way, FASLA, FAAR and Jennifer Guthrie, FASLA, PLA as well as the others that contributed to the nomination package. Below are some excerpts:
"Whether it is through the scholarships programs, research to unlock better ways to practice in a high performance setting, or leadership development, there is a clear correlation between the elevation of design excellence and the work of the Landscape Architecture Foundation."
 – Jacinta McCann, FASLA, AECOM
"In all aspects of the programs LAF provides, it continues to be a leader and influencer, and is beloved by the professional community. The Foundation's efforts have been clear, consistent, and visible, and LAF is seen as a pillar in our profession because of its programs and thought leadership."
 – Mark O. Dawson, FASLA, Sasaki
"As an educator, I have deep appreciation for the transformative opportunities that LAF provides for students and emerging professionals. The intellectual and financial support for future landscape architects created by LAF initiatives is unparalleled in the United States and, perhaps, the world."
 – Stephanie A. Rolley, FASLA, FCELA, AICP, Kansas State University
"LAF is ultimately an agency of optimism, seeding the future with a new generation of leaders, steeped in the knowledge of ecological services and energized by the opportunities to change the world, one landscape at a time."
 – Dennis Carmichael, FASLA, LEED AP | Carmichael Associates
"Landscape architecture should honor the Foundation not only for its historical importance, but also for its capacity for great listening. It has shown extraordinary responsiveness in transforming to anticipate the complicated challenges today's practitioners face, weaving together ecological resiliency with geopolitical and social concerns."
 – Mikyoung Kim, FASLA | Mikyoung Kim Design
LAF is proud to be among the recipients of the 2019 ASLA Honors, which represent the highest awards ASLA conveys each year. The awards will be presented at the ASLA President's Dinner held on Monday, November 19 during the Conference on Landscape Architecture in San Diego, California.