Announcing Our 2020 LAF Olmsted Scholars
The Landscape Architecture Foundation (LAF) is delighted to announce the two winners and six finalists for its 2020 Olmsted Scholars Program, the premier leadership recognition program for landscape architecture students.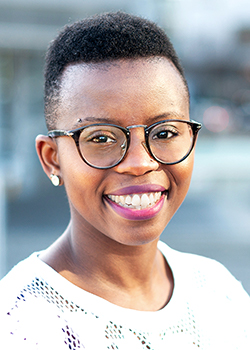 Lys Divine Ndemeye, a master's student at the University of British Columbia, was selected as the graduate 2020 National Olmsted Scholar and recipient of the $25,000 prize. Multi-lingual and a leader and active volunteer in various social change organizations, Divine sees the landscape as a key cultural marker and maker that can play a powerful role in spatial decolonization and empowering marginalized communities towards cultural affirmation and identity. For her graduate project, she investigated communal and ecological landscapes of Bujumbura, the biggest city and primary port in the conflict-torn country of Burundi where she was born. Divine plans to continue daylighting African cultural landscapes to expand landscape architecture beyond the hegemonic Eurocentric way of operating and to promote the field to Indigenous and African-descent youths. In other areas of the arts, Afrofuturism has served as a powerful bridge between an abducted and erased African past and a promising future, and Divine would like to explore ways to use it as a working methodology in landscape architecture practice and discourse.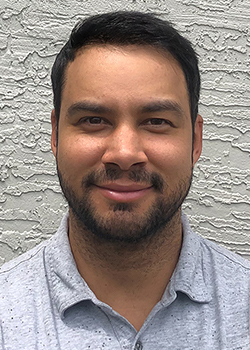 David Hooper, an undergraduate at the University of Massachusetts, Amherst, is the undergraduate 2020 National Olmsted Scholar and recipient of the $15,000 prize. With a 10-year career as a photojournalist in the U.S. Navy, David has seen the power of artistic expression and design to transcend boundaries, boost morale, and bring people together. He is fascinated by the capacity of landscape architecture to enhance human connectivity, both to one another and the natural. He hopes to use the award to explore ecological gardening as practical therapy for veterans who have experienced trauma. He would like to design a curriculum and program uniquely focused on healing the earth as well as providing lifelong tools to deal with the effects of trauma.
Also honored are six National Olmsted Scholar Finalists. The graduate finalists each receive a $5,000 award, and the undergraduates each receive a $3,000 award.
2020 National Olmsted Scholar Finalists
Top row: Graduate finalists; Bottom row: Undergraduate finalists
Madalyn Baldwin
North Carolina State University

Martin Egan
University of Colorado, Denver

Robert Levinthal
University of Pennsylvania

Aaron Lewis
Iowa State University

Jake Tiernan
The Pennsylvania State University

Audrey Wilke
University of Maryland, College Park
Two independent juries selected the winners and finalists from a group of 48 graduate and 37 undergraduate students nominated by their faculty for their exceptional leadership potential. These top students earned the designation of 2020 LAF Olmsted Scholar and join the community of 805 LAF Olmsted Scholars named since the program's inception in 2008. See all past winners and finalists here.
Now in its thirteenth year, the LAF Olmsted Scholars Program honors students with exceptional leadership potential who are using ideas, influence, communication, service, and leadership to advance sustainable design and foster human and societal benefits. The program is made possible with support from Lead Sponsor: The Toro Company; Annual Sponsors: Deeproot, HOK, IRONSMITH, LandDesign, OLIN, Sasaki, Thomas C. and Gerry D. Donnelly, Steven G. King, FASLA, and Bill Main, Hon. ASLA; Promotion Partner: American Society of Landscape Architects.
---
2020 LAF Olmsted Scholars (Graduate)
In addition to the winner and finalists, the graduate nominees from each university are recognized as 2020 LAF Olmsted Scholars, which denotes distinguished student leadership in landscape architecture.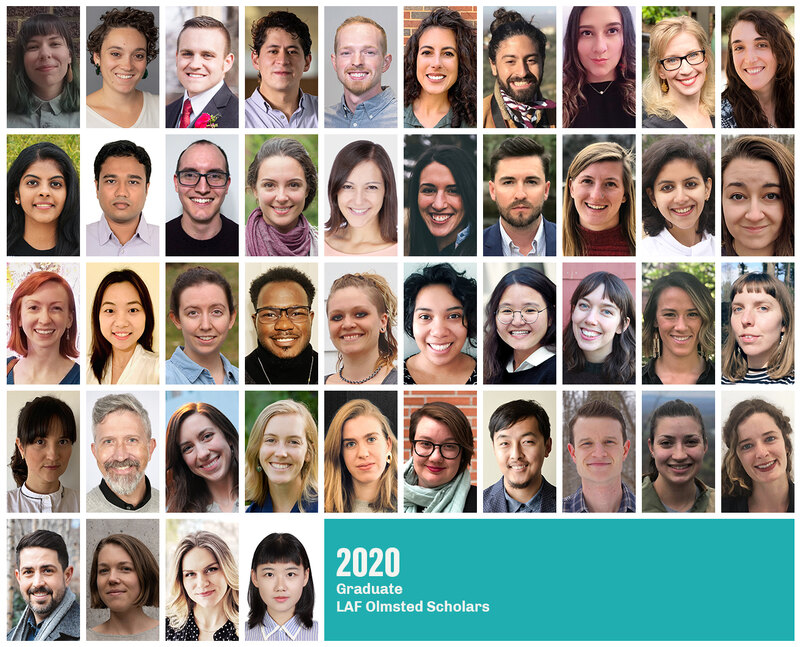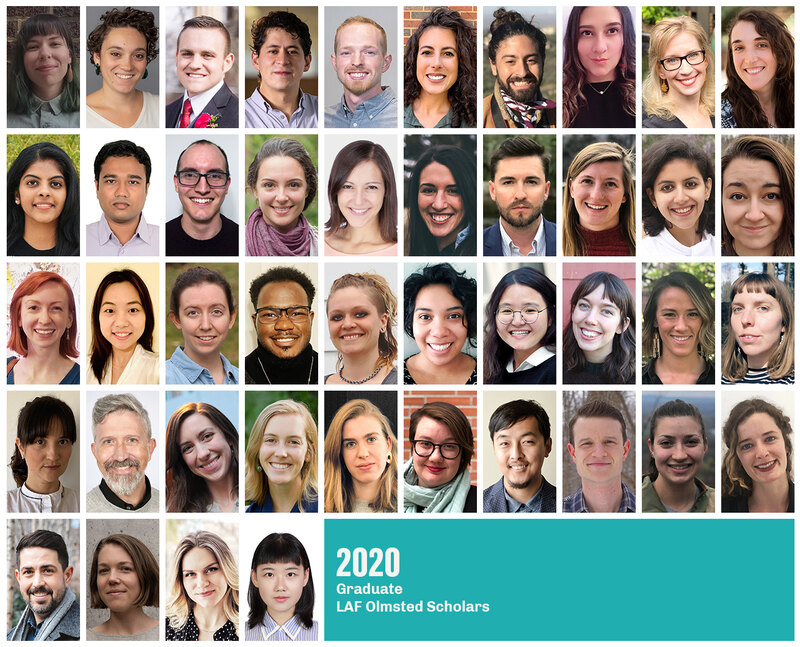 First row: Lucia "Lulu" Aguiar, The Ohio State University | Sasha Anemone, Cornell University | James Anglesey, Utah State University | Alexis Arias, Illinois Institute of Technology | Caleb Brackney, University of Tennessee | Alice Calmon, University of Oklahoma | Robert Colón, Florida International University | María Cortés, University of Toronto | Amanda Pedersen Cortez, Virginia Tech | Penelope Cottrell-Crawford, University of Arizona
Second row: Niveditha Dasa Gangadhar, University of Texas at Arlington | Udday Datta, West Virginia University | David Evans, University of Georgia | Allyson Fairweather, University of Massachusetts, Amherst | Sarah Fitzgerald, University of California, Berkeley | Bridget Hake, Kansas State University | Sebastian Hilpl, University of Florida | Lauren Iversen, University of Washington | Karishma Joshi, Texas A&M University | Kimberly Korioth, SUNY College of Environmental Science and Forestry
Third row: Elizabeth Krohn, Temple University | Tong Liu, Clemson University | Anna McKeigue, City College of New York, CUNY | Keena Miles, Auburn University | Kayla Myers, University of Illinois at Urbana-Champaign | Maci Nelson, Kent State University | Thu Ngo, University of Calgary | Cornelia Overton, Rhode Island School of Design | Elizabeth (Betsy) Peterson, Louisiana State University | Sarah Peterson, University of Michigan
Fourth row: Nadyeli Quiroz Radaelli, Harvard University | Mark Robison, Rutgers, The State University of New Jersey | Maura Roth-Gormley, Morgan State University | Lucy Rummler, The Pennsylvania State University | Sydney Shea, University of Minnesota | Danielle Slabaugh, Cal Poly Pomona | Tshewang Tamang, University of Oregon | Kevin Todd, University of Guelph | Sarah Turner, University of Maryland | Danielle VonLehe, University of Southern California
Fifth row: John Whitaker, Washington University in Saint Louis | Taryn Wiens, University of Virginia | Yekaterina Zinovyeva, University of Idaho | Ning Zou, Ball State University
---
2020 LAF Olmsted Scholars (Undergraduate)
In addition to the winner and finalists, the undergraduate nominees from each university are recognized as 2020 LAF Olmsted Scholars, which denotes distinguished student leadership in landscape architecture.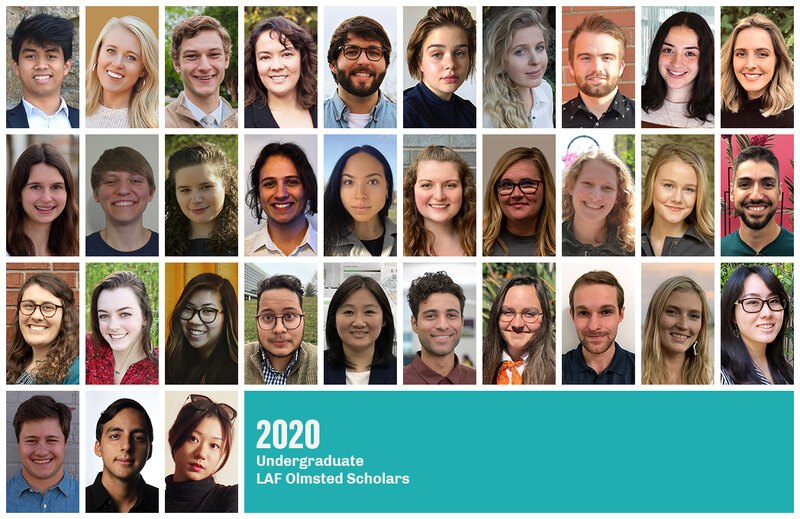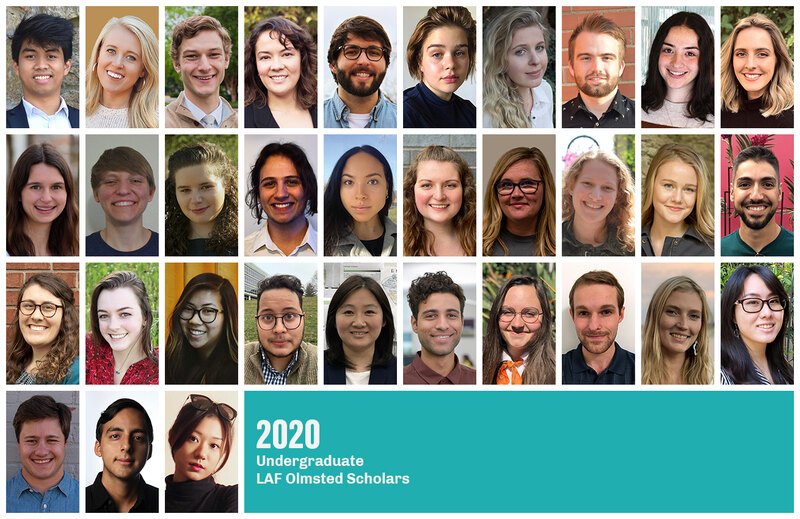 First row: Karlmathew Alamo, University of Rhode Island | Julia Alcorn, University of Georgia | David Armbruster, Purdue University | Michelle Armour, Temple University | Ethan Balls, Utah State University | Elizabeth Bray, University of Guelph | Rebecca Cruze, University of Oregon | Ronald Cubbage, North Carolina A&T State University | Molly Davis, Cornell University | Kylie Durekas, Cal Poly San Luis Obispo
Second row: Eleanor Frey, The Ohio State University | Rachael Gervasio, Arizona State University | Sidney Greenslate, University of Washington | Charlton Jenks, West Virginia University | Isabella Jimenez, University of California, Davis | MacKenzie Keen, University of Wisconsin-Madison | Jaime Kemple, Washington State University | Amanda Leifer, Rutgers, The State University of New Jersey | Hannah LoPresto, University of Nebraska-Lincoln | Anthony Madore, University of Connecticut
Third row: Deborah Mattson, Ball State University | Stephanie Morris, Texas A&M University | Paige O'Keefe, Michigan State University | Javier Ortiz, University of Illinois Urbana-Champaign | Jeongok Park, University of Kentucky | Carlos Perez Ferrer, University of Florida | Brianna Perkins, University of Arkansas | Keenan Porter, SUNY College of Environmental Science and Forestry | Emily Poulter, Louisiana State University | Nikola Tong, Cal Poly Pomona
Fourth row: Michael Tsapos, Texas Tech University | Marlon Vite, Ana G. Méndez University-Gurabo | Xingjian "Echo" Wang, Clemson University
---
Thank you to our 2020 juries
The jurors for the graduate award were:
Lisa Tziona Switkin, President, Landscape Architecture Foundation / Senior Principal, James Corner Field Operations
Tom Mroz, President Elect, American Society of Landscape Architects / Sr. Vice President, SmithGroup
Shawn Freedberg, Business Development Manager, Deeproot Green Infrastructure
Brian Jencek, Senior Principal / Global Director of Planning, HOK
Michael Todoran, Owner, Zanja Madre Studios / Executive Producer, Larchitect Podcast
Areti Athanasopoulos, Landscape Designer and Planner, Design Workshop / 2019 LAF National Olmsted Scholar (Graduate)
The jurors for the undergraduate award were:
Monte Wilson, President Elect, Landscape Architecture Foundation / Global Vice President & Built Environment Global Market Director, Jacobs
Shawn Kelly, Immediate Past President, American Society of Landscape Architects / Distinguished Faculty Associate DPLA UW- Madison/ Principal, Kelly Design Group, LLC
Michael Grove, Chair of Landscape Architecture, Civil Engineering, & Ecology, Board of Directors, Principal Landscape Architect, Sasaki
Jim Laiche, Water Conservation Business Manager, The Toro Company
Win Myat Myat Phyo, Landscape Architect, CMLI / Writer, Land8: Landscape Architects Network
Anjelyque Easley, MLA Candidate, University of Texas at Arlington / 2019 LAF National Olmsted Scholar (Undergraduate)