Perspectives: Lito Tongson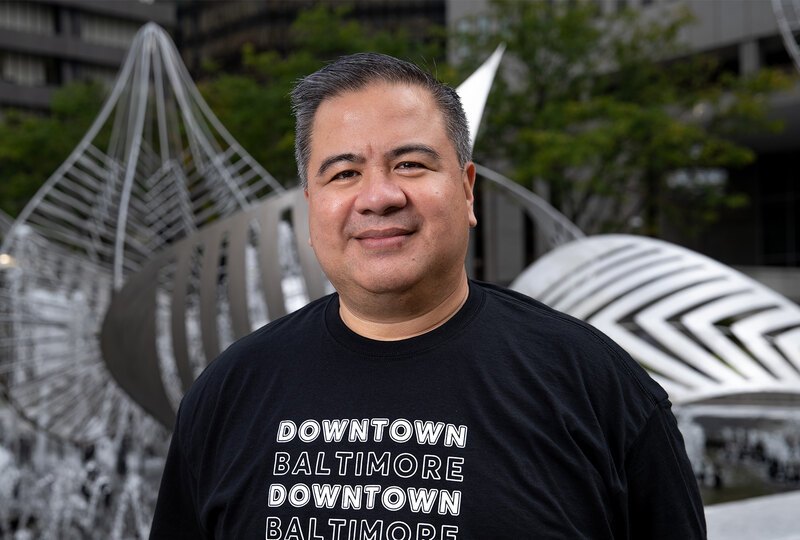 February 23, 2021
After 13 years as a landscape architect in design firms, Lito Tongson made a career shift and has spent the last 20 years working for business improvement districts (BIDs), first in Washington, DC, and now in Baltimore. He is currently Vice President, Project Management & Contracts Administrator at the Downtown Partnership of Baltimore, which provides services, investment, outreach, and leadership on issues that affect the success and vitality of Maryland's largest business center and cultural district.
What drew you to landscape architecture?

In the beginning, I wanted to be an architect because of my creative background, drafting skills, and love of art and design. I initially enrolled in the College of Arts and Architecture because the Architecture department had a portfolio requirement which meant compiling one in the interim.  As part of my undergraduate requirements, my advisor suggested I take an introduction to landscape architecture course, and I was hooked. I never even knew such a profession existed. It was much more holistic in the approach to the built environment and that is what really drew me to the profession. I enjoyed the marriage of art and science. During my freshman year as I was out on the snow-covered campus learning how to "close a survey," I didn't fully appreciate how this experience would prepare me for my future professional career. But now I understand.
What is driving you professionally right now?

With all the challenges of the current situation, you must be adaptable, flexible, and willing to see new opportunities. The work I am doing in the downtown area involves all types of stakeholders from city government to private investors, residents, office workers, and others visiting. We have had to adapt to the lack of tourists and money which would normally come into Baltimore from sports and entertainment. Our core constituent services have become more paramount and I am working in that area of our organization to help improve our basic and necessary services. 
What challenges is landscape architecture allowing you to address right now?

With the advent of the pandemic, our organization is dealing with businesses closing, increased homelessness, and reduced assets and services from the City and State. Learning to provide the same or more attention to problems is the biggest challenge right now. It is a practical problem that requires you to be even more creative and to rely even more on partnerships, cooperation, and relationship-building. Even though times are hard, people can choose to help you because they like and want to work with you and not just because they must do so.  Building trust and cooperation from people is more paramount than achieving short-term wins.
What challenge would you give emerging leaders?

Landscape architecture is one of the most diverse arts and architectural professions. The technical background and design education prepare you for many types of jobs and opportunities. My challenge to young and emerging leaders is to learn how to compromise and generate creative solutions to problems you face now and may encounter again in the future. Never put your eggs in one basket. Always have an alternative so that you can keep the project moving forward in a positive direction. This is not to say that you should not have convictions, but sometimes accepting part of what you propose is better than none of your ideas making it through consideration. In the end, it is the client who must be happy with your ability to assist, guide, and develop solutions that are right for the situation. 
Where do you think the profession needs to go from here?

With the advent of business improvement districts (BIDs) acting as the liaison to Cities and Municipalities on behalf of downtown neighborhoods and residents, different models of representation and cooperation between the public and private sector have emerged. Working with business leaders and city officials over the past 20 years has been rewarding in the amount of accomplishment possible when everyone is moving in the same direction. This profession needs to keep producing well-rounded, skilled, and experienced people who know how to organize, manage, and direct a project to inspire positive changes and develop practical solutions to the challenges and needs of people in the years to come. 
---
LAF's Perspectives interview series showcases landscape architects from diverse backgrounds discussing how they came to the profession and where they see it heading. Any opinions expressed in this interview belong solely to the author. Their inclusion in this article does not reflect endorsement by LAF.