LAF Gears Up for Olmsted 200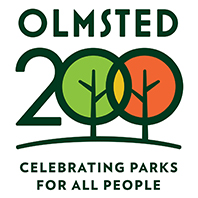 The Olmsted 200 celebration officially kicks off in April with more than a year of activities to honor the bicentennial of the birth of Frederick Law Olmsted in 2022. The Landscape Architecture Foundation (LAF) is a Founding Partner of the Olmsted 200 campaign, which is managed by the National Association for Olmsted Parks. Olmsted is the famed 19th-century author, public official, urban planner and founder of American landscape architecture whose vision of "parks for all people" helped shape American culture.
The Bicentennial will include national and local events, advocacy, and education about Olmsted's life, legacy, and values in order to build public and policy support for America's natural and historic spaces. LAF looks forward to empowering individuals, cities, parks, and local organizations of every kind to explore and engage in conversations about this legacy and the vision and values that we can carry forward into the future.
The official kickoff happens with an event on April 26, Olmsted and America's Urban Parks: Watch Party and Panel Discussion with three thought leaders exploring the many ways Olmsted's values are relevant to 21st-century challenges. Other events from the organizers and over 70 Celebration Partners include exhibits, activities and talks on particular sites, and virtual events that examine broader topics, including:

•    April 1 - Revival of the Muddy River within the Emerald Necklace
•    April 6 - Olmsted's Parks, the Right of Assembly, and Black Lives Matter
•    April 26 - Ecologies of Memory, A talk by Sara Zewde

Olmsted 200 is a great opportunity to increase the visibility of landscape architecture and its role in creating the spaces that countless Americans enjoy. It is also a time to better understand and reflect on our history to inform our work toward a healthier, more sustainable, and just future. As landscape architects increasingly leverage their unique skill sets to tackle modern challenges, we know there will be many more names recognized by generations to come.
For more information, resources, and links to events throughout 2021 and 2022, visit www.Olmsted200.org, where you can also subscribe to the monthly newsletter.
---
The Olmsted 200 campaign is managed by the National Association for Olmsted Parks, along with founding partners the American Society of Landscape Architects, The Garden Club of America, Frederick Law Olmsted National Historic Site, City Parks Alliance, National Recreation and Park Association, The Cultural Landscape Foundation, The Trust for Public Land, American Public Health Association and the Landscape Architecture Foundation.