Announcing Our 2021 LAF Olmsted Scholars
The Landscape Architecture Foundation (LAF) is delighted to announce the two winners and six finalists for its 2021
Olmsted Scholars Program, the premier leadership recognition program for landscape architecture students.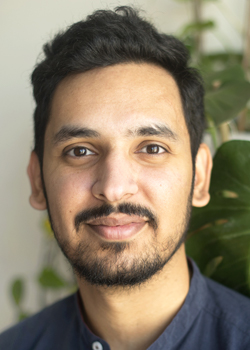 Harshat Verma, a master's student at The Ohio State University, was selected as the graduate 2021 National Olmsted Scholar and recipient of the $25,000 prize. While employed at a socially-driven architecture firm in Mumbai, Harshat collaborated with landscape architects to design a nature park and became inspired to pursue an MLA. Currently, he is exploring the concept of a multiplayer, multi-species world-building game, which simulates the experience of climate change across a range of urban ecosystems. The game aspires to teach children and adults about the value and complexity of natural systems, and serve as a safe experimental tool for planners and designers. It also fosters a dialogue about society's values relative to climate change – conversations that he believes will inspire younger generations to have a more profound curiosity about the landscapes that surround us.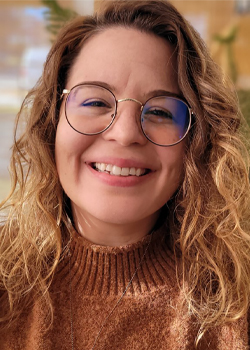 Abigail Long, a student at Temple University, is the undergraduate 2021 National Olmsted Scholar and recipient of the $15,000 prize. Amid the COVID-19 pandemic, Abigail used volunteering opportunities to create healthy and thriving outdoor spaces in which children could learn and play. To carry those values forward, she would like to develop accessible outdoor classroom design models for use by policymakers, school districts, and educators. With resources to guide garden establishment from development to maintenance, along with specific planting palettes for various typologies, she seeks to cultivate environments that will nurture the next group of leaders who will eventually take care of our communities and earth.
Also honored are six National Olmsted Scholar Finalists. The graduate finalists each receive a $5,000 award, and the undergraduates each receive a $3,000 award.
2021 National Olmsted Scholar Finalists
Top row: Graduate finalists; Bottom row: Undergraduate finalists
Taylor Davis
The University of Texas at Austin

Leah Kahler
University of Virginia

Jared Edgar McKnight
University of Southern California

Tracie Chazares
Cal Poly Pomona

Madison Hutchings
Virginia Tech

Barbara Kornak
Cornell University
Two independent juries selected the winners and finalists from a group of 51 graduate and 36 undergraduate students nominated by their faculty for their exceptional leadership potential. These top students earned the designation of 2021 LAF Olmsted Scholar and join the community of 892 LAF Olmsted Scholars named since the program's inception in 2008. See all past winners and finalists here.
Now in its fourteenth year, the LAF Olmsted Scholars Program honors students with exceptional leadership potential who are using ideas, influence, communication, service, and leadership to advance sustainable design and foster human and societal benefits. The program is made possible with support from Lead Sponsor: The Toro Company; Annual Sponsors: Deeproot, HOK, IRONSMITH, LandDesign, OLIN, Sasaki, Steven G. King, FASLA, and Bill Main, Hon. ASLA; Promotion Partner: American Society of Landscape Architects.
---
2021 LAF OLMSTED scholars (graduate)
In addition to the winner and finalists, the graduate nominees from each university are recognized as 2021 LAF Olmsted Scholars, which denotes distinguished student leadership in landscape architecture.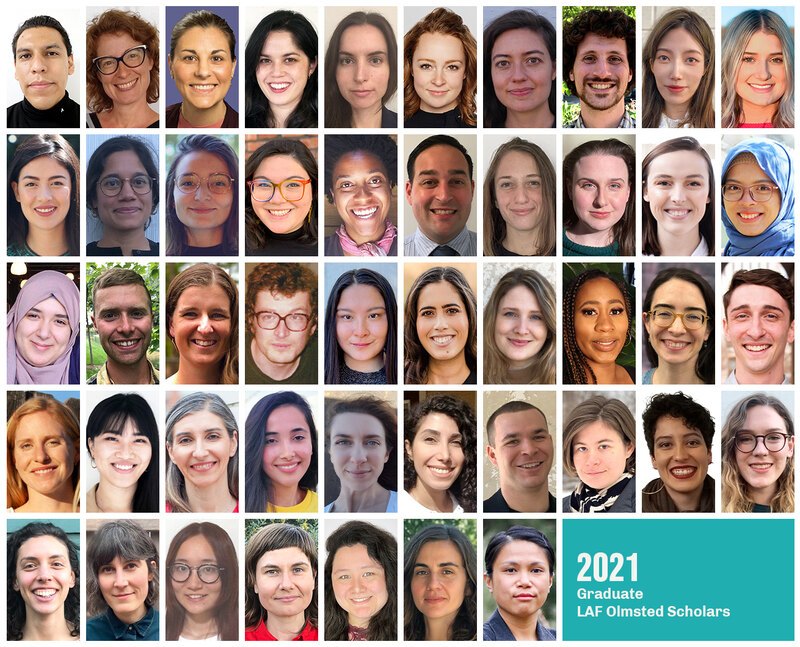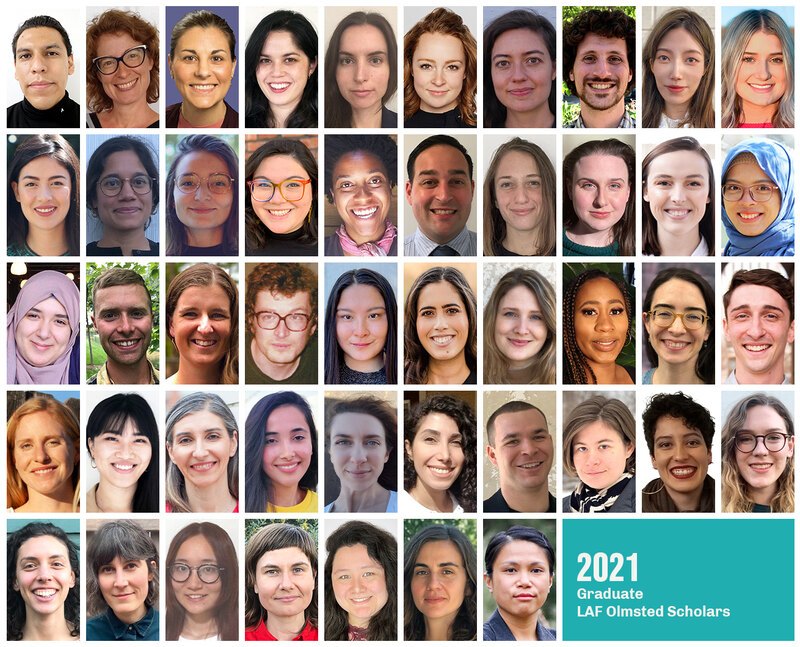 First row: Diego Alvarez, University of Guelph | Paige Anthony, University of Arizona | Kathryn Bartling, Temple University | Taylor Bowden, University of Oregon | Eliza Breder, University of Florida | Emma Brodie, University of Calgary | Emily Bunker, University of Pennsylvania | Matthew Callone, Illinois Institute of Technology | Pan Chen, Rhode Island School of Design | Paden Chesney, Kansas State University
Second row: Romina Delgado, Auburn University | Sonali Devarajan, University of Minnesota | Lara Garcia, The Pennsylvania State University | Alyssa Gill, Louisiana State University | Jessica Goldberg, The City College of New York | William Gonzalez, University of Massachusetts, Amherst | Elyna Grapstein, University of Georgia | Lauren Gray, University of Maryland | Taylor Harrell, University of Tennessee, Knoxville | Nur Hepsanti Hasanah, University of Illinois Urbana-Champaign
Third row: Sahar Khelifa, University of British Columbia | Ian Kola, Utah State University | Eliza Lawdley, North Carolina State University | Chet Lawton, University of Idaho | Alexis Lo, Rutgers, The State University of New Jersey | Angeles Margarida, The University of Texas at Arlington | Kathryn McCudden, University of Manitoba | Jaline McPherson, Harvard University | Theresa Menotti, Texas A&M University | Kevin Mink, University of Oklahoma
Fourth row: Hollis Moore, University of New Mexico | Hannah Pae, University of California, Berkeley | Lynda Ramirez-Blust, Virginia Tech | Daniela Rodriguez, Florida International University | Maura Roth-Gormley, Morgan State University | Parvaneh Sabbagh-Ziarani, West Virginia University | James Sasser, Kent State University | Carissa Shoemaker, Iowa State University | Hannah Slyce, Clemson University | Aletha Spang, University of Colorado, Denver
Fifth row: Rachel Spraos, Cornell University | Sara Steenbergh, University of Michigan | Dongzhe Tao, Washington University in St. Louis | Adrian Tenney, Cal Poly Pomona | Anna Tiburzi, SUNY College of Environmental Science and Forestry | Amanda Trakas, Arizona State University | Jocine Velasco, University of Washington
---
2021 LAF OLMSTED SCHOLARS (UNDERGRADUATE)
In addition to the winner and finalists, the undergraduate nominees from each university are recognized as 2021 LAF Olmsted Scholars, which denotes distinguished student leadership in landscape architecture.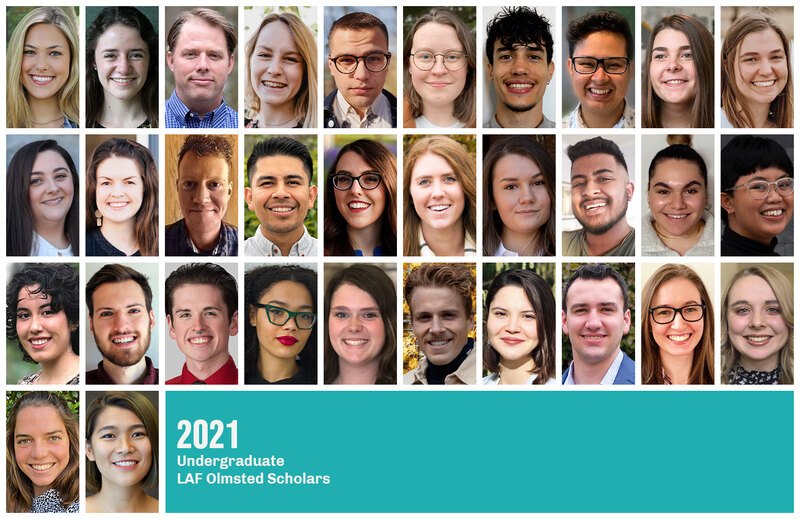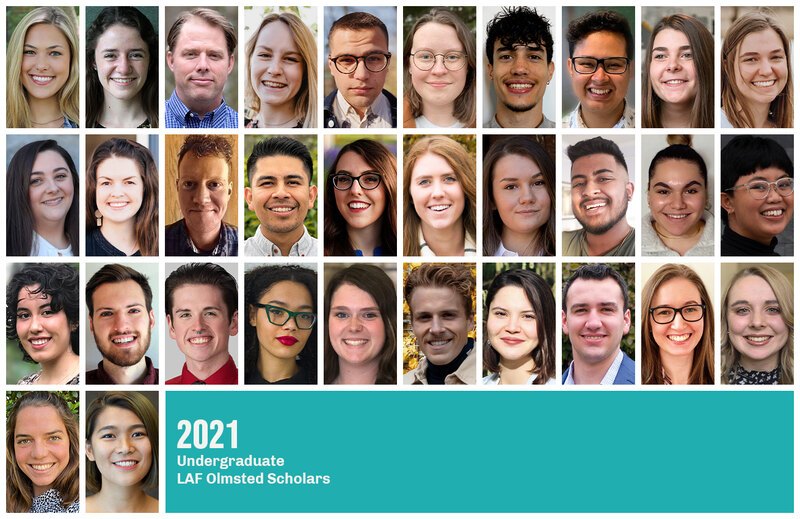 First row: Olivia Boon, University of Delaware | Madison Borsos, The Pennsylvania State University | Ted Cook, Michigan State University | Melissa Ewart, University of Georgia | Max Frank, University of Arkansas | Bailey Gillespie, West Virginia University | Matheus Gomes, University of Massachusetts, Amherst | Cesar Gomez, University of Illinois Urbana-Champaign | Megan Hedges, Purdue University | Shelby Horton, Texas A&M University
Second row: Miranda Hulme, University of Rhode Island | Madeline Kirschner, Louisiana State University | James Lamb, University of Guelph | Samuel Landaverde, University of California, Davis | Helen Lea, Utah State University | Emily Long, Clemson University | Darby Mann, Thomas Jefferson University | Ravi Mohamed, Rutgers, The State University of New Jersey | Paola Monllor Torres, Iowa State University | Avee Izabel Oabel, The Ohio State University
Third row: Isabela Ospina Rodriguez, University of Oregon | Josiah Pearson, Washington State University | Aus Perez, University of Nebraska-Lincoln | Nikita Richardson, SUNY College of Environmental Science and Forestry | Katie Roberson, Texas Tech University | Martin Rose, University of Wisconsin-Madison | Daniella Slowik, University of Washington | Robert Snyder, University of Kentucky | Emily Stancliff, University of Maryland | Kirsten Toole, Ball State University
Fourth row: Elizabeth Walinder, Cal Poly San Luis Obispo | Xiaoyu Zheng, University of Florida
---
THANK YOU TO OUR 2021 JURIES
The jurors for the graduate award were:
Monte Wilson, Global Vice President, Jacobs / President, Landscape Architecture Foundation
Eugenia M. Martin, FASLA, President-Elect, American Society of Landscape Architects
Jennifer Reut, Acting Editor, Landscape Architecture Magazine
Fadi Masoud, Assistant Professor of Landscape Architecture, University of Toronto / Urbanism Director, Centre for Landscape Research at the John H. Daniels Faculty of Architecture, Landscape, and Design
Shawn Freedberg, Director of Business Development, Deeproot Green Infrastructure, LLC.
Lys Divine Ndemeye, Landscape Designer, Space2Place / 2020 LAF National Olmsted Scholar (Graduate)
The jurors for the undergraduate award were:
Kofi Boone, University Faculty Scholar and Professor, North Carolina State University / President-Elect, Landscape Architecture Foundation
Wendy Miller, FASLA, Immediate Past President, American Society of Landscape Architects
Jonathon Geels, PLA, ASLA, Principal Landscape Architect, Troyer Group
Qing Lana Luo, Assistant Professor and State Specialist of Landscape Architecture, Oklahoma State University
Jim Laiche, Irrigation Business Manager, The Toro Company
Heth Kendrick, PLA, Principal, LandDesign, Inc.
Aaron Lewis, Designer, Genus Landscape Architects / 2020 LAF National Olmsted Scholar Finalist (Undergraduate)