Green New Deal Superstudio Attracts 670 Project Submissions
Hundreds of designers submitted their place-specific plans and ideas that spatially manifest the principles of the Green New Deal.
Now more than ever, designers of the built environment must use their skills to confront the pressing challenges of climate change and inequity. The Green New Deal Superstudio was an open call to explore decarbonization, jobs, and justice from a designer's perspective and give form to what this movement-led vision could mean for the future.
The Superstudio ran from August 2020 through June 2021 and attracted the participation of more than 180 studio courses from over 90 universities in 39 states and 10 countries, as well as hundreds of practitioners from across the design disciplines. Many of them collaborated with local partners and community based-organizations to ground their ideas in existing efforts and opportunities. Thank you to all who participated and to those who gave their time to support the studios!
A total of 670 projects were submitted: 627 by university courses, 30 by groups, and 13 by individuals. These thought-provoking projects range from adaptive reuse of degraded sites to regional-scale frameworks to visualizations of speculative futures. All of the submissions will be catalogued as part of the Green New Deal Superstudio archive in the JSTOR digital library, where they will be freely accessible.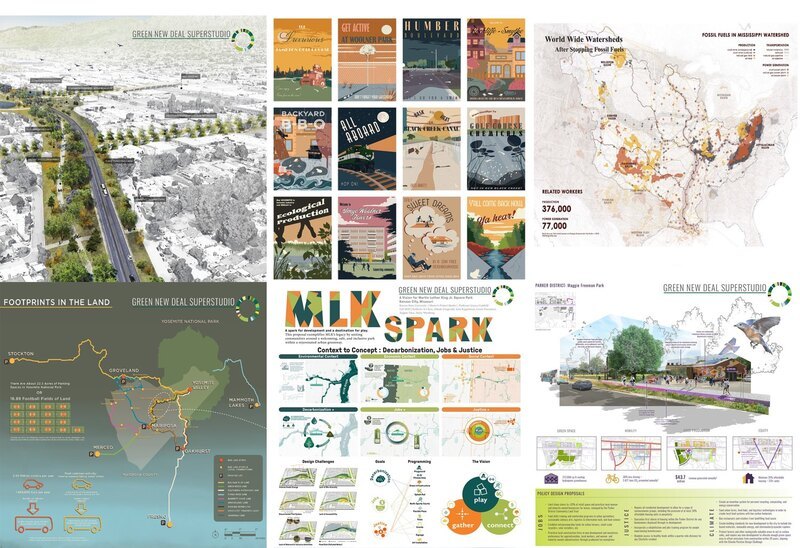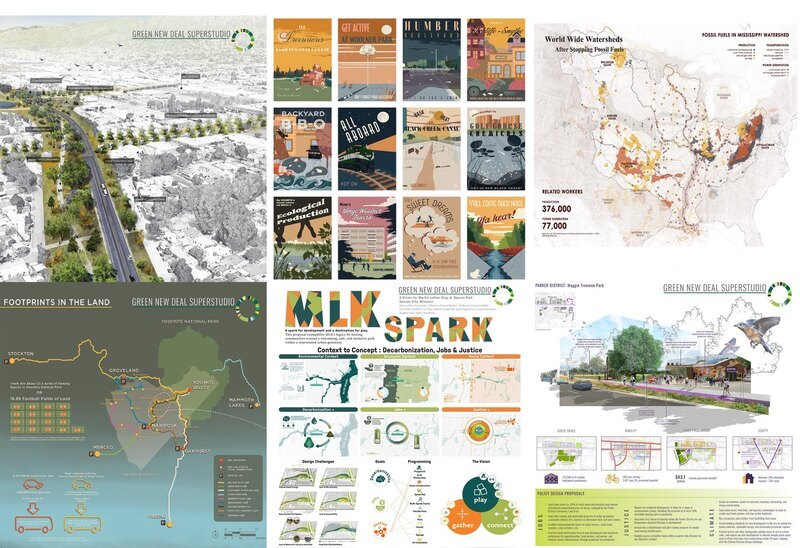 LAF and the other organizing partners are in the midst of a review and curation process to select a set of projects that illustrate the wide variety of issues, innovation, scales, and geographic regions represented in the submissions. They will be published as part of a web-based catalog that can support advocates to advance Green New Deal ideas and approaches. The work will also inform a national conversation on policy and design at an LAF summit in April 2022.
The curated set as well as the full archive of submitted projects are slated for release in October and will be followed by a Superstudio capstone webinar in which reviewers critically reflect on the body of work and discuss key themes and insights.
In the meantime, LAF has several ways to for you to preview the Superstudio work and engage with participants.
Superstudio Spotlight Webinars
From now through March, LAF will host a webinar approximately every month featuring Superstudio participants discussing their work and highlighting innovative processes and partnerships. The first two have been scheduled:
Social Media
An assortment of student work completed during the Fall 2020 and Spring 2021 semesters will be shared on LAF's Instagram and LinkedIn accounts. Follow us to get a peek at the range of projects and ideas submitted.
ASLA Conference on Landscape Architecture
If you are going to Nashville, mark your calendar for Saturday, November 20, 4-5pm CDT when the organizing partners hold a panel discussion on the Green New Deal Superstudio and explore the complex intersection between policy and design.
Running from August 2020 through June 2021, the Green New Deal Superstudio was an open call to translate the goals of decarbonization, justice, and jobs into local and regional design and planning projects. The organizing partners are:
Landscape Architecture Foundation (LAF)
Weitzman School of Design McHarg Center
Center for Resilient Cities and Landscapes (CRCL)
American Society of Landscape Architects (ASLA)
Council of Educators in Landscape Architecture (CELA)