LAF Joins the 1% for the Planet Network
AUGUST 9, 2021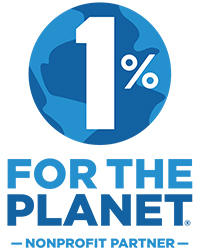 The Landscape Architecture Foundation (LAF) is proud to announce that we have been certified as a nonprofit partner of 1% for the Planet, a global network of over 4,500 nonprofits that work "to advocate, conserve, steward, educate and activate to create a healthy, vibrant future for our planet." 
Despite the critical problems facing the natural world, only 3% of philanthropic donations today go toward the environment, nowhere near enough to sustain necessary efforts toward building a healthy and sustainable future. 1% for the Planet is working to rectify that by inviting everyone to fulfill their obligations to the Earth and donate as their name suggests – 1% of gross sales for businesses and 1% of salary for individuals – to one or more vetted nonprofits in the network. To make the process as easy and accessible as possible, 1% for the Planet certifies combinations of monetary, in-kind, and volunteer support.
Landscape Forms, a well-known designer and manufacturer of site furniture, lighting solutions, and structures, has pledged their 1% to LAF this year. Their commitment to sustainability goes beyond looking at the impacts of their products and facilities, to supporting organizations with similar values. Landscape Forms is a long-time supporter of LAF and we welcome their continued commitment to supporting our work, which is predicated upon helping landscape architects make positive environmental impacts.
Since LAF's founding in 1966, LAF has supported more than 600 students with scholarships, funded millions in research, and invested in leadership-building programs to increase the impact and efficacy of landscape architects in designing a sustainable, just, and resilient future. But significant work remains in reimagining our landscapes. There is a rising urgency to the discipline of landscape architecture, as designers and systems-thinkers whose work centers on considering our relationship to and in the natural world.
The next ten years represent a critical juncture for the world, and all of us in it, as we try to limit warming to the 1.5°C average increase set forth in the Paris Agreement. We encourage you to learn more about 1% for the Planet, and consider whether it is feasible for your organization or your family to join the growing global network.
"When we all work together, 1% adds up." Together, the landscape architecture community can collectively make a large impact.