Announcing the 2023 LAF Olmsted Scholars
The Landscape Architecture Foundation (LAF) is delighted to announce the two winners and six finalists for its 2023 Olmsted Scholars Program, the premier leadership recognition program for landscape architecture students.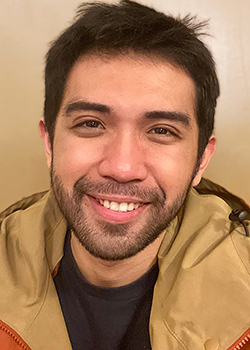 Keith Faminiano, a master's student at The Pennsylvania State University, is the 2023 graduate National Olmsted Scholar and recipient of the $25,000 prize. Influenced by his hometown of Corcuera in the Philippines, a low-income municipality reliant on fishing and agriculture, Keith hopes to devote his career to developing design solutions that elevate marginalized communities battling extreme living conditions. He plans to use the award to engage with farmers in the Sierra Madre region of the Philippines where the Kaliwa Dam project threatens ecosystem services and climate resilience. The product will be a set of landscape design guidelines outlining both vernacular and engineered solutions to equip farms to adapt to the growing climate impacts.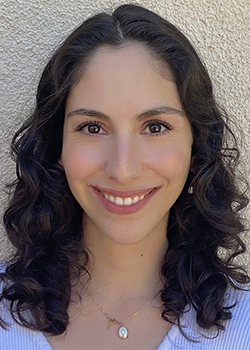 Maryam Abutabikh, a student at Cal Poly San Luis Obispo, is the undergraduate 2023 National Olmsted Scholar and recipient of the $15,000 prize. As the child of two Iraqi immigrants, Maryam understands the value of having a strong sense of community and a culturally relatable support network. She plans to use the award to advance aspects of her capstone project, which focuses on community-led programs to aid in the integration and assimilation of refugees in El Cajon, California. She will identify gaps in existing refugee services that can be addressed by public space interventions with the goal of increasing interaction, inclusion, and wellbeing of refugees after their life-altering, often traumatic, experiences.
Also honored are six National Olmsted Scholar Finalists. The graduate finalists each receive a $5,000 award, and the undergraduates each receive a $3,000 award.
2023 National Olmsted Scholar Finalists
Top row: Graduate finalists; Bottom row: Undergraduate finalists
Leslie Dinkin
University of Southern California

Allison Nkwocha
University of Pennsylvania

Justin Thomas
University of California, Berkeley

Mallak Al-Salmi
Washington State University

Maria De Jesus Arevalo-Martinez
University of Washington 

Olivia Krum
The Pennsylvania State University
Two independent juries selected the winners and finalists from a group of 50 graduate and 38 undergraduate students nominated by their faculty for their exceptional leadership potential. These top students earned the designation of 2023 LAF Olmsted Scholar and join the community of 1,069 LAF Olmsted Scholars named since the program's inception in 2008. See all past winners and finalists here.
Now in its 16th year, the LAF Olmsted Scholars Program honors students with exceptional leadership potential who are using ideas, influence, communication, service, and leadership to advance sustainable design and foster human and societal benefits. The program is made possible with support from: Deeproot, Design Workshop, EDSA, Hart Howerton, HOK, IRONSMITH, James Corner Field Operations, LandDesign, OJB, OLIN, Sasaki, Stantec, SWA, Steven G. King, FASLA, and Bill and Kathy Main, Hon. ASLA; Promotion Partner: American Society of Landscape Architects.
---
2023 LAF Olmsted scholars (Graduate)
In addition to the winner and finalists, the graduate nominees from each university are recognized as 2023 LAF Olmsted Scholars, which denotes distinguished student leadership in landscape architecture.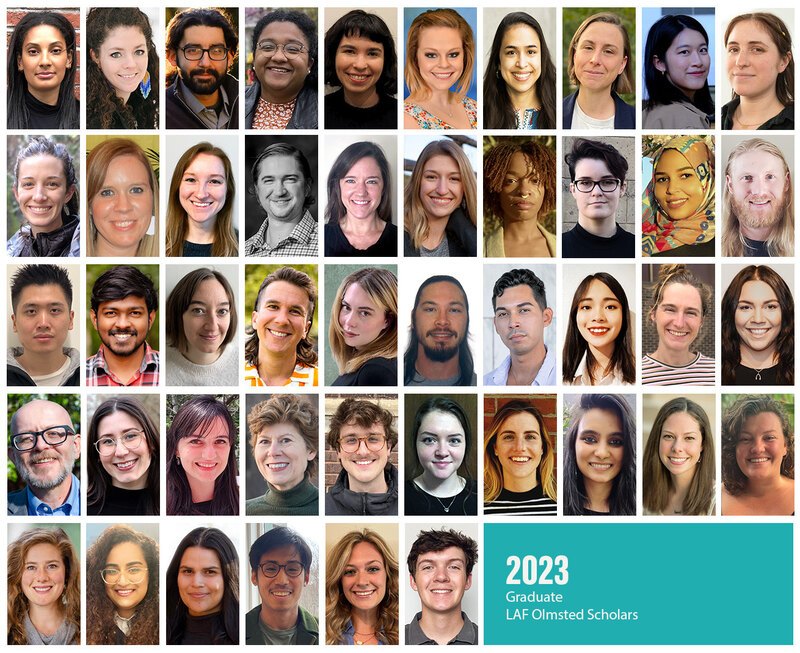 First row: Celina Abba, Harvard University | Tiffany Adair, University of Guelph | Johnny Baakliny, University of Illinois Urbana-Champaign | Kaila Blevins, Morgan State University | Casey Breen, City College of New York | Victoria Brenneis, Kansas State University | Seyyada Burney, University of Washington | Marybeth Campeau, North Carolina State University | Judy Shao-Yu Chen, University of Virginia | Allyson Church, Temple University
Second row: Sara Constantineau, SUNY College of Environmental Science and Forestry | Danielle Craig, Texas Tech University | Krista Dawson, Illinois Institute of Technology | Trevor Deines, Texas A&M University | Georgia DeWitt, Louisiana State University | Grace Graham, University of Oregon | Mel Gross, Cal Poly Pomona | Tatiéne Guia, Rutgers University | Mona Hamad, Ball State University | Zach Heffernan, University of Idaho
Third row: Weicong Huang, Washington University in St. Louis | Rajith Kumar Kedarisetty, University of Oklahoma | Molly Lalonde, University of Toronto | Andrew Lesmes, University of Texas at Austin | Caitlyn Lewis, West Virginia University | Xantippean Lonewolf, North Dakota State University | William Lopez, The Ohio State University | Jianjie Ma, University of Arizona | Jenna McIntyre, University of Calgary | Emily Mesa, University of Colorado Denver
Fourth row: M. Josiah Miller, University of Texas at Arlington | Samantha Miller, University of British Columbia | Sophia Neves, Florida International University | Susan Pegg, Iowa State University | Samuel Phipps, University of Minnesota | Mia Roark, University of Tennessee | Audrey Seiz, University of Maryland | Aishwarya Shankar, Cornell University | Isabella Shehab, University of Michigan | Emily Sobolewski Knight, University of Hawaii at Manoa
Fifth row: Lilian Taft, Utah State University | Saba Tajali, Kent State University | Maria Elena Vanegas Perez, Auburn University | Corey Watanabe, Rhode Island School of Design | Brooke Webster, University of Florida | Alexander Wright, University of Georgia
---
2023 LAF OLMSTED SCHOLARS (UNDERGRADUATE)
In addition to the winner and finalists, the undergraduate nominees from each university are recognized as 2023 LAF Olmsted Scholars, which denotes distinguished student leadership in landscape architecture.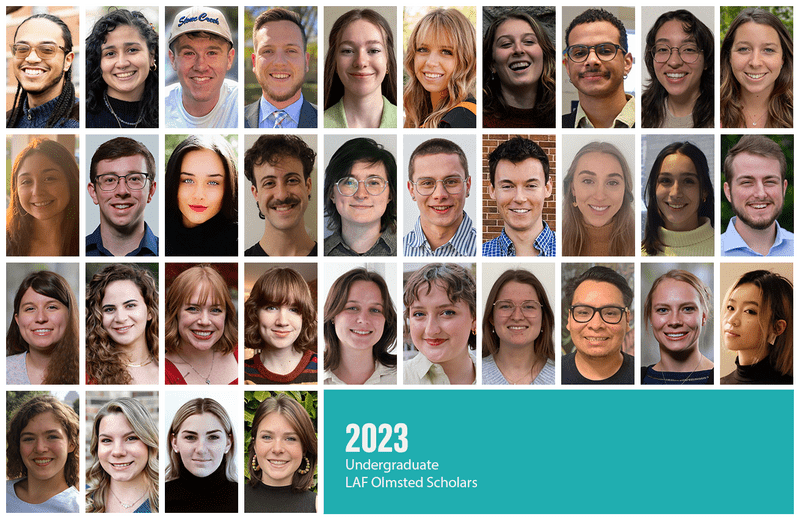 First row: Adrian Alexander, Oklahoma State University | Maria Victoria Arias, University of California, Davis | Jace Armstrong, University of Nebraska-Lincoln | Thomas Burns, West Virginia University | Loganne Caka, Thomas Jefferson University | Emma Cervinka, University of Guelph | Maria Church, University of Rhode Island | Victor Cizik, University of Connecticut | Brianna Cruz, Cal Poly Pomona | Lexi Dart, University of Delaware
Second row: Javiera Diaz-Ortiz, University of Maryland | TJ Hillberry, Iowa State University | Delia Houston, The Ohio State University | Avery Kaplan, Rutgers University | Felix Lowery, University of Kentucky | Daniel Metzger, Louisiana State University | Harland Nadeau, Purdue University | Grace Pursley, Virginia Tech | Maggie Raedeke, University of Wisconsin-Madison | Andrew Reilly, University of Massachusetts Amherst
Third row: Amy Roberts, University of Illinois Urbana-Champaign | Najla Said Lopez, University of Florida | Monica Saso, Texas Tech University | Madelyn Scott, Temple University | Jessica Shearman, University of Arkansas | Kaylin Slaughter, Texas A&M University | Emma Strong, Clemson University | Ivan Vazquez, North Carolina A&T State University | Krista Walterbusch, Ball State University | Jingyi Wang, Cornell University
Fourth row: Grace Weigel, University of Georgia | Jordan White, Michigan State University | Savannah Wright, SUNY College of Environmental Science and Forestry | Grace Youngblood, University of Oregon
---
THANK YOU TO OUR 2023 JURIES
The jurors for the graduate award were:
Roberto Rovira, Professor and Chair of Landscape Architecture + Environmental and Urban Design, Florida International University / President, Landscape Architecture Foundation
SuLin Kotowicz, Senior Landscape Architect, Verdis Design Group / President-Elect, American Society of Landscape Architects
Gerdo Aquino, Co-CEO, SWA
David Howerton, Chairman and Partner, Hart Howerton
Chingwen Cheng, Program Head and Associate Professor, Arizona State University
Katie Finnigan, MLA Candidate, University of Colorado Denver / 2022 LAF National Olmsted Scholar (Graduate)
The jurors for the undergraduate award were:
Michael Grove, Chair of Landscape Architecture, Civil Engineering, and Ecology | Principal, Sasaki / President-Elect, Landscape Architecture Foundation
Eugenia Martin, Senior Project Manager, The Ohio State University / Immediate Past President, American Society of Landscape Architects
Gary Sorge, Vice President and Discipline Leader for Landscape Architecture, Stantec
Becky Zimmermann, CEO, Design Workshop
Donald Burger, Associate Professor of Landscape Architecture, South Dakota State University
Timothy A. Schuler, journalist and contributing editor, Landscape Architecture Magazine
Trecia Cintrón, Landscape Architecture Resource Assistant, USDA Forest Service - Southwestern Regional Office / 2022 LAF National Olmsted Scholar (Undergraduate)