LAF Honor Scholarship Winners Share Similar Design Goals
For Celina Abba and Cameron Coronado, there's something special about the LAF Honor Scholarship for Inclusive Community Design – not just because they were selected as the 2023 winner and runner-up, respectively. The scholarship represents how they approach design and what they want to accomplish through landscape architecture.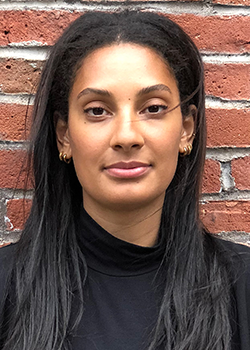 Celina, who received her MLA from the Harvard University Graduate School of Design in May, won the scholarship's top prize of $10,000, while Cameron, a master's student at the University of Oregon, was awarded $5,000 as runner-up. The awards were among 16 scholarships totaling $160,000 that LAF distributed to students in 2023.
"This scholarship affirms the importance of diversity and serves as encouragement to students to push the envelope of our profession and push back against the status quo," Celina said. "I think landscape architecture has the potential to be an agent of change. I don't think we are there yet, but it's scholarships like these that allow students to push those boundaries."
The LAF Honor Scholarship for Inclusive Community Design is awarded annually to landscape architecture students currently enrolled in an LAAB- or LAAC- accredited master's degree program at a university in the U.S. or Canada.  The scholarship was established in 2018 by Patrick Phillips, a visionary and leader in the responsible use, design, and transformation of land to support thriving and inclusive communities worldwide. Award winners demonstrate a commitment to underserved urban communities and to addressing community-scale design issues.
Celina, who was born in the U.S. Virgin Islands and lives in Canada, holds a Bachelor of Environmental Design Studies and a Bachelor of Science in Biology. She also earned a Master of Architecture degree from Dalhousie University in Canada, where she received the Henry Adams AIA Medal. It was during her Master of Architecture studies, when she took part in a landscape studio in the Netherlands, that she realized her interest in landscape architecture.
"It was by far my favorite studio and helped me pair my degrees in biology and environmental sciences with design," Celina said. "The ability to focus on systems, the environment, social, and political ideologies were driving forces."
At Harvard, Celina's thesis focused on plantations and their complex legacies, from their histories of exploitation and enslavement to the modern-day use of many of these sites as tourist destinations. She aims to publish her work and develop next steps for her research. She ultimately intends to become a licensed landscape architect so she can apply what she has learned throughout her academic career.
"One thing I've come to understand about myself in the realm of landscape architecture is my desire to experience Black landscapes, sites where we can gather and celebrate our communal way of being. Whether it's the act of gathering on our porches, enjoying iced tea, or getting our hair braided," Celina said. "That's the intangible sense of community I hope can emerge through design. A friend once said 'We're more than the sums of our sorrows.' I think about that often and, in retelling these stories, it's important, especially in these times, to create a landscape that can bring joy and innovation, but also honor our communal history."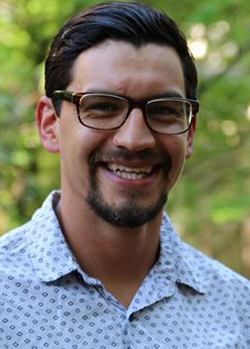 The journey for Cameron to the MLA program at the University of Oregon has been different from Celina's, but their goals ultimately are similar. Cameron grew up in the Pacific Northwest and earned a degree in Environmental Science from Western Washington University. He spent the years after Western Washington working on salmon recovery, restoration, and enhancement, before expanding to larger-scale natural resources issues like stormwater, green infrastructure, and environmental education and outreach, among other projects.
As Cameron's work expanded and he began working more closely with communities, he began noticing disparities in the projects and services that were being provided to low-income neighborhoods compared to areas with higher incomes. He then underwent a year-long training on racial equity and local government, and his career path changed significantly.
 "It really changed my life," Cameron said. "As person of color, I had experienced racism and discrimination in life, but until then, I didn't understand the institutional racism embedded in the fabric of us as Americans. This opened my eyes and really made me look at the programs we were running and the people we were serving."
Cameron started making a concerted effort to complete projects in underserved areas. He wanted to increase the scope and scale at which he was working so he could start making structural changes to help these communities. That's what drove him, several years out of college, back to graduate school.
Now, Cameron is pursuing his Master of Landscape Architecture and a dual degree in Community and Regional Planning, which he hopes will provide the interdisciplinary knowledge needed to solve large problems to create equitable and sustainable communities for all. He wants to work on master plans and large-scale issues, such as policy and housing, while serving community members who have been traditionally disenfranchised. He already has been working with a local organization that serves the unhoused, and he's in the process of creating a conceptual master plan for an indigenous tribe.
"Those two projects speak to the work I want to do in the future – to work to empower our underserved communities," Cameron said.
Looking ahead, Cameron hopes to work on public spaces that benefit the broader community, whether that's in the public sector or private. In the meantime, the LAF Honor Scholarship for Inclusive Community Design will provide much needed support as he pursues his passions for design and equity.
"I know how big of a deal it is to be chosen for a scholarship through LAF," Cameron said. "I was so humbled and grateful, and I'm so happy I won this one for inclusive community design because that really speaks to who I want to be as a designer. I think the best designs should be led by the communities that live there and the data."
Learn more about LAF's 2023 scholarship winners by visiting our Student Scholarships page.