LAF Perspectives: L. Irene Compadre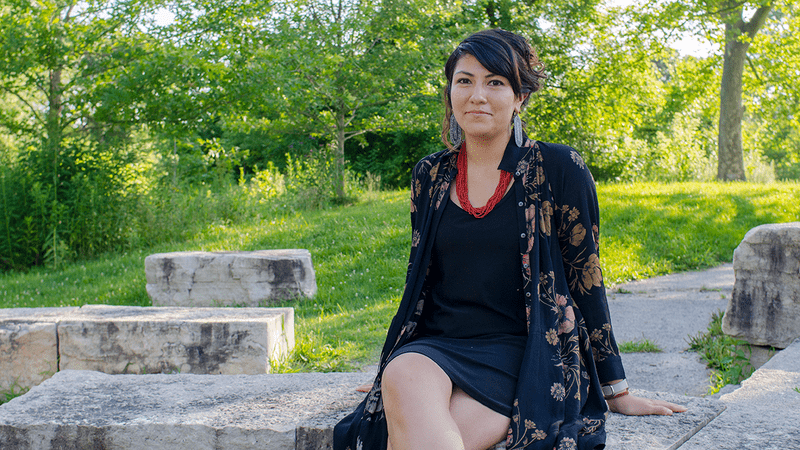 L. Irene Compadre, PLA, is the founding principal and design director of Arbolope Studio—an award-winning WMBE landscape architecture, urban design, and public art practice based in St. Louis. Irene and her team work with a variety of clients including universities, institutions, and communities, at scales ranging from intimate parks to large-scale urban plans. With a multidisciplinary background that includes building architecture, fine arts, scenic art, and musical composition, Irene earned a Master of Landscape Architecture from the Sam Fox School of Design & Visual Arts at Washington University in St. Louis, where she has also been a member of the faculty since 2012, and she is a St. Louis Regional Arts Commission Community Arts Training Institute Fellow.
What drew you to landscape architecture?
Inspired by frequent childhood trips to visit family in Mexico and Spain, I chose to study architecture in college because I loved the power of the designed spaces I experienced there. But it wasn't until I took some courses rooted in community-based work that I was able to begin reconciling the value of a formal and rigorous design education with real world issues. A mentor of mine suggested I study landscape architecture and I fell in love with the field. It was all at once the right balance of poetry and pragmatism, activism and art, ecology and empathy. 
What is driving you professionally right now?
When I started Arbolope Studio, I wanted our emphasis to be on supporting the St. Louis community. I wanted to be hyper-local and experiment with how a for-profit firm like ours could perform a public-benefit role within the city. After almost ten years, our reach has expanded regionally but our mission feels more defined, urgent, and more possible than ever before. We are working on some fascinating streetscape and placemaking projects in key districts, and I am really driven by the direct relationships we are nurturing with individuals and groups of diverse, active, and passionate people who simply want to see their neighborhoods grow and thrive.
What challenge is landscape architecture allowing you to address right now?
Landscape design has a unique role to play in helping communities become more resilient in the face of an intensifying climate crisis. Ecological resilience and social equity go hand-in-hand, so there are serious implications at many scales if we aren't able to quantify, value, and implement site-based strategies for mitigating the impacts of extended droughts, intense storm events, and ecosystem collapse. Well-designed public spaces strengthen communities at all levels. 
What challenge would you give emerging leaders? + Where do you think the profession needs to go from here? 
I often ask my new grad students "What is a Landscape?" And the answers I get are always all over the map  - which makes sense, we are a broad profession that resists boundaries. What is clear to me is that we are agents of change – we define places and how to get there. Our role in site design at all scales is to forge a strong relationship between program and place, to account for the needs of humans and non-humans alike, and to set up resilient infrastructures that can accommodate change. Our profession is a sort of vanguard – and there is a type of social contract in that – a call to lead. So, we must build coalitions, garner consensus, and carefully yet boldly bake our ideals regarding ecological resilience and social equity into the decisions we make about how and why spaces get created and for whom. 
---
LAF's Perspectives interview series showcases landscape architects from diverse backgrounds discussing how they came to the profession and where they see it heading. Any opinions expressed in this interview belong solely to the author. Their inclusion in this article does not reflect endorsement by LAF.