Perspectives: Anton Smith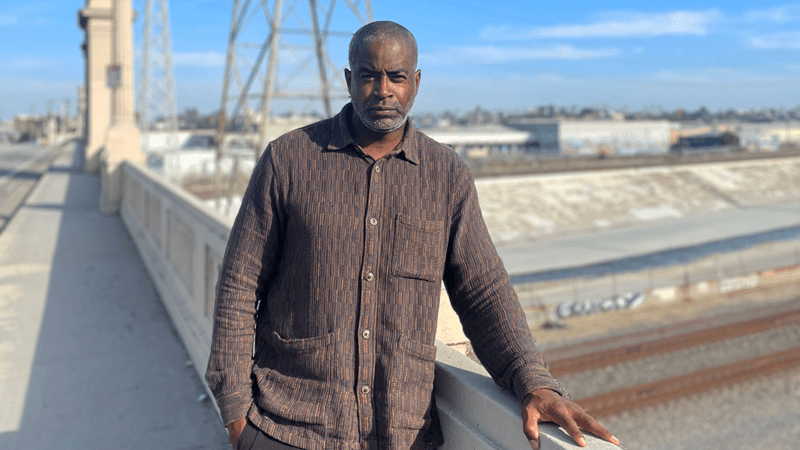 SEPTEMBER 29, 2023
Anton Smith, ASLA, is an urbanist with over two decades of experience reimagining and revitalizing urban spaces through community-driven projects and inclusive, co-creative engagement processes. Based in the Los Angeles office of Studio-MLA, Anton is a strong advocate for the pivotal role of landscape architecture in urban planning and policymaking.
What drew you to landscape architecture?
The profession of landscape architecture has a unique capacity to mediate the constraints of various and often opposing systems of the built environment into a coalesced design response that supports sustainable outcomes through the promotion of holistic interconnectivity. There is an awareness that complex systems, whether they are architectural, environmental, social, political, or even biological, cannot be fully understood or effectively managed by looking at individual parts in isolation. In a sense, the profession of landscape architecture can be understood in its highest and perhaps glorified title as "ecosystem engineering" for the built and natural environment. While immersed in clutch moments of the practice, I must remind myself that I am creating a park in this instance, as opposed to figuring out the mathematical equations of a Mandelbrot set. Ecosystem engineering can be as simple as a leaf and as complex as a repeating fractal pattern — rewarding, nonetheless.
What is driving you professionally right now?
Community-based projects that prioritize equitable design approaches and co­ creative design/engagement processes have been my personal focus over the last 10 years. My work on Destination Crenshaw in Los Angeles has been the most rewarding and challenging for many reasons. For one, thanks to exceptional political and design leadership, the project objectives are set extremely high to provide a direct response toward decades of disinvestment in a vibrant community of color that is hanging onto its identity by a thread. Secondly, the project attempts to counteract issues of gentrification and cultural displacement while also creating affirmative Black space that is supported by a multitude of interpretive narratives and artworks to celebrate Black Los Angeles culture. Lastly, the project has conducted over 4 years of intensive and co-creative public engagement processes to ensure that the design is, in fact, a community-endorsed response infused with the voices of the Black Los Angeles diaspora. I remain optimistic that the outcome of Destination Crenshaw will be a great example of what is possible to achieve when there is an alignment of bold political will and design vision, robust community engagement, and substantial funding to create meaningful and resilient public cultural spaces in the 21st century. Destination Crenshaw will be the first outdoor public linear Art Museum ever realized!
What challenge is landscape architecture allowing you to address right now?
The recent pandemic and broader cultural awareness as a result of the events of 2020 have inspired the removal of more confederate monuments throughout the country and raised public awareness toward equitable processes within our systems of governance and policymaking. This has in turn created more direct opportunities for landscape architecture to address the importance of retelling cultural narratives in the public realm in more deliberate, interactive and meaningful ways. Storytelling is inherently a part of our work, and the views of the storyteller becomes integral to the story itself. Providing more opportunities for storytelling offers more opportunities for inclusivity, visibility, and a more complete recall of our collective history within public spaces.
What challenge would you give emerging leaders?
One, deliberately seek out opportunities to collaborate with the "other." Look for people both inside and outside of your profession who do not necessarily share your educational background, political view, nor your disposition toward design or approach to resolving issues concerning climate change and social equity. A diversified and collaborative effort will be required to yield the most resilient, future­ proof outcome.
Two, the profession of Landscape Architecture has a keen environmental focus but often struggles to lead by example in yielding carbon-neutral design solutions in both practice and implementation of the work. Our greatest challenge in all professions is to tread as lightly toward our environmentally resilient future and to ensure that our efforts contribute to a much healthier planet when we break ground. Let's find a way to work smarter, cleaner, and waste far less!
Where do you think the profession needs to go from here?
Landscape architecture is a collective practice of worldwide environmental stewardship and therefore the profession can best thrive by ascertaining more direct leadership roles in all matters related to land development, public transit, urban planning, and in particular, environmental policymaking. Imagine if the Los Angeles River channelization project of 1914 was mandated through governmental policy to be led by a landscape architectural firm in collaboration with the Army Corps of Engineers. A completely different set of metrics would have been implemented toward designing with nature, protecting the ecology of natural systems, and factoring the socio-economic importance of maintaining human access to waterways. I think we would have a much healthier, economically prosperous, and livable Los Angeles today!
---
LAF's Perspectives interview series showcases landscape architects from diverse backgrounds discussing how they came to the profession and where they see it heading. Any opinions expressed in this interview belong solely to the author. Their inclusion in this article does not reflect endorsement by LAF.