2022 CSI Teams and Projects Announced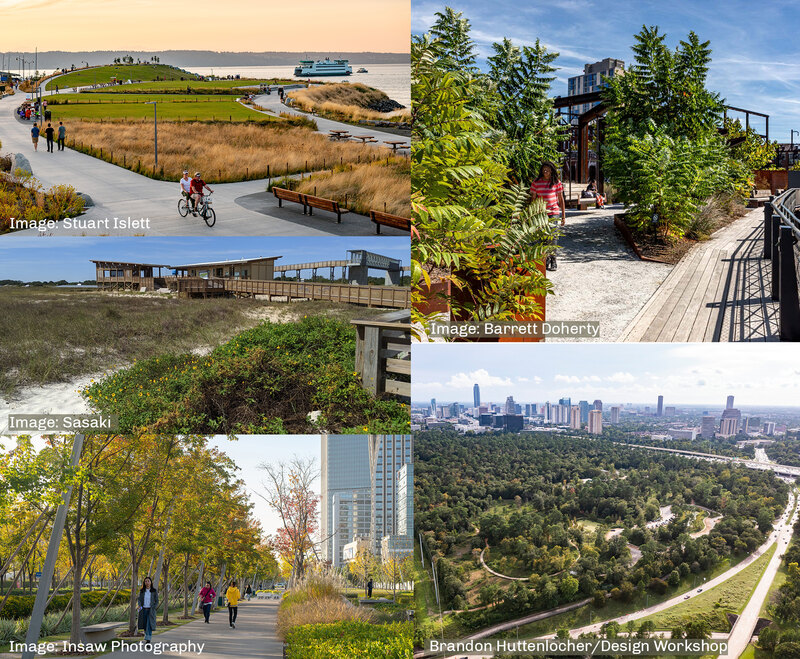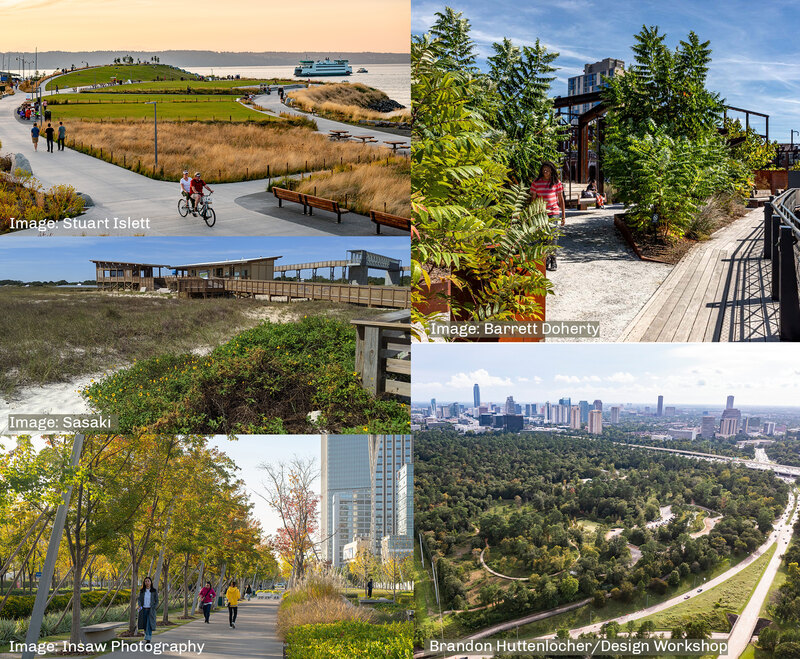 Twelve faculty Research Fellows and ten high-performing landscape projects have been selected for LAF's 2022 Case Study Investigation program.
Case Study Investigation (CSI) is a unique research collaboration and training program for faculty, students, and practitioners. LAF funded faculty-student research teams work with designers to document the impacts of exemplary, high-performing landscape projects. Teams develop methods to quantify the environmental, social, and economic benefits of built projects and produce Case Study Briefs for LAF's Landscape Performance Series.
Faculty Research Fellows lead the CSI collaboration and receive funding to support a student Research Assistant. The academic teams work with liaisons from design firms to evaluate and document each project. LAF provides training, supporting materials, and feedback throughout the process. 
Among the selected projects for the 2022 program are several that incorporate diversity, equity, and inclusion goals and address pressing challenges associated with climate change. Project types include a state-of-the-art hospital landscape focusing on Indigenous values in Bendigo, Australia; a large recreation area on Alabama's Gulf Coast; a series of streetscape interventions in El Paso; a unique elevated park along a disused rail line in Philadelphia; and a Shanghai park that was previously an airport runway. The geographically diverse projects also include a campus landscape supporting nursing students in St. Louis, an arboretum and nature center just west of Houston, a Detroit trail focused on urban art, a cutting-edge wetland park in China's Sichuan Province, and a reclaimed industrial waterfront in Tacoma.
The 2022 CSI program kicks off in February and runs through early August. We look forward to working with the teams to document this range of outstanding projects and their impacts! 
Arizona State University
+ SWA
CSI Research Fellow: Chingwen Cheng, PhD, ASLA, PLA, LEED AP
Student Research Assistant: Ramandeep Kaur
Project: El Paso Pedestrian Pathways, El Paso, TX
Auburn University
+ Sasaki
CSI Research Fellow: Charlene Marie LeBleu, FASLA, FCELA, AICP
Student Research Assistant: Kangkhita Aishwarya Bosu
Project: Gulf State Park Master Plan & Phase 1, Gulf Shores, AL
Purdue University
+ ECOLAND Planning and Design Corp.
CSI Research Fellow: Yiwei Huang, PhD, ASLA
Student Research Assistants: Wanting Zhang and Yahan You
Project: Suining South Riverfront Park, Suining City, Sichuan, China
RMIT University Melbourne
+ Oculus
CSI Research Fellow: Bridget Keane, PhD
Student Research Assistant: Peter Grant
Project: Bendigo Hospital, Bendigo, Victoria, Australia
Temple University
+ Studio Bryan Hanes
CSI Research Fellow: Bess Wellborn Yates, ASLA
Student Research Assistants: Sidney Buckingham and Michelle Lee Delgado Wallace
Project: The Rail Park, Phase 1, Philadelphia, PA
Texas A&M University
+ Design Workshop and Reed Hilderbrand
CSI Research Fellows: Galen Newman, PhD and Dongying Li, PhD
Student Research Assistant: Rui Zhu
Project: Houston Arboretum and Nature Center, Phase 1, Houston, TX
Tongji University Shanghai
+ Sasaki 
CSI Research Fellow: Nannan Dong, DEng
Student Research Assistant: Yiqi Wang 
Project: Xuhui Runway Park, Shanghai, China
University of Illinois Urbana-Champaign
+ DTLS
CSI Research Fellow: Kelley Lemon, PLA, LEED AP, EDAC
Student Research Assistant: Chia-Ching Wu
Project: STLCC Forest Park Center for Nursing and Advanced Health Sciences, St. Louis, MO
University of Nebraska-Lincoln
+ SmithGroup
CSI Research Fellow: Salvador Lindquist, ASLA
Student Research Assistant: Kyle Riley
Project: Dequindre Cut Greenway, Detroit, MI
University of Washington
+ Site Workshop
CSI Research Fellows: Ken P. Yocom, PhD and Amy Wagenfeld, PhD
Student Research Assistant: Rebecca Habtour
Project: Dune Peninsula at Point Defiance, Tacoma, WA