2022 LAF Medal & Founders' Award
Elizabeth J. Kennedy, FASLA, and The Nature Conservancy have been named as this year's honorees.
Launched in 2016 in conjunction with LAF's 50th anniversary, the LAF Medal and Founders' Award are annual awards that honor those who have made a significant and sustained contribution to LAF's mission to support the preservation, improvement, and enhancement of the environment. The LAF Medal is awarded to an impactful individual while the LAF Founders' Award honors a firm, agency, or organization. The 2022 recipients will be recognized at the LAF Awards Dinner on June 2 in Washington, DC.
LAF Medal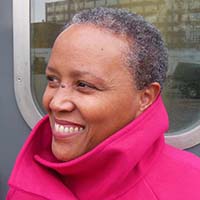 The LAF Medal is conveyed to a landscape architect for distinguished work over a career in applying the principles of sustainability to landscapes. Honorees come from private practice, academia, nonprofit and public sectors, exemplify the values of LAF, and have made a significant contribution to the advancement of the landscape architecture discipline. The 2022 LAF Medal goes to Elizabeth J. Kennedy, FASLA.
Elizabeth Kennedy's work intersects cultural heritage and ecological sustainability. An exceptional leader, visionary, and entrepreneur, she has been an advocate for social change, a teacher, and a mentor for young professionals, women, and BIPOC designers throughout her career. Her collaborative design approach and built works demonstrate the power of landscape architecture to celebrate the narratives of underrepresented voices.
After working in landscape design, teaching, site construction, and affordable housing development, Elizabeth established Elizabeth Kennedy Landscape Architect, PLLC, (EKLA) in 1994 — today the longest-operating Black woman-owned landscape architecture firm in the country. With an approach that leverages sustainable design for cultural preservation, EKLA serves public and non-profit clients throughout the country. Notable award-winning projects include the Weeksville Heritage Center, the Brooklyn Navy Yard Roof Farm, Harlem Stage Gatehouse, and the African Burial Ground National Monument in Lower Manhattan.
At the heart of EKLA's culture and ability to use design to empower and reveal is a commitment to training emerging professionals through client service. In this way, Elizabeth has helped prepare and shape dozens of landscape architects—particularly designers of color, and she has been lauded equally for her contributions to landscape architecture and emerging professionals' development.
LAF is honored to recognize Elizabeth's distinguished career, commitment to social justice, and investment in the next generation of designers with the award of the 2022 LAF Medal.
LAF Founders' Award

The LAF Founders' Award is conveyed to a firm, agency, or organization that demonstrates a significant commitment to preserving, improving, or enhancing landscapes over a sustained period of time. The 2022 LAF Founders' Award goes to The Nature Conservancy.
The Nature Conservancy (TNC) is a global environmental nonprofit with a mission to conserve the lands and waters on which all life depends. It is the world's largest conservation organization, working in 76 countries and territories and in every state across the US. TNC has over one million members and has protected more than 125 million acres of ecologically important land worldwide.
Since its founding in 1951, TNC's functions have expanded beyond land acquisition to include scientific research, technical assistance, policy and finance innovation, education, and advocacy. TNC's current work focuses on addressing the biodiversity and climate crises over the next decade. This involves saving special places, restoring lands and waters, conserving large landscapes, driving policy and funding, investing in alliances in urban and rural communities, and finding ways to dismantle environmental racism to ensure a future where people and nature thrive.
Through various partnerships and programs, TNC has collaborated with landscape architects over the years on initiatives to preserve and restore land, promote nature-based solutions in urban areas, develop innovative stormwater policies, and support workforce development through green infrastructure, to name just a few.
"We are living in the urban century, when the greatest migration in human history is happening, from rural to urban areas. More than 2 billion additional people are expected in cities by 2050. Getting those urban areas right is crucial both for human well-being and biodiversity," said Rob McDonald, lead scientist for TNC's nature-based solutions department. The Nature Conservancy believes cities need urban nature-based solutions to thrive, and nature needs sustainable, well-designed cities to survive. More and more, we are working directly with landscape architects and urban planners as they try to incorporate nature-based solutions into their designs. We are honored to receive the LAF Founder's Award, and we hope it leads to deeper and more transformative collaborations in the future between conservationists and landscape architects."
LAF is delighted to recognize this world-changing organization, its focus on the vital connections between people and nature, and TNC's collaboration with landscape architects as we urgently work to tackle climate change, species extinction, and inequity.
2022 Awards Committee
The LAF Board Emeritus Council manages the nomination and selection process for the awards. Members of the 2022 Awards Committee were:
Adam Greenspan, PWP Landscape Architecture, Chair
Nate Cormier, RIOS
Susannah Drake, FAIA, FASLA, DLANDstudio
Kona Gray, FASLA, EDSA
Kendra Hyson, SmithGroup and The Urban Studio
Mia Lehrer, FASLA, Studio-MLA
Ann Mullins, FASLA, wjm design