Announcing Our 2022 LAF Olmsted Scholars
The Landscape Architecture Foundation (LAF) is delighted to announce the two winners and six finalists for its 2022 Olmsted Scholars Program, the premier leadership recognition program for landscape architecture students.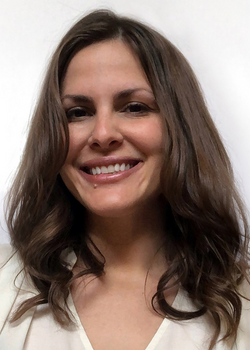 Kathryn (Katie) Finnigan, a master's student at the University of Colorado Denver, is the 2022 graduate National Olmsted Scholar and recipient of the $25,000 prize. With a background in environmental management and interpretation, Katie has a commitment to public service and passion for inclusive spaces that support physical and mental health. Building from her personal experiences and volunteer work with youth and disability resource programs, Katie plans to use the award to undertake community-engaged research on design interventions that can create acoustically and sensorially supportive outdoor environments for neurodivergent populations. Through collaborations with experts, nonprofit organizations, and neurodivergent individuals, she hopes to create a neuro-inclusive design toolkit and test it through design prototypes.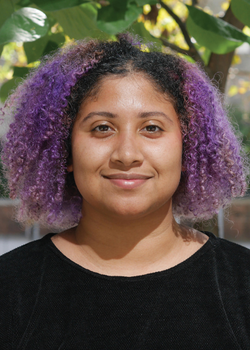 Trecia Cintron, a student at The Ohio State University, is the undergraduate 2022 National Olmsted Scholar and recipient of the $15,000 prize. Born and raised in Northeastern Ohio, she has been engaged with efforts for social and racial justice since the age of 14. Participation in landscape architecture studios cemented Trecia's understanding of the link between public health and environment, particularly as they relate to race and systemic negligence. She plans to use the award to further her current research which involves gathering health histories from families in Black and Hispanic communities that live adjacent to landfills and other contaminated sites along the Mississippi River to create an Environmental Injustice Atlas of the Midwest.
Also honored are six National Olmsted Scholar Finalists. The graduate finalists each receive a $5,000 award, and the undergraduates each receive a $3,000 award.
2022 National Olmsted Scholar Finalists
Top row: Graduate finalists; Bottom row: Undergraduate finalists
Robert Douglass
Cal Poly Pomona

Kate Flaherty
Cornell University

Daniel Kletzing
University of Illinois Urbana-Champaign

Megan Adams
Iowa State University

Avery Haynes
Louisiana State University 

Leigh Muldrow
University of Delaware
Two independent juries selected the winners and finalists from a group of 50 graduate and 39 undergraduate students nominated by their faculty for their exceptional leadership potential. These top students earned the designation of 2022 LAF Olmsted Scholar and join the community of 981 LAF Olmsted Scholars named since the program's inception in 2008. See all past winners and finalists here.
Now in its fifteenth year, the LAF Olmsted Scholars Program honors students with exceptional leadership potential who are using ideas, influence, communication, service, and leadership to advance sustainable design and foster human and societal benefits. The program is made possible with support from: Deeproot, Design Workshop, EDSA, HOK, IRONSMITH, LandDesign, OJB, OLIN, Sasaki, Steven G. King, FASLA, and Bill and Kathy Main, Hon. ASLA; Promotion Partner: American Society of Landscape Architects.
---
2022 LAF Olmsted scholars (Graduate)
In addition to the winner and finalists, the graduate nominees from each university are recognized as 2022 LAF Olmsted Scholars, which denotes distinguished student leadership in landscape architecture.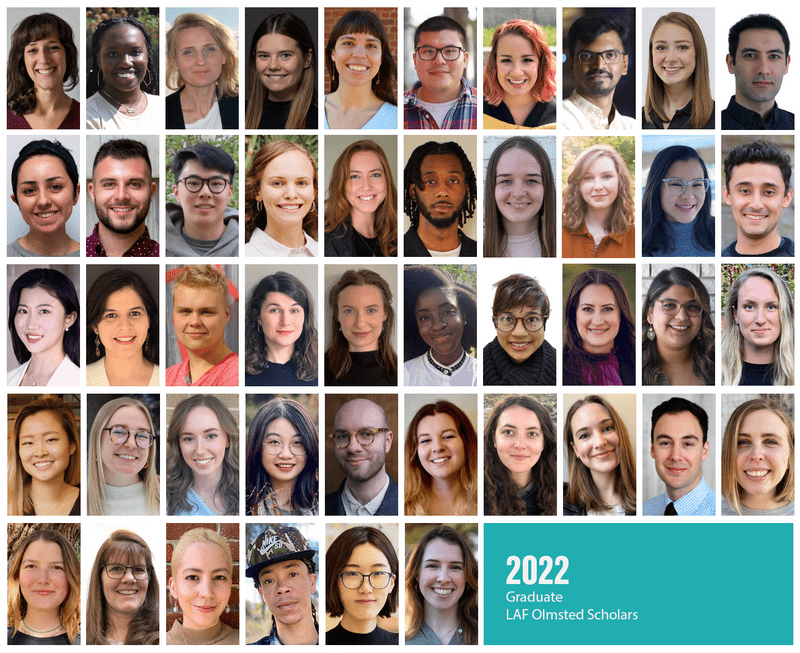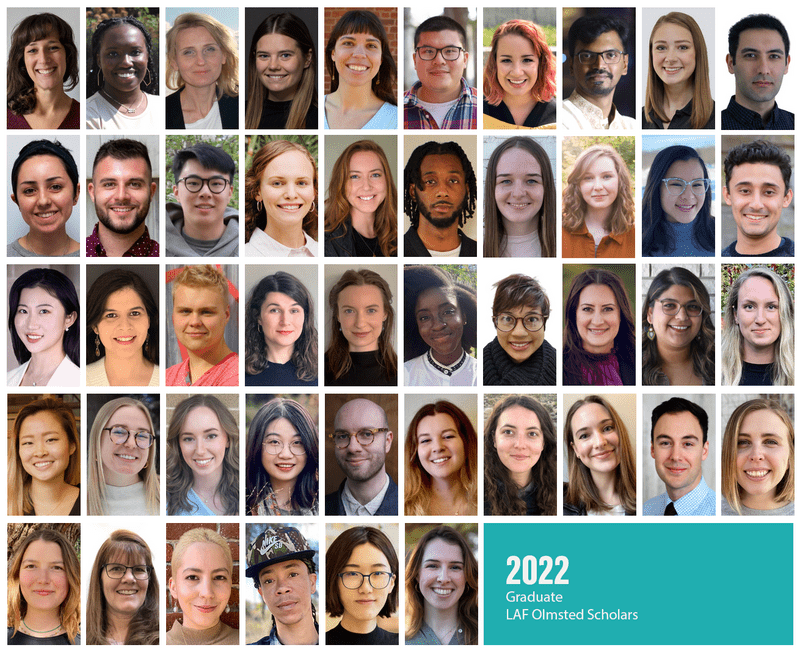 First row: Rebecca Asser, North Carolina State University | Ayana Belk, Kansas State University | Diana Boric, Rutgers, The State University of New Jersey | Abigayle Brown, North Dakota State University | Hannah Brown, University of Virginia | Kevin Chong Wong, Florida International University | Zoë Crandall, University of Calgary | Shuvo Datta, Texas Tech University | Emily Dolatowski, University of Georgia | Hossein Entezari, Iowa State University
Second row: Christina Flores, The Pennsylvania State University | Jack Gruber, The Ohio State University | Zipeng Guo, University of Idaho | Isabella Guttuso, University of Florida | Alyssa Hannigan, Temple University | Davey Hines, Illinois Institute of Technology | Faith Jackson, University of Tennessee, Knoxville | Hannah Keltner, Auburn University | Audeline Kurniawan, University of Michigan | Rohan Lewis, University of Pennsylvania
Third row: Heyue Liu, Washington University in St. Louis | Prashi Malik, University of British Columbia | Preston McMahon, University of Minnesota | Leigh Miller, Rhode Island School of Design | Amanda Mumford, Kent State University | Fiwasewa Ogundipe, University of California, Berkeley | Pooja Pawar, West Virginia University | Kendra Potter, University of Arizona | Naomi Ratte, University of Manitoba | Kennedy Rauh, University of Oregon
Fourth row: Stephanie Roh, University of Washington | Alexandrea Samoray, SUNY College of Environmental Science and Forestry | Melisa Seward, University of Oklahoma | Liwei Shen, Harvard University | Steven Shuttle, University of Guelph | Hannah Smith, Clemson University | Abby Stein, The City College of New York | Bridget Stokes, University of Maryland | Lloyd Sutton, Utah State University | Zoe Swartz, The University of Texas at Austin
Fifth row: Morgana Tetherow-Keller, Louisiana State University | Kathy Unland, Ball State University | Daniela Velazco, University of Southern California | E. Victoria, Morgan State University | Tianyi Wang, Texas A&M University | Lauren Wardwell, The University of Texas at Arlington
---
2022 LAF OLMSTED SCHOLARS (UNDERGRADUATE)
In addition to the winner and finalists, the undergraduate nominees from each university are recognized as 2022 LAF Olmsted Scholars, which denotes distinguished student leadership in landscape architecture.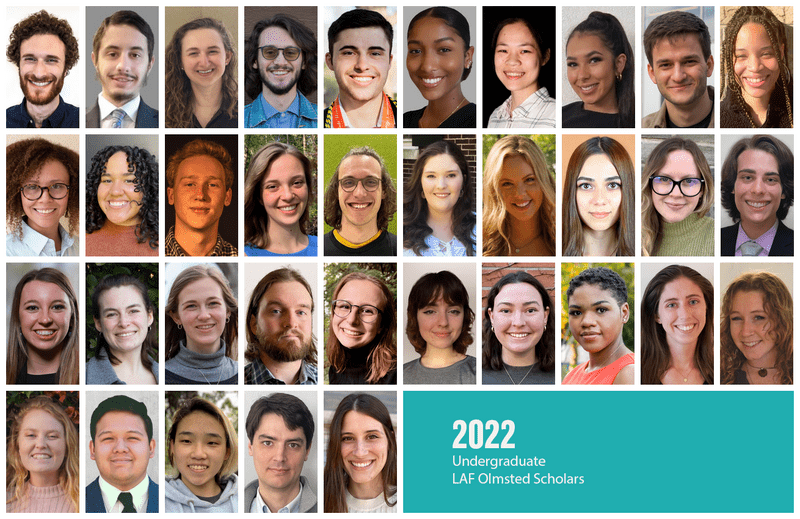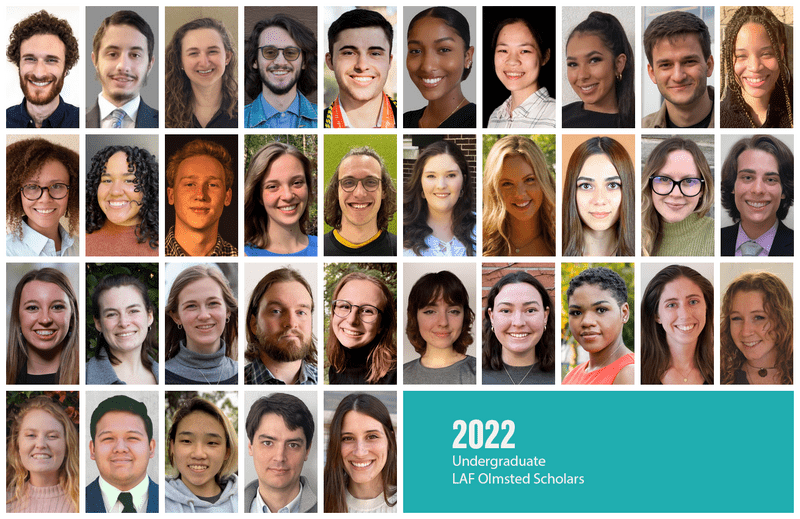 First row: Alexander Arshadi, Virginia Tech | Marcus Benoff, University of Illinois at Urbana-Champaign | Morgan Clutter, West Virginia University | Zachary Cody, Purdue University | Cooper Driskill, Oklahoma State University | Jade Durand, Arizona State University | Yunxiao Fu, University of Oregon | Camryn Galvan, Texas A&M University | Jacob Geitner, Cornell University | Shakira Hood, North Carolina A&T State University
Second row: India Jenkins, Cal Poly Pomona | Nairobi Jimenez, Utah State University | Reed Johnson, University of Rhode Island | Karina Kasmauskis, Ball State University | Dustin Krise, Michigan State University | Anna Claire Littleton, University of Kentucky | Holly MacAlpine, University of Guelph | Lizbeth Maldonado, Washington State University | Bridget Maloney, SUNY College of Environmental Science and Forestry | Adolfo Martinez, University of Georgia
Third row: Olivia Mayne, University of Wisconsin-Madison | Emily Menard, University of Massachusetts, Amherst | Emily Miller, The Pennsylvania State University | Samuel Moody, Texas Tech University | Meghan Obernberger, University of Washington | Skylar Remshard, Temple University | Allison Sheen, University of Nebraska-Lincoln | Zaria Stebbins, University of Maryland | Kathryn Stenberg, University of Florida | Elissa Urbina, Cal Poly San Luis Obispo
Fourth row: Caitlyn Van de Meulebroecke, Clemson University | Kobee Wade, University of Arkansas | Chaoxun Yuan, University of California, Davis | Benjamin Zaccara, University of Connecticut | Delaney Zubrick, Rutgers, The State University of New Jersey
---
THANK YOU TO OUR 2022 JURIES
The jurors for the graduate award were:
Jim Burnett, FASLA, President, OJB
Emily O' Mahoney, FASLA, Partner, 2GHO / President-Elect, American Society of Landscape Architects
Rich Centolella, FASLA, Principal, EDSA
Jessica Henson, Principal, OLIN
Roana Tiardo, Project Manager, HOK
Sadik Artunc, FASLA, Professor and Head, Department of Landscape Architecture, Mississippi State University
Asa Eslocker, Director of Strategic Design and Communications, Renaissance Planning Group
Harshat Verma, Landscape Designer, SCAPE / 2021 National Olmsted Scholar (Graduate)
The jurors for the undergraduate award were:
Connie Chung, Managing Principal, HR&A Advisors
Tom Mroz, FASLA, Senior Vice President, SmithGroup / Immediate Past President, American Society of Landscape Architects
Anna Cawrse, Associate Principal, Sasaki Associates
Shaun Tooley, Principal, LandDesign
Maria Bellalta, Dean, School of Landscape Architecture, Boston Architectural College
Kira Gould, Hon AIA, Principal/Founder, Kira Gould CONNECT / Co-host, Design the Future Podcast
Abigail Long, Landscape Designer, Studio Bryan Hanes / 2021 National Olmsted Scholar (Undergraduate)