LAF Fellowship Spotlight: Creating a 'Carbon Conscience'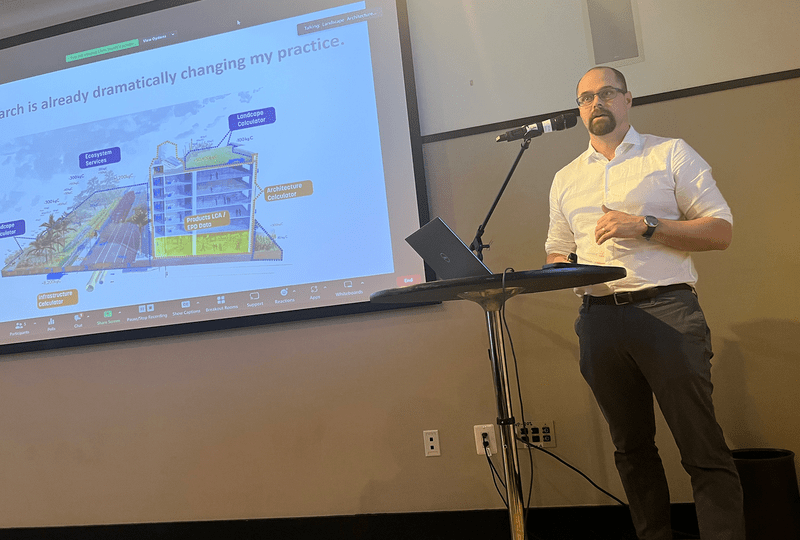 There was a moment during Chris Hardy's recent LAF Fellowship for Innovation and Leadership residency in Washington, D.C. when the past, present, and future of carbon accounting intersected.
Chris, a Senior Associate at interdisciplinary architecture, planning, landscape, and design firm Sasaki, is working on a new website and tool – one he has named the "Carbon Conscience" – to calculate carbon emissions for projects and inform future designs as part of the 2022-23 cohort of LAF Fellows. His work builds on the efforts of 2018-19 LAF Fellow Pamela Conrad, who developed the Pathfinder carbon-calculating tool during her fellowship and joined Chris virtually as a guest facilitator during the residency. Also present (virtually) was newly announced 2023-24 LAF Fellow Meg Calkins, a professor at North Carolina State University, whose research on site construction materials will examine, inform, and ultimately attempt to reduce the carbon footprint of landscape architecture projects.
"We are considering carbon as part of the design expectations of the project, just like we're used to considering aesthetics, programs, culture, community, and monetary budgets," Chris said. "We need this information in the earliest design phases, before we have detailed architectural and landscape designs with accurate bills of quantities, so we can be thoughtful on what the projects should be in the first place."
Chris's project is examining project life cycles, including the carbon associated with construction, carbon sequestration efforts and carrying capacities, and other datasets to create a holistic picture that will inform the designs and the decisions that go into them during project planning and concept design phases. He is building on the Carbon Conscience app he and his team recently developed at Sasaki that can be used by designers, planners, and municipalities to create spaces with reduced carbon impacts in mind.
Earth's carbon dioxide (CO2) levels are more than 50% higher than they were pre-Industrial Revolution, according to the National Oceanic and Atmospheric Administration. As the planet warms, it unleashes a cascade of weather impacts, including episodes of extreme heat, drought, and wildfire activity, as well as heavier precipitation, flooding, and tropical storm activity.
Almost half of global emissions come from the building and construction sector's energy consumption and CO2 emissions, according to the United Nations' Global Alliance for Buildings and Construction. Chris cited those emissions figures when discussing the role landscape architects can play in addressing the climate crisis and "decarbonizing your specifications."
"We share a professional and personal responsibility for the future," Chris said. "We are culpable."
Ultimately, he wants the tool he's creating to be accessible to everyone from members of the public, who might be curious about carbon impacts, all the way up to designers, planners, and other experts who want to dive into and use the data. Users will be able to create planning-level land uses based on different architectural and landscape typologies, differentiated by construction materials, sources, transportation information, and other variables to inform their calculations and, ultimately, their decisions. The information will give people the resources to inform early design decisions with data and set carbon goals with clients.
As Chris has developed the new tool, he has been testing it among colleagues. The LAF Fellowship has given him the time and space to advance the project, which he says already has "drastically" changed the way he practices.
"I'm beginning to realize we have to think about a new paradigm shift between our urban areas, where we want to invest in development and density, and our rural relationships, or maybe our vacant lot relationships, where we can think about really contributing to sequestration," Chris said.
In the meantime, landscape architects can start to inform regulators and agencies about carbon impacts and challenge the status quo, Christopher said. Design professionals also can advocate with the construction industry, fabricators, and suppliers to decarbonize the construction sector, he said.
"There are actions we have agency as landscape architects to do individually, and there are areas where we're going to need to be advocates and activists to be able to get there," Chris said. "The greatest opportunity we have for moving the dial on project emissions is when we are defining what the 'project' is – in terms of massing, program, and restoration. That's the reason for the moniker 'Carbon Conscience.' Hopefully this tool and work will make it easier to have our design processes be informed on potential carbon impacts." 
UPDATE: You can watch Chris's presentation from the 2023 LAF Innovation + Leadership Symposium here.