2023 Olmsted Scholars Induction Ceremony

This virtual celebration honored the 50 graduate and 38 undergraduate students named as 2023 LAF Olmsted Scholars.
With its $25,000 graduate and $15,000 undergraduate prize, the LAF Olmsted Scholars Program is the premier leadership recognition program for landscape architecture students. The virtual induction ceremony on September 12, 2023 allowed us to celebrate these rising leaders and welcome them to the community of 1,069 LAF Olmsted Scholars named since the program's inception in 2008.
The ceremony featured presentations from the two 2023 national winners:
Keith Faminiano, The Pennsylvania State University, 2023 LAF National Olmsted Scholar (Graduate)
Maryam Abutabikh, Cal Poly San Luis Obispo, 2023 LAF National Olmsted Scholar (Undergraduate)
Recordings from the event are posted below. Watch to learn more about this prestigious program and see some of the ideas and issues the next generation of designers is poised to tackle.
Meet the 2023 LAF Olmsted Scholars
The LAF Olmsted Scholars Program honors students with exceptional leadership potential who are using ideas, influence, communication, service, and leadership to advance sustainable design and foster human and societal benefits.
Now in its 16th year, the program recognizes one outstanding student from each accredited landscape architecture program in the US and Canada, along with the jury-selected graduate and undergraduate national award winners and finalists. (The 2023 winners and finalists are shown here.)
The 88 LAF Olmsted Scholars named in 2023 join the growing community of 1,069 past and present scholars.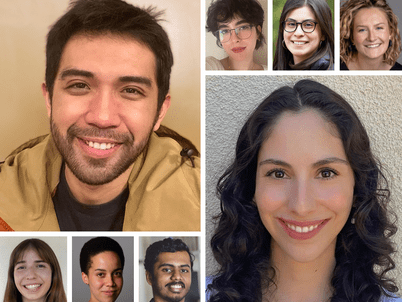 The full induction ceremony as well as recordings of the presentations and videos played during the event can be viewed below.
Full Event Recording
UNDERGRADUATE 2023 LAF NATIONAL OLMSTED SCHOLAR FINALISTS VIDEO

Presentation by Maryam Abutabikh, 2023 LAF National Olmsted Scholar (Undergraduate)

GRADUATE 2023 LAF NATIONAL OLMSTED SCHOLAR FINALISTS VIDEO
Presentation by Keith Faminiano, 2023 LAF National Olmsted Scholar (Graduate)

2023 LAF Olmsted Scholars - Academic and Professional Interests

2023 LAF Olmsted Scholars - The Draw of Landscape Architecture

2023 LAF Olmsted Scholars - Creative Drivers

2023 LAF Olmsted Scholars - The Future of the Discipline