Climate Change Resources
Understanding the urgency of the climate crisis and the role landscape architects can play in developing and implementing solutions, LAF has compiled resources to help you inform, design, and advocate.
Climate change is the defining issue of our time. Increases in temperature, more severe natural disasters, and more frequent droughts have all been scientifically linked to this manmade phenomenon. We are already feeling the effects of climate change and things will only get worse if we continue on with business as usual.
Landscape architects, with training in systems thinking, ecological planning, and cultural literacy, have a special role to play in mitigation and adaptation efforts. Further, landscape architects have a responsibility to speak for the trees, the rivers, and the animals so often overlooked by contemporary short-termism. Landscape architects' ability to understand and reach out to all stakeholders positions the profession well to advocate for climate and ecological justice.
Get inspired to act on the defining issue of our time
At LAF's 2016 Summit on Landscape Architecture and the Future, leading designers and thinkers declared their visions for the future of the discipline.
Climate change loomed large over many of discussions. The words of these speakers continue to be relevant as the world works to address the latest projections put out by the IPCC.
Inform: Understand the Problem
Learn the science behind climate change. Designing and advocating for climate change means first understanding the facts. It is a large and complicated issue but there are many resources available to explain the facts.
The Intergovernmental Panel on Climate Change (IPCC)
The IPCC is the most authoritative voice on climate change. The multinational body of researchers regularly publishes the Assessment Report on climate change which evaluates changes already being seen in the climate and offers models for what the future may look like. In 2018, the IPCC released a special report on 1.5 degrees (Celsius) of warming. The report and subsequent panels outline the bold action that must be taken to limit warming and protect millions of additional people from the dangerous effects of climate change.
Climate Nexus
Climate Nexus tells the stories of people and communities impacted by climate change. While the IPCC offers big-picture effects and scientific models, Climate Nexus backs up numbers with narrative and maps out impacts. From current events to issue areas including energy, health, and food, Climate Nexus shows how the impacts of climate expand far beyond the weather outside.
ACS Climate Science Toolkit
The American Chemical Society (ACS) has developed a Climate Science Toolkit to help everyone understand and communicate climate science. The ACS lays out how greenhouse gases, energy balance, and atmospheric warming function in a way that helps audiences follow along with the more technical reports such as those put out by the IPCC. The ACS also offers ideas for how to speak about climate change with others, even those who may be skeptical that humans can change such a large system.
CSLA Adaptation Primers
The Canadian Society of Landscape Architects (CSLA) Adaptation Primers offer a deep dive into what climate change is and what it means for designers, policy-makers, and the public at large. With a specific eye toward the role landscape architects can play in addressing climate change and its effects, the four CSLA Primers lay a comprehensive foundation upon which to build climate knowledge.
The Water Will Come: Rising Seas, Sinking Cities, and the Remaking of the Civilized World 
Humans have evolved to remember stories, not statistics, and this book from Jeff Goodell lays out a striking story of an Earth that has changed and is changing. Pairing a grim vision of the future with the facts faced by neighborhoods on the front lines of the changing climate, Goodell paints a picture that is hard to forget. For those who prefer a narrative to reports and statistics, start with The Water Will Come.
Seek out precedents for resilience and mitigation
LAF's Landscape Performance Series offers a searchable database of over 150 exemplary built projects with quantified environmental, economic and social benefits.
A number of these projects were built to withstand the impacts of climate change and have had their landscape systems tested during extreme weather events. They can serve as models for resilient infrastructure that is built to "bend not break" with features like augmented shorelines, multi-purpose flood storage, and areas designed to experience partial submersion.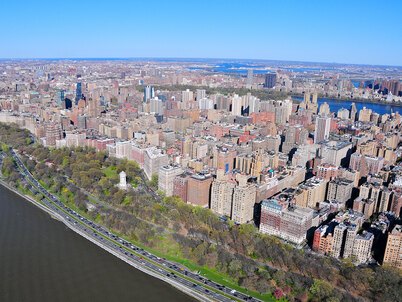 Design: Set Bold Performance Goals
As designers, landscape architects set intentions for what they want their projects to accomplish. It is time to move beyond speaking generally about rainwater reuse or carbon capture. Landscape architects should work with clients to set specific performance objectives. Taking that a step further, landscape architects can help to measure how projects are actually performing once they are built and operating. Decision-makers will better understand the value of landscape architecture and exemplary design if they can see quantifiable benefits.
Landscape Performance Series
The Landscape Architecture Foundation's (LAF) Landscape Performance Series is a set of resources to help designers, agencies, and advocates evaluate performance, show value, and make the case for sustainable landscape solutions. The library of Case Study Briefs offers quantified environmental, social, and economic benefits for built projects representing a variety of locations and project types. LAF works with teams of researchers and designers to produce new Case Study Briefs every year so the database of projects is always growing.
One Planet Living
Bioregional's One Planet Principles envision a socially and environmentally sustainable world. To meet current demand, the Earth's population consumes more resources than the planet can replenish each year, 1.7 Earths per year, to be exact. The One Planet Principles encourage equity, efficiency, and zero waste and carbon planning to bring that number down to 1.
Drawdown
Drawdown is a book edited by Paul Hawken and companion website that identifies, researches, and models the 100 most substantive, existing solutions to address climate change. These solutions show a path forward that can roll back global greenhouse gas emissions within 30 years. Drawdown quantifies the relative impacts of these solutions with respect to the impact that they can have on global carbon reductions. A number of organizations and municipalities are using the strategies laid out in Drawdown to inform their own climate conversations and goals.
The Age of Sustainable Development
Setting sustainable development goals is the first step toward creating a sustainable future. However, even when goals are set it can be difficult to take action when they're so large and important. This book from Jeffrey Sachs turns those goals into measurable benchmarks. He offers tools and metrics to measure performance and progress toward global justice. 
Landscape Change: Climate Change Information for Landscape Architects
This website from the University of Florida's Departments of Landscape Architecture and Environmental Horticulture compiles relevant resources from public agencies, nonprofits, and leading practitioners that are specific to the needs and interests of landscape architects. In addition to providing foundational information to better understand climate change, its causes, and effects, the site also offers actionable design strategies.
ASLA Climate Change Mitigation Guide
This set of webpages from the American Society of Landscape Architects (ASLA) offers many helpful links to learn about climate change and connect with national and international organizations working to address the issue. ASLA's guide also offers insight on design with case studies, suggestions for materials and construction, and the importance of green infrastructure in the fight to reduce greenhouse gas emissions.
Climate Positive Design's Pathfinder Tool
This app-based calculator helps landscape architects to understand the climate impacts of their designs and the ways that they can design their projects to become climate positive, sequestering more carbon than they emit through construction and maintenance over the project's lifespan.
Handbook of Biophilic City Planning and Design
Timothy Beatley's book presses the importance of meaningful interactions with nature even in the densest urban centers. Green infrastructure offers many benefits from stormwater management to mental health. Further, without contact with nature, kids are less likely to take up the fight to protect the natural environment. The Handbook offers design ideas and inspiration to make sure urban residents benefit from nature and thoughts on how to advocate for biophilic design when it is not being valued.
Design for Flooding: Architecture, Landscape, and Urban Design for Resilience to Climate Change
Today, flooding is frequently in the news. From hurricanes to flash floods, it is clear that designing for flooding is an important responsibility for landscape architects and allied professions. In this book, authors Donald Watson and Michele Adams gather in one place best practices and lessons to not only prepare for flooding but natural disasters and water sustainability as well. With an eye toward natural design solutions instead of engineered flood control, there are ideas for projects of every scale.
Take Inspiration from other landscape architects
Landscape architects are using their training and expertise to advocate for mitigation, adaptation, and resilience from design practice to legislative advocacy.
The below presentations highlight different ways landscape architects are taking action to reshape the climate conversation.
Get inspired and join our passionate community of designers, educators, advocates, students, and others working to amplify the impact of landscape architects.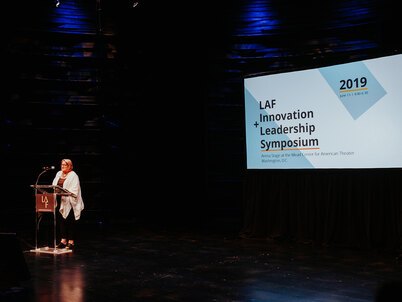 Advocate: Get Involved
Landscape architects need to use their individual and collective voices! They can act as leaders by making personal commitments to action and pushing others to do the same. Design firms can commit to making a positive impact on the climate and expect the same from their vendors and contractors. Designers can their values with the elected officials who represent them.
ASLA Climate Advocacy Resources
These climate change and resilience resources provide helpful language and knowledge for speaking with elected officials. Whether following a specific piece of legislation or looking for an opportunity to advocate for ASLA's Smart Policies for a Changing Climate, working with elected representatives and public agencies is an important avenue for addressing climate change.
Climate & Development Knowledge Network (CDKN)
CDKN recognizes the unique challenges developing nations face as they develop in the midst of a changing climate. Landscape architects can provide climate compatible development solutions to these policy-makers, solutions that not only promote equitable development but also bring awareness about the discipline and its multiple impacts to new audiences. 
Climate Adaptation Knowledge Exchange (CAKE)
CAKE offers an opportunity to share knowledge about a variety of adaptation topics from planning to evaluation and is broken up into US regions to help better address the needs of different locales without painting the crisis with a broad brush. Climate change will not affect each region in the same way and this resource offers the specificity needed to promote awareness and advocacy at more local levels.
We Are Still In
We Are Still In is a coalition of local and state governments, tribal leaders, businesses, faith groups, and cultural institutions who remain committed to the goals set by the Paris Agreement. Signatories commit to taking action to meet the Paris Agreement's goals and limit the effects that climate change will have.
Peoples Climate Movement
The Peoples Climate Movement is a grassroots movement for climate, jobs, and justice. What began in 2014 with the Peoples Climate March continues to demand bold action on climate change through the twin strategies of mass mobilization and movement alignment. Core to their work is the rallying cry: "to change everything, we need everyone." A number of notable organizations, including 350.org, the Center for Popular Democracy, the Sierra Club, and the Sunrise Movement, take part in the Peoples Climate Movement. The organization's website offers resources for advocacy and opportunities to take action.
Make space for advocacy and activism
It is no longer good enough to be a good designer; landscape architects need to be active designers, engaging in politics, policy, finance, community service, and more.
The interviews and stories of impact showcase landscape architects and organizations that are using their unique perspective and talents to effect change.