LAF Diversity, Equity, and Inclusion Resources
LAF has compiled these resources as a starting point for individuals and for raising the unique questions that must be asked in the context of each firm, university, or organization.
Confronting the systemic inequities embedded into society and into the discipline of landscape architecture requires courage and patience. But when landscape architects take active measures to promote diversity, equity, and inclusion in our ranks, we increase the prevalence of these values out in the world, where people meet and interact in the built environment. We also demonstrate a commitment to drawing from numerous backgrounds, adaptability that fosters resilience, and appreciation for authenticity over homogeneity – in other words, we demonstrate the very best of landscape architecture.
Whether designing a public space, reviewing academic curriculum, or evaluating the experiences we create in the workplace, factoring in Diversity, Equity, and Inclusion (DEI) broadens the spectrum of views that we consider and narrows the list of assumptions we make. A robust DEI strategy allows every individual to feel seen, heard, and valued and facilitates an environment where ideas can flow freely.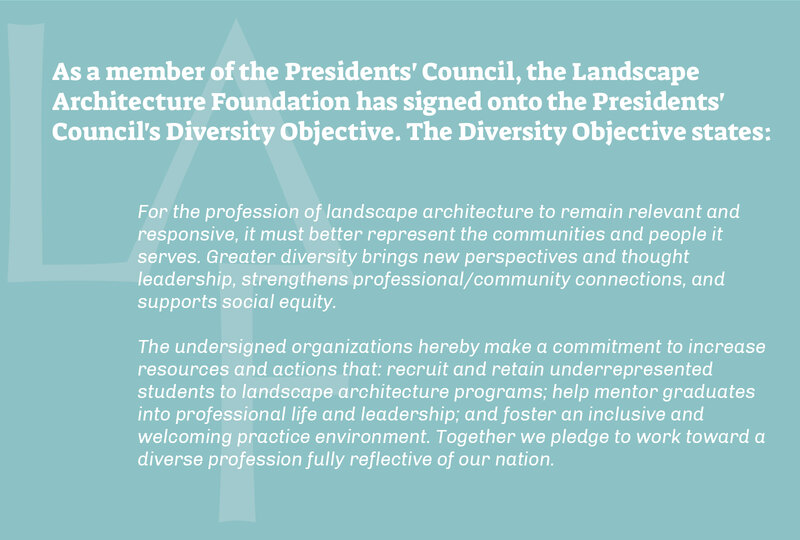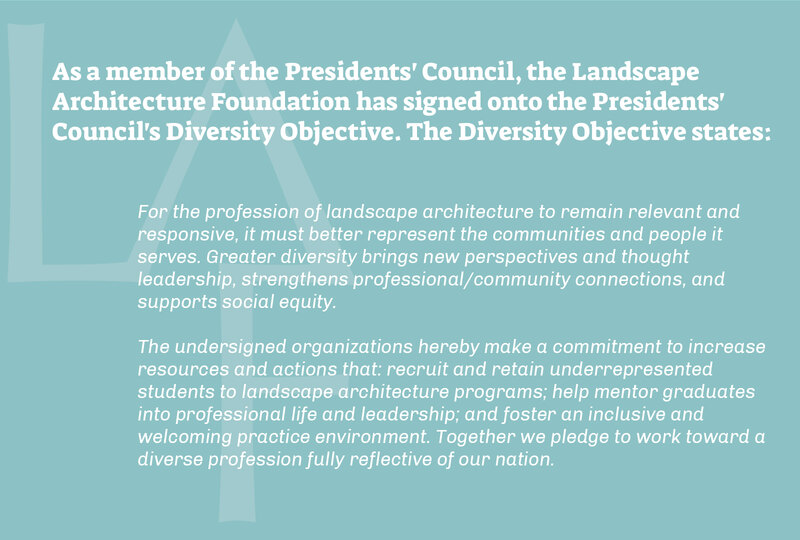 The DEI resources compiled here are neither comprehensive nor prescriptive. Instead, they are a starting point for raising the unique questions that must be asked in the context of each firm, university, or organization. We look forward to seeing how you put them to use and encourage you to share your experiences so that we may continue to learn together and design a healthier, more equitable, and sustainable world.
LAF's Perspectives Interview Series
As we work to formulate new modes of thinking and models of practice, we must center the voices of those with the lived experience to expand mainstream discourse.
LAF's Perspectives series showcases landscape architects from diverse backgrounds discussing how they came to the profession and where they see it heading. They also share bold visions on what the profession can do to address injustices pertaining to housing, development, public space, land use, and other aspects of the built environment.
If you would like to suggest a candidate for the series, contact Tim Pratt at tpratt@lafoundation.org.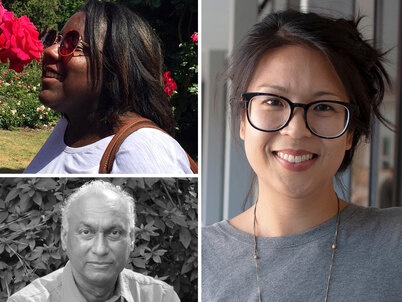 Firms and Practices
There's no one-size-fits-all approach to DEI, so below we've included outlines on crafting a methodology with integrity and commitment, links to certification and consulting services, and additional human resources tools and strategies that lend themselves to accountability and justice in the workplace.
The Society for Human Resource Management How-to Guide
Start with this comprehensive outline on how to build a DEI strategy that addresses your organization's and employees' distinct needs.
What Works? Evidence-Based Ideas to Increase Diversity, Equity, and Inclusion in the Workplace
Published by the University of Massachusetts Amherst's Center for Employment Equity, What Works? is a chapter-based publication that takes a deeper dive into unconscious bias, metrics, accountability, and creating sustainable change within the workplace.
Living Corporate Podcast
Browse hundreds of podcast episodes that highlight the Black experience in the workplace, or jump straight to Living Corporate's Diversity, Equity, and Inclusion Must Read (listen) list.
Rules of Engagement for Consulting on Race
Justin Garrett Moore offers this statement on ethical practices when seeking advice and input on issues of race, equity, diversity, and inclusion.  
JUST Certification
The JUST certification is a social justice label for organizations that encourages JUST community members to consider how their internal policies can support equity and inclusion within their workforce as well as in their contracting, supply chains, and broader communities.
Design Explorr: Design Journeys
Jacinda Walker's thesis introduces a map charting a design career from grade school to a seasoned professional. Firms can work to proactively address identified drop off-points along this path.
Commit to Pay Equity
Representation and leadership roles are hollow without equal pay. This guide provides seven steps to conducting a pay audit in your organization to harmonize compensation for comparable work.
Gender Decoder for Job Postings
Audit your next job posting for unconsciously gendered language that may affect the range of applicants you attract with this gendered language decoder.
Holding Yourself and Others Accountable
Monitor your organization's progress and deliver on your new strategies by enacting accountability measures. Check out this webinar for examples of DEI accountability processes within individual, team, and organizational contexts.
LAF's Equity and Inclusion in Practice Series
In issuing the New Landscape Declaration, LAF made a commitment to strengthen and diversify our global capacity as a profession and to cultivate a bold culture of inclusive leadership, activism, and advocacy within our ranks. To promote these values, LAF convened its board members for a 2-day session on bias, power, and privilege. They then set actionable goals to increase equity and inclusion within their practices.
LAF also launched an article series to showcase ways that design firms are demonstrating leadership in this area, from providing targeted support for students to seeking outside guidance and evaluation of internal policies. Their experiences offer ideas, inspiration, and lessons learned for others.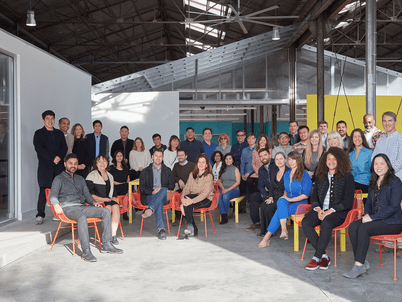 Higher Education and Youth Outreach
Amplifying historically underrepresented voices and ensuring a welcoming and nurturing environment for all is critical to uprooting systems of oppression. Educational institutions and youth-led movements are poised to lead this charge through a number of avenues, such as revisiting syllabi, forming action groups or collectives, and performing thoughtful, targeted outreach to the next generation.
Dark Matter University
Dark Matter University is an anti-racist design justice school collectively seeking the radical transformation of education and practice. It pledges to work inside and outside of existing systems to challenge, inform, and reshape our present world toward a better future.
Academics for Black Survival and Wellness
This development initiative for non-Black academics honors the toll of racial trauma on Black people, resists anti-Blackness and White supremacy, and facilitates accountability and collective action. With anti-racist training, consultant recommendations, and workshops on self-care and healing, there's plenty to explore.
DREAM (Disability Rights, Education Activism, and Mentoring)
DREAM is a national organization open to students of all ages with any kind of disability, culturally Deaf students, and non-disabled students who are allies and peers. DREAM explicitly includes people who have traditionally been marginalized or under-represented in the disability or higher education communities.
Student Experience Project
The Student Experience Project is a collaborative of university leaders, faculty, researchers, and national education and improvement organizations committed to innovative, evidence-based practices that increase degree attainment by transforming the college student experience and creating equitable learning environments.
The Urban Studio
Rather than trying to fix a broken system, The Urban Studio is working to build a new one. It is comprised of designers of color working to ensure all people have the means to create healthy, vibrant, and just communities by fostering inclusive and non-hierarchical spaces for co-learning and mentorship.
Future Landscape Architects of America (FLAA)
FLAA connects local landscape architects and college students to schools to help designers reach the next generation. FLAA also offers free lesson plans to introduce young students to the discipline and help grow the educational pipeline.
ACE Mentor Program
This free after-school program is designed to attract high school students to careers in the Architecture, Construction, and Engineering industries, with opportunities to get involved as a student, mentor, or sponsor.
Creative Reaction Lab
The Creative Reaction Lab educates, trains, and challenges Black and Latinx youth to become leaders in designing healthy and racially equitable communities.
LAF Scholarships to support diversity and access
With over $150,000 available annually through 17 different awards, LAF scholarships help to increase academic opportunity and expand the richness of that talent pool entering the profession. Financial support is vital to retaining talented students and easing their debt burden so that they can focus on developing their unique skills. 
Thanks to increases in the number and amount of awards for underrepresented groups, LAF scholarships include at least $40,000 specifically for BIPOC landscape architecture students. Eligible candidates are undergraduate or graduate students enrolled at colleges and universities in the U.S. and Canada. Additional requirements vary by scholarship.
Each year, applications  open in the fall and are due February 1.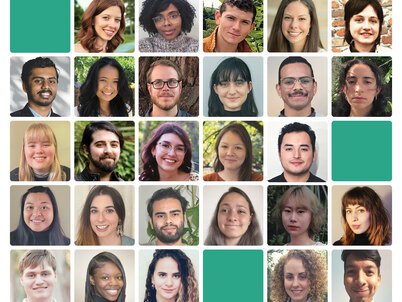 Individuals
Committing to authentic diversity, equity, and inclusion practices at work and in our schools means committing to them within. With no shortage of resources for continued learning, we've selected a handful that speak to common areas of concern in our profession and a few intended to inspire personal growth.
Intersectional Environmentalist
Intersectional Environmentalist aims to expand environmentalists' understanding of the link between environmental and social justice while empowering them to take action on both. The 'Communities' and 'Topics' sections of the website offer resources on the intersection between people and land.
What Does It Mean to Decolonize Design?
This resource-packed article examines the ways in which Western ideology manifests in design. An understanding of this implicit bias can enhance the integrity of diversity and inclusion efforts as well as the way we think about design and our peers.
Showing Up for Racial Justice
Showing Up for Racial Justice is a multi-racial movement that seeks to undermine white support for white supremacy and help build a racially just society. Additional key values include challenging stereotypes about disabilities and organizing the working class.
Talking About Race
The National Museum of African American History and Culture's Talking About Race web portal fosters discussion, community-building, and self-care in response to police violence against black people. It is a place to exchange ideas and cultivate sensitivity to the impact these events have on society.
Mapping Our Roles in Social Change Ecosystems
This framework helps individuals identify the distinct role they can perform in working towards a more just future. It is a self-reflection on how to lend one's natural abilities to the social change ecosystem in order to align with a broader social justice movement.
Most Influential DEI Leaders in 2020
Get inspired by the changemakers who are committed to creating positive change in their workplaces and in the world. This non-exhaustive list features a variety of leaders who have taken on unique challenges within their organizations.
Ideas to drive the future of the discipline
The $25,000 LAF Fellowship for Innovation and Leadership is an opportunity for landscape architecture professionals to dedicate the equivalent of 3 months' time over the course of one year to nurture emerging ideas and to think deeply.
As they advance their proposed projects, the fellows also explore transformational leadership, discover their intrinsic motivation, and identify the larger-scale change they want to see.
A number of recent Fellows projects' have tackled issues of diversity, equity, and inclusion -- from identity and landscape interpretation to youth empowerment to universal design. Their work continues long after the fellowship year is complete.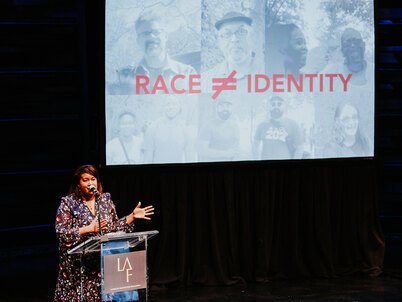 Other Design Organization Resources
ASLA Diversity Summit
Each year, ASLA hosts a Diversity Summit and publishes the major takeaways from the event in a summary that offers thoughts for the profession. Those interested in attending the summit participate in an application process hosted by ASLA.
Black Landscape Architect's Network (BlackLAN)
BlackLAN works to increase the visibility, support the interests, and foster the impact of Black practitioners in landscape architecture. BlackLAN is dedicated to the success in the profession of persons who self-identify as Black and claim African ancestry.
National Organization for Minority Architects (NOMA)
NOMA draws from a rich legacy of activism to empower its local chapters and membership to foster justice and equity in communities of color through outreach, community advocacy, professional development and design excellence.
National Association for Minority Landscape Architects (NAMLA)
NAMLA seeks to increase minority representation at all levels of landscape architecture practice and academia by providing educational and career development assistance to minorities while confronting the structural racism that has disproportionately kept people of color from having decision-making roles on how landscapes are programmed, designed, and taught.
AIA Equity, Diversity, and Inclusion Resources
Explore what the American Institute of Architects has done to advance racial justice and equity within the organization, profession, and communities it touches to see what may transfer to your efforts.
AIGA Diversity & Inclusion Initiative
The oldest and largest professional association for design encourages diversity in design education, discourse, and practice to strengthen and expand the relevance of design in all areas of society, and offers an example of what thorough and ongoing transformation looks like.
LAF Diversity, Equity, and Inclusion Surveys
In 2019, LAF conducted two surveys focused on DEI in landscape architecture, the first discipline-wide surveys addressing these issues. Over 550 respondents completed the individual survey and 49 firms participated in the organizational survey.
Landscape architects and firms overwhelmingly value DEI. Most firms considered the educational pipeline to be their main barrier, but few had formalized policies that would promote an equitable and inclusive workplace. 
Of the individual respondents, 58% perceived their workplaces to be diverse and 50% of respondents said there were barriers to diversity in their workplace. 17% reported feeling alone in their identities at their workplaces to some degree.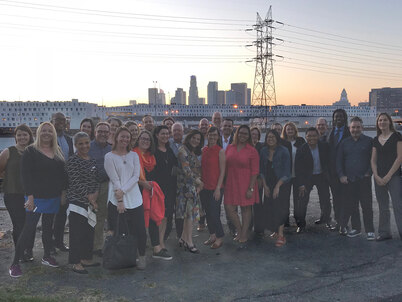 DEI is a Daily Practice
We hope these resources have illuminated some blindspots and sparked new questions. Whether you're a staunch advocate for diversity, equity, and inclusion, or are still grappling with the many hidden (and not-so-hidden) ways that stereotypes, cultural norms, and discriminatory policies and practices create vastly different lived experiences and opportunities for individuals, we know that this is a process. As you move forward, feel free to return to this guide and explore new resources.
If you are interested in learning more about LAF's Diversity, Equity, and Inclusion Task Force and its initiatives, please reach out to Director of Operations Rachel Booher at rbooher [at] lafoundation.org (rbooher[at]lafoundation[dot]org).