2022 LAF Symposium and Awards Dinner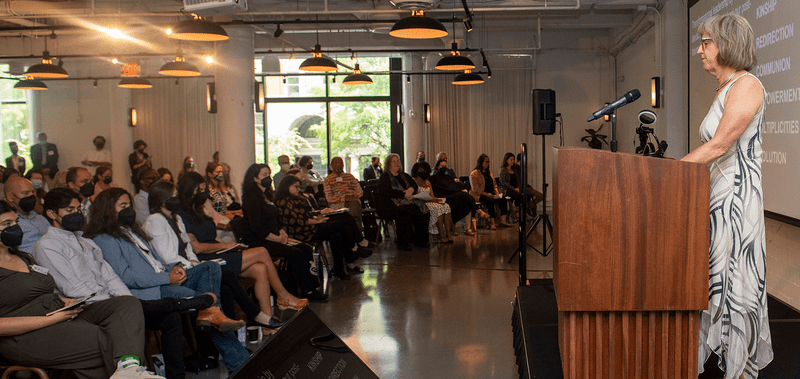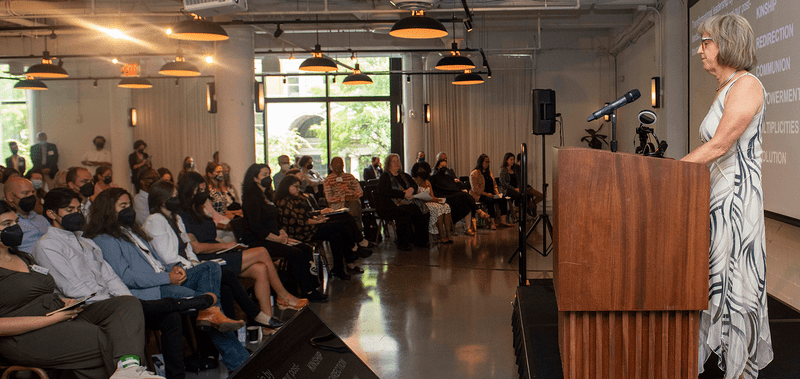 These two events showcased and celebrated leading-edge thinking and achievements in landscape architecture and sustainability.
These two events returned in-person for the first time since 2019!
Thursday, June 2, 2022
4:00-6:15 pm   LAF Innovation + Leadership Symposium
6:15-7:15 pm   Reception
7:15-9:30 pm   LAF Awards Dinner
Eaton DC
1201 K St NW, Washington, DC 20005
Event Sponsors
Title Sponsor

Major Sponsor

Supporting Sponsor



 
LAF Innovation + Leadership Symposium
The six 2021-22 LAF Fellows presented their projects on relational work with community organizations, the science of landscape architecture, Latine/x/a/o voices, evolving narratives for diverse designers, roadsides and the nature of power, and carceral landscapes.
The symposium is approved for 2.0 Professional Development Hours (PDH) through the Landscape Architecture Continuing Education System (LA CES) and meets the health, safety, and welfare requirements (HSW). You can view the full recording of the symposium or watch the six individual presentations to earn 2.0 PDH (LA CES/HSW) following successful completion of a short quiz. 
Photo: LAF Fellow Claire Napawan presents at the 2022 symposium.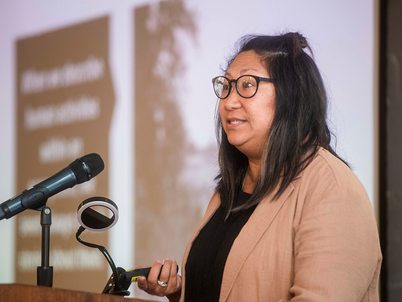 This powerful event showcases leading-edge thinking in landscape architecture to address a breadth of current issues within and beyond the discipline.
The symposium is the culmination of the year-long LAF Fellowship for Innovation and Leadership, a unique program and $25,000 award that supports mid-career, senior-level, and emerging professionals as they develop and test new ideas that will drive the future of the landscape architecture discipline.
Presentations
Design in Kinship: Toward Relational Work Between Designers and Community Organizations

Debra Guenther, FASLA, Partner, Mithun, Seattle, Washington
Shaped by the wisdom of BIPOC (Black, Indigenous, people of color) community leaders, Deb's work builds momentum toward systemic ways to mainstream relational work in communities that have experienced disinvestment. Climate change, the pandemic, and the social justice movement create economic pathways for collectives of community organizations to be full partners in shaping the built environment. By working together to build relationships before, during, and after typical project timeframes, designers and community organizations can achieve transformational design.
Cyclical Arrest: Exploring Landscape's Impact on Recidivism

Olivia Bussey, Landscape Designer, Curtis + Rogers Design Studio, Miami, Florida
Carceral landscapes and architecture have played their intended roles in a punitive and dehumanizing system functioning as designed. At a time that feels like a pivotal moment for reforms in social justice and human rights, the call for re-envisioning carceral environments has been a growing and ever-changing movement. While the timeline is still unclear, Olivia's work helps to illuminate one way landscape can have a stake in transforming criminal justice.
Introducing Tierra Media Project: Making Space for Latine/x/a/o Voices in Search of New Definitions of Engagement with the Land

Linda Chamorro, Assistant Professor of Landscape Architecture, Florida International University
Nine designers with roots in Latin America reflect on their relationship with each other and the land, informed by their collective identities and experience. Reckoning with centuries of trauma, displacement, and erasure, they envision a platform for healing, community, representation, and joy. This presentation is an invitation to rekindle stories of resilience, inspiration, and connection to imagine new futures for the field of landscape architecture.
Roadsides and the Nature of Power in Landscape Architecture

Ellen Oettinger White, PhD Candidate, Rutgers, The State University of New Jersey
Landscape architects once led teams of road designers to create highway landscapes across the nation. Though the power of these positions has diminished, highway agencies still employ hundreds of landscape architects nationwide. Ellen explored how landscape architects can still leverage these roles — and millions of acres of public roadsides — to address issues facing the profession and the greater global climate crisis.
New Stories for Diverse Designers: Evolving Narratives Within Landscape Architecture
Claire Napawan, Associate Professor of Landscape Architecture, University of California, Davis
Too often the stories told about landscape architecture focus exclusively on Western origins of the profession, excluding underrepresented and diverse communities that have been and continue to be impacted by its practice. Claire's work to re-examine and expand these narratives reveals a more inclusive story of the profession, one that acknowledges an increasingly diverse audience.
Advancing the Science of Landscape Architecture: What Do We Know? How Do We Know It? 

James LaGro Jr., PhD, PLA, Professor of Planning and Landscape Architecture, University of Wisconsin-Madison
Professions that shape the built environment are designing solutions to future sustainability challenges. With the goal of fostering innovation, this project examines potential synergies between practice-based research and evidence-based practice. The findings provide support for university-industry partnerships, intradisciplinary scholarship, and targeted reforms in professional education.
2022 LAF Awards Dinner and Presentation
Immediately following the symposium, LAF hosted an awards dinner to recognize the 2022 recipients of the LAF Medal and Founders' Award, our highest honors for individuals and organizations that have made a significant and sustained contribution to the LAF mission of supporting the preservation, improvement and enhancement of the environment.
Elizabeth J. Kennedy, FASLA, founder of EKLA, the longest-operating Black woman-owned landscape architecture firm in the country, was presented with the 2022 LAF Medal. The Nature Conservancy, the world's largest conservation organization, received the 2022 Founders' Award.
Photo: Elizabeth Kennedy accepts the 2022 LAF Medal from Awards Committee Chair Adam Greenspan.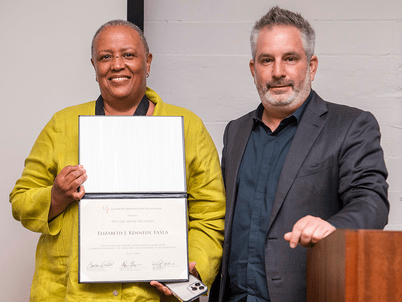 The LAF Awards Dinner recognized the 2022 recipients of the LAF Medal and Founders' Award.
These awards are LAF's highest honors for individuals and organizations that have made a significant and sustained contribution to the LAF mission of supporting the preservation, improvement and enhancement of the environment.
2022 LAF Medal
The LAF Medal is conveyed to a landscape architect for distinguished work over a career in applying the principles of sustainability to landscapes.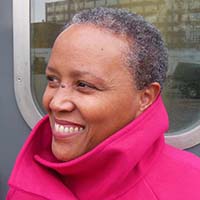 Elizabeth J. Kennedy, FASLA
Elizabeth Kennedy's work intersects cultural heritage and ecological sustainability. An exceptional leader, visionary, and entrepreneur, she has been an advocate for social change, a teacher, and a mentor for young professionals, women, and BIPOC designers throughout her career.
2022 LAF Founders' Award
The LAF Founders' Award is conveyed to a firm, agency, or organization that demonstrates a significant commitment to preserving, creating, or enhancing landscapes over a sustained period of time.

The Nature Conservancy
The Nature Conservancy (TNC) is a global environmental nonprofit with a mission to conserve the lands and waters on which all life depends. TNC has over one million members and has protected more than 125 million acres of ecologically important land worldwide.